North Korea to ASEAN: Distinguish danger of nuclear issue vs 'America First' policy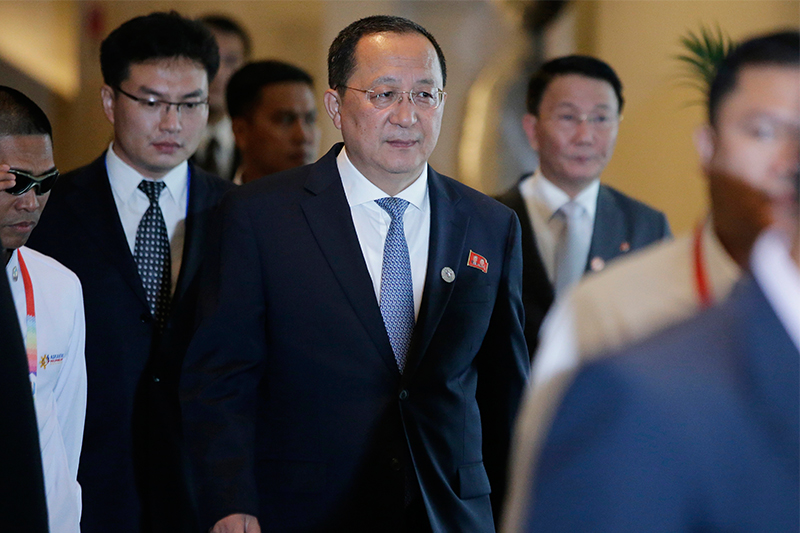 MANILA, Philippines — North Korea's top diplomat defended his country's nuclear power and intercontinental ballistic missile tests among his colleagues during the ASEAN Regional Forum last Monday.
North Korean Foreign Minister Ri Yong-Ho said that Washington's hostile policy and nuclear threat towards Pyongyang is the root cause of the problem amid concerns from several foreign ministers.
Ri said this in the presence of US Secretary of State Rex Tillerson, who also attended the ARF at the Philippine International Convention Center in Pasay City.
"I expect that other member states of this forum and the ASEAN member states in particular will distinguish the essence of the nuclear issue of the Korean Peninsula and the danger of the 'America First' policy and take impartial and practical stand and attitude," Ri said in his speech.
The foreign minister stressed that North Korea's possession of nuclear weapons is a war deterrence to end the threat and to prevent the military invasion of the US.
The statement came days after ASEAN foreign ministers released a joint statement expressing grave concerns over North Korea's testing of ballistic missiles for the past month.
In his speech during the ARF, the North Korean foreign minister claimed the US is trying to internationalize the nuclear issue of the Korean peninsula by abusing the United Nations.
He added that North Korean leader Kim Jong Un meant to send a stern warning to the US by conducting the test-fire of ballistic missiles.
"The harder the US tries to get other countries to join in implementing the sanctions against [North Korea], the more it will reveal only the unwarranted and unfair points of the 'sanctions resolutions of the UN Security Council against [North Korea]," Ri said.
Last Sunday, the UN Security Council imposed a sanction against North Korea following its intercontinental ballistic missile launches last July 4 and 28. The council imposed a full ban on coal, iron and iron ore and prohibited the export by North Korea of seafood.
The North Korean envoy insisted that the UN Security Council committed an illegal act of abusing authority on the basis of one UN member state claiming that they are a "threat to international peace and security."
READ: North Korea says no negotiations over its nukes
"It has also done unjust act of banning only [North Korea] from launching ballistic missiles that were previously done by all the permanent member states of the UN Security Council," Ri said.
Ri stressed that his country will respond with "strong follow-up measures and acts of justice" following the UN sanctions.
"We will, under no circumstances, put the nukes and ballistic rockets on negotiating table. Neither shall we flinch even an inch from the road to bolstering up the nuclear forces chosen by ourselves, unless the hostile policy and nuclear threat of the US against [North Korea] are fundamentally eliminated," he said.
RELATED: Cayetano forwards ASEAN concern to North Korean envoy