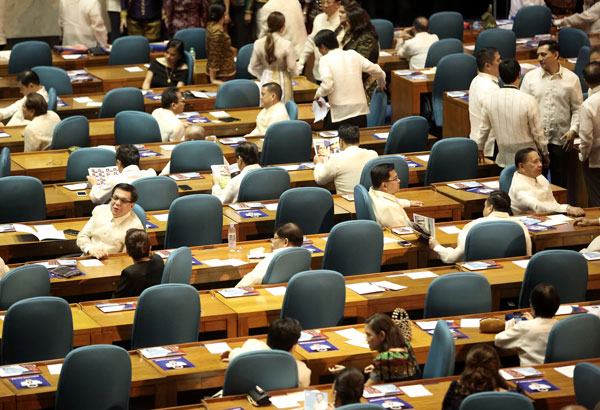 Will the newly signed law granting free tuition at state universities and colleges prove to be a headache for Congress? Members of the House of Reprsentatives are seen in this July 24, 2017 photo ahead of the State of the Nation Address. Philstar.com/AJ Bolando
Congress to adjust 2018 budget for free tuition law
MANILA, Philippines — Congress will tweak President Rodrigo Duterte's proposed budget for next year to give way to a new law that grants free college education in state universities and colleges, which is bound to cost up to P34 billion in 2018 alone.
"The CHED (Commission on Higher Education) estimated from P18 billion to P34 billion, depending on the phasing of the components of the law," Budget Undersecretary Laura Pascua said in a text message.
The exact amount is yet to be determined though, but there will certainly be changes expected from the composition of the P3.767-trillion proposed outlay.
READ: Duterte signs bill granting free SUC tuition into law
Davao City Rep. Karlo Nograles, chair of the House appropriations committee hearing the budget proposal, assured funding will be channeled to the new law fervently opposed by the economic managers.
Under the Constitution, legislators are prohibited to increase the total amount of the budget, hence, they will have to re-channel funds from one program to finance free tertiary education.
Nograles said "there is plenty of room to tweak and adjust" the outlay.
"We have reviewed the possible financial implications and complications of this proposal and I can safely say that there is enough money to jump start this and sustain it in the long-term," he said in a statement.
But Budget Secretary Benjamin Diokno is not so optimistic.
A budgeting headache
"My immediate concern are those enrolled in the 114 SUCs. There should be no expansion of student population," he said in a separate text message.
The law just institutionalized a program that started this year. Under the 2017 budget, a total of P8 billion was granted to CHED to finance free college education.
CHED and the Department of Budget and Management then was forced to draft guidelines for its availment and to prioritize certain students.
This led interest groups to criticize the government, saying free education should be granted to all and without conditions.
Diokno, however, said under the new law, merit-based selection of beneficiaries will continue.
"This has to be preceded by the number of predetermined students who are chosen on the basis of a nationwide test administered by CHED," the budget chief said.
Economic managers had said the policy is costly and impractical since tuition only accounts for 30 percent of total schooling costs.