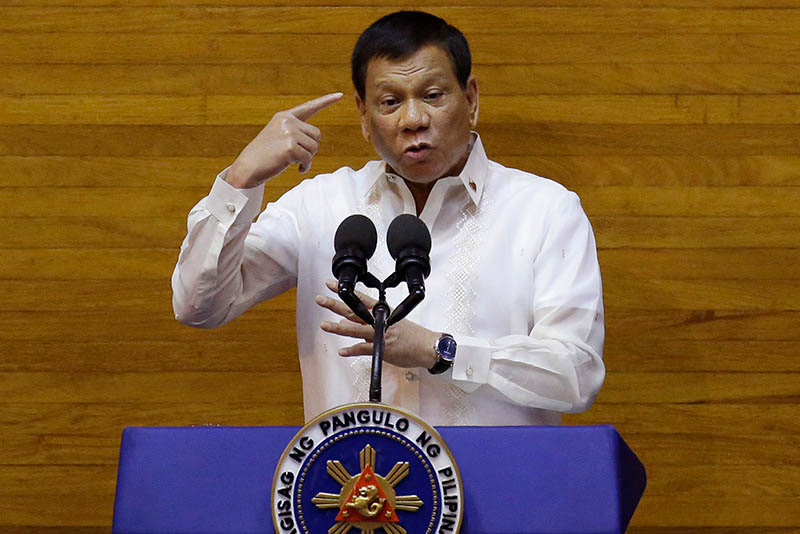 President Duterte said the government could not achieve its development targets without paying attention to the country's internal security and public order. AP/Aaron Favila, File
P140 B for military upgrade in 2018 budget
MANILA, Philippines - The Duterte administration will earmark P140 billion to enhance the capabilities of the military next year as it grapples with the threats posed by Islamic extremists and communist rebels.
President Duterte said the government could not achieve its development targets without paying attention to the country's internal security and public order.
"We will allocate P140.4 billion to beef up the capability of the Armed Forces of the Philippines (AFP)," Duterte said in his message on the P3.767 trillion national budget for 2018, which was submitted to Congress on Monday.
The amount is higher by 7.5 percent than the P130.6 billion allotted for the military upgrade program this year.
Of the amount, P25 billion will be allocated to the revised AFP modernization program to fund the purchase of armaments, surveillance, mobility and communications equipment.
The AFP Modernization Law was enacted in 1995 to improve the capabilities of the military. The law had a total outlay of P331.62 billion but only P63.39 billion of its budget was released. In 2012, then president Benigno Aquino III signed Republic Act 10349, which allotted P75 billion for the military's modernization program from 2013 to 2017.
Duterte has promised to provide everything the military needs to fight terrorism and insurgency as well as illegal drugs.
Duterte is also allocating P3.1 billion to support the Coast Guard's modernization program.
He said the outlay was meant to upgrade their capabilities to cover the country's territorial waters and coastlines.
The bulk of the budget or P922 million will be used to buy firearms and service weapons, a helicopter and a watercraft.
The government is also providing the Philippine National Police P131.5 billion to strengthen efforts against crime and illegal drugs.
Some P1.4 billion will be spent to hire 10,000 new police officers to increase police visibility and to narrow the gap between the ideal police to population ratio of 1:500 from the current ratio of 1:551.
The administration is also allotting P900 million for the Oplan Double Barrel Reloaded, the government's flag ship program against illegal drugs.
The government is also providing the Philippine Statistics Authority P2 billion to roll out the biometrics-based national ID system.
Duterte said the national ID system is needed to ensure that only the rightful recipients would enjoy the benefits offered by anti-poverty programs.
The government will allot P89.4 billion for the conditional cash transfer (CCT) program, which is expected to benefit 4.4 million beneficiaries.
"We will be strict when it comes to the eligibility requirements of the CCT and in monitoring whether or not its beneficiaries are moving out of the poverty line," Duterte said.