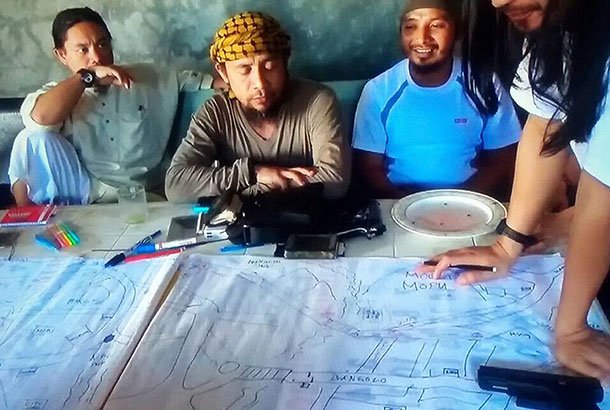 The terrorist leadership in Marawi City is reportedly unraveling as government forces resumed air strikes yesterday to flush out the followers of the Maute brothers Omarkhayam and Abdullah and the Abu Sayyaf faction of Isnilon Hapilon, the military said. Photo via AP, File
'Terrorist leadership in Marawi crumbling'
(The Philippine Star) - June 26, 2017 - 4:00pm
Maute infighting reported as air strikes resume surrenderees executed
MANILA, Philippines - The terrorist leadership in Marawi City is reportedly unraveling as government forces resumed air strikes yesterday to flush out the followers of the Maute brothers Omarkhayam and Abdullah and the Abu Sayyaf faction of Isnilon Hapilon, the military said.
Leaders and members of the Maute group are reportedly fighting among themselves and those who want to surrender to authorities were executed.
The Armed Forces of the Philippines (AFP) said it is verifying reports that Hapilon has abandoned his fighters in Marawi, causing leadership in the terrorist organization to collapse.
The report was based on the accounts of rescued civilians, captured Maute members and radio intercepts of the military from the battle zone.
Lt. Col. Jo-Ar Herrera, spokesman for Task Force Marawi, said it was not clear yet when Hapilon – said to be the designated emir of the Islamic State (IS) in the Philippines – escaped.
Hapilon's alleged escape and the reported death of Omarkhayam and terrorist financier Mahmud Ahmad left the Maute group under the command of Abdullah and the remaining ground commanders.
"Their command and control is crumbling," Herrera said.
Officials said if the information is true, the infighting among the terrorists shows that government forces are winning the battle and the Marawi crisis will end soon.
"Victory is irreversible. It is just a matter of time before we will be able to complete our mission," AFP public affairs office chief Col. Edgard Arevalo said yesterday.
Arevalo and Herrera said that aside from the leadership issue, the terrorists are reportedly quarreling over money, dwindling logistics and supplies that they still have in their possession.
They said some Maute fighters, who deserted their posts and wanted to surrender, were reportedly executed by their comrades.
Although the government security forces are slowly retaking Marawi City, the AFP said there are some 150 to 200 civilians who remain captive by the terrorists or are trapped in war-torn areas.
Arevalo said there are still at least 120 terrorists occupying portions of four remaining barangays that are yet to be cleared by the military.
Herrera said bombs and other explosives planted by the terrorists in the battle zone also hamper the military from fully retaking Marawi.
Showing signs of desperation, the terrorists have allegedly been forcing their civilian captives to become combatants.
Western Mindanao Command chief Lt. Gen. Carlito Galvez Jr. earlier reported that the Maute and Abu Sayyaf groups used the hostages as human shields and dummy fighters to confuse government forces.