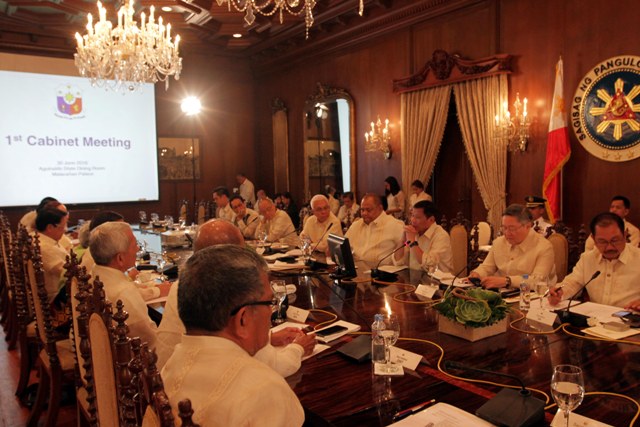 President Rodrigo Duterte holds his first Cabinet meeting at the Aguinaldo State Dining Room of the Malacañan Palace. Malacañang Photo Bureau/File
The highest paid members of the Duterte Cabinet are...
MANILA, Philippines — The Commission on Audit released Friday its latest "Report on Salaries and Allowances" or ROSA showing the total earnings of members of President Rodrigo Duterte's Cabinet.
Higher Education Secretary Patricia Licuanan ended as the top earning member of the Cabinet in 2016. The salary computation for Licuanan, who has been serving since the Aquino administration, however, covered 12 months compared to other members of the Cabinet which only served in the second half of 2016.
Licuanan, for the whole year of 2016, received a total pay of P2,581,615 a slight increase from P2.209 million pay she received in 2015.
Meanwhile, the second highest paid member of the Duterte Cabinet was Health Secretary Paulyn Jean Rosell Ubial who received a total pay of P2,408,063.31. She began serving on July 1, 2016.
Licuanan's total earnings for 2016 included P1.43 million as basic salary, P351.565 as allowances, P272,246 as bonuses and incentives, and P336,000 discretionary funds.
Licuanan also received P192,100 as "additional compensation/honorarium" for sitting as the chairperson of the governing boards of 27 state-run universities and colleges.
A total of 8,729 officials from 981 national government agencies, government-owned and controlled corporations, government financial institutions, state universities and colleges and water districts were included in the ROSA list.
Excluded in the report are the salaries of elected government officials such as the President, senators and congressmen and local government officials.
Although Licuanan proved to be the highest paid members of Duterte's family in 2016, she only landed 342nd in the entire ROSA list.
Licuanan was the third highest earning Cabinet member of the Aquino administration in 2015 following then Health Secretary Janette Garin and then Budget Secretary Florencio "Butch" Abad.
Ubial's salaries and allowances included P943,757.45 as assistant secretary of DOH from January to June 2016 and P1,294,412.14 as Secretary for the second half of the year.
The COA noted that Ubial held positions on the governing boards of four government hospitals and as member of the board of other government bodies including the Commission on Population and the National Dairy Authority but she did not receive any compensation or salary.

Ubial, meanwhile, received an additional P167,393.72 "discretionary sum" as chairperson of the board of the Philippine Health Insurance Corp.
Here are Duterte's other Cabinet members and the salaries and allowances they received in 2016:
Robredo's earnings
Meanwhile, Vice President Leni Robredo received a total of P1,007,897.80 pay since she assumed her post on June 30 until the end of 2016.
This includes P812,256 as basic salary, P12,000 additional compensation and honorarium, P170,376 bonuses, incentives and benefits, and P13,265.80 "other" pay.
Robredo used to be a member of the Cabinet as chairperson of the Home Development Mutual Fund, National Housing Authority, National Home Mortgage Finance Corp, Social Housing and Finance Corp., Home Guarantee Corp., and Housing and Urban Development Coordinating Council but she resigned on December 5.
The COA report showed that Robredo did not receive any salary or allowance as Cabinet member.