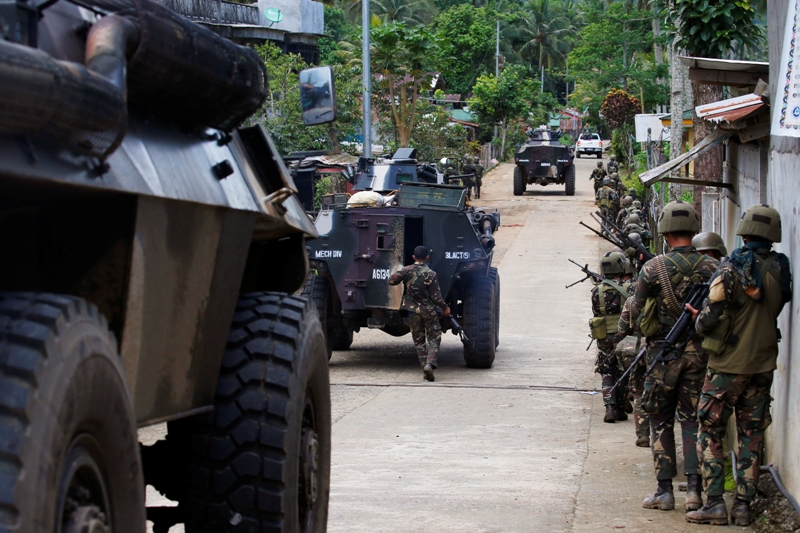 Government troops head to the frontline as fighting between government forces and Muslim militants who lay siege in Marawi city entered its second week on May 30, 2017. AP/Bullit Marquez, file
Marawi crisis over in 'about three more days,' Duterte says
MANILA, Philippines — The clashes in Marawi City would be over in "about three more days," President Rodrigo Duterte said, as he admitted that ensuring the safety of civilians while running after the terrorists poses a challenge to security forces.
Duterte said the government could have ended the clashes in 24 hours if it did not follow the "rules and values of civilization."
"This will be over in about three more days. At a gross…disparity. Many rebels have died. But the government did not fail to do what it was supposed to do," the president told reporters in Cagayan de Oro on Saturday.
"I could have bombed everything there. I have 10 jets. All I have to do is to bomb the whole place and level it to the ground. But since we are in a civilized society and we are a member of the United Nations and of the Geneva Convention Protocol, I am having difficulties and we had to do it to the least maximum damage of collaterals especially civilians," he added.
The Geneva Convention is a set of rules of war that are meant to protect non-combatants and those who are no longer capable of fighting, like wounded soldiers.
Security officials originally sought to end the clashes with the Maute terrorists Friday last week. The military previously said the bandits were using civilians as human shields, making it difficult for ground forces to launch offensives.
Fighting erupted after Maute group members, who are said to have links with the extremist Islamic State, attacked parts of Marawi City, burned several buildings and seized a number of civilians.
The atrocities prompted Duterte to place the entire island of Mindanao under martial law.
Duterte to take responsibility for military actions
Duterte reiterated that he was ready to assume full responsibility for the actions of the military including the airstrikes against the Maute militants.
"Those bombings were under my orders and I will account for it," he said.
Although the Philippine Air Force has FA-50 fighter trainers, these were only unleashed 10 days into the fighting. Airstrikes had been launched using OV-10 Broncos, SF260 trainers and helicopters before then.
"The enemies have no compassion. They shoot here, they shoot there. They do not care if they kill civilians, soldiers or policemen. But we have to you know, align our shots against the enemy. We cannot just press the trigger of a machinegun and just say, 'to whom it may concern, sorry.'"
Duterte said he was saddened by the airstrike accident that left 10 soldiers dead and seven others hurt but admitted that such incidents happen during a conflict.
"It is a very sad commentary. But this thing will happen again and again and again," the president said.
"The Murphy's Law states that if anything can go wrong, it will go wrong."
Duterte said he is leaving it to the military to probe the incident.
"I hope that this will not be repeated. But there is no guarantee. Any war, everything is stretched and it can break any moment," he said.