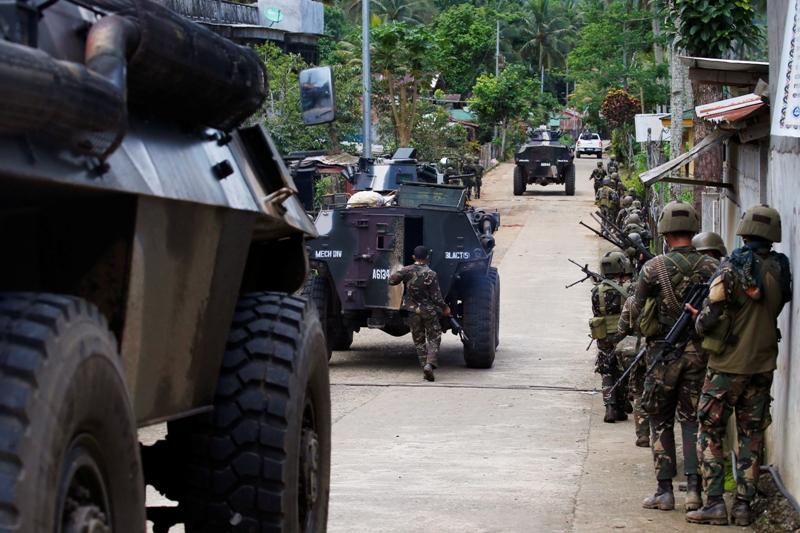 Government troops head to the frontline as fighting between government forces and Muslim militants who lay siege in Marawi city enters its second week Tuesday, May 30, 2017 in southern Philippines. Militants who have occupied much of a southern Philippines city over the past week were planning violent attacks during the holy month of Ramadan to earn recognition as a regional branch of the Islamic State group, the military said Tuesday. AP/Bullit Marquez
Maute attack planned long before Marawi raid, says military
MANILA, Philippines — Materials recovered by the military in Marawi City revealed that the attack of the Maute terror group had been planned even before the government forces' operation to arrest Abu Sayyaf subleader Isnilon Hapilon.
Armed Forces of the Philippines (AFP) chief of staff Gen. Eduardo Año earlier said that the fighting in Marawi broke out when troops attacked a hideout of Hapilon.
AFP spokesperson Brig. Gen. Restituto Padilla said that the military has recovered high-powered firearms and materials that can be used to construct improvised explosive devices in the area.
"The place has also been revealing so many voluminous materials of plans that are indicating that many of these activities prior to our entry to the area have been planned long ago," Padilla said in a telephone interview with ANC's Headstart Wednesday morning.
The military is yet to assess and study the recovered materials in the area, Padilla said.
"Indeed there was planning that was involved even prior to our entry to arrest Hapilon... when we got information that he was holed up in the area," the military spokesman said.
Hapilon's whereabouts
According to Padilla, the military has information that Hapilon remains inside Marawi which is why the remaining members of the local terror group continue to protect some areas of the city.
"But that is yet something that we have to confirm and we're crossing our fingers that he's still there because actually, he becomes the center of gravity for all these people," Padilla said.
Government forces have regained control of almost 90 percent of the whole city and have been cleared of any of the remnants of the Maute group, according to the military.
The remaining areas of pockets of resistance are strategic areas for the militant group because that is where their firearms are located.
"These are the object of our operation in the coming hours today and perhaps until tomorrow if it does not end today. We will do our best to end this as soon as possible and we will use and apply the appropriate military force that is necessary to expedite the process," Padilla said.
FACT CHECK: Inconsistencies in Duterte's martial law report