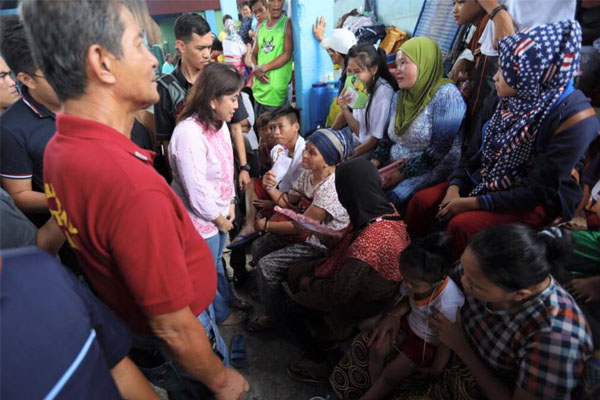 Vice President Leni Robredo speaks with displaced families in Iligan City. Families were displaced due to the clash of Philippinie military and police forces with the Maute group in Marawi City. OVP/Released
Robredo urges Duterte to take back threat to ignore SC, Congress
MANILA, Philippines — Vice President Leni Robredo urged President Rodrigo Duterte to take back his threat to ignore the Supreme Court and the Congress regarding martial law.
Robredo, in a statement Tuesday, said the country should be worried about such pronouncements of the president.
"We urge the President: take back what he said about disregarding Congress and the Supreme Court and be an example to all public servants that in the face of whatever crisis in our nation, we will all remain faithful to our Constitution and our democracy."
The vice president said the Constitution was "crafted precisely" to prevent the abuse of power.
"The very legitimacy of our government is based on this faithful adherence to our Constitution. We cannot deny the power of Congress and the Supreme Court to review any proclamation of Martial Law and the suspension of the privilege of the writ of habeas corpus," Robredo said.
The 1987 Constitution states that "[t]he Congress, voting jointly, by a vote of at least a majority of all its Members in regular or special session, may revoke such proclamation or suspension, which revocation shall not be set aside by the President."
Meanwhile, the SC "may review, in an appropriate proceeding filed by any citizen, the sufficiency of the factual basis of the proclamation of martial law or the suspension of the privilege of the writ or the extension thereof, and must promulgate its decision thereon within thirty days from its filing."
Robredo's statement came after Duterte said that he would ignore the SC and Congress as he enforces martial law over Mindanao following the clash between government forces and the Maute group in Marawi City last week.
"Until the police and the Armed Forces say the Philippines is safe, this martial law will continue. I will not listen to others. The Supreme Court, Congress, they are not here," Duterte told soldiers on Saturday.
Robredo noted that many Filipinos fear that the country would "once again sink into the quagmire of violence and abuse" that prevailed during the dictatorship of Ferdinand Marcos.
"We trust that the President realizes that such reckless statements only further add to apprehension felt by many citizens," she said.