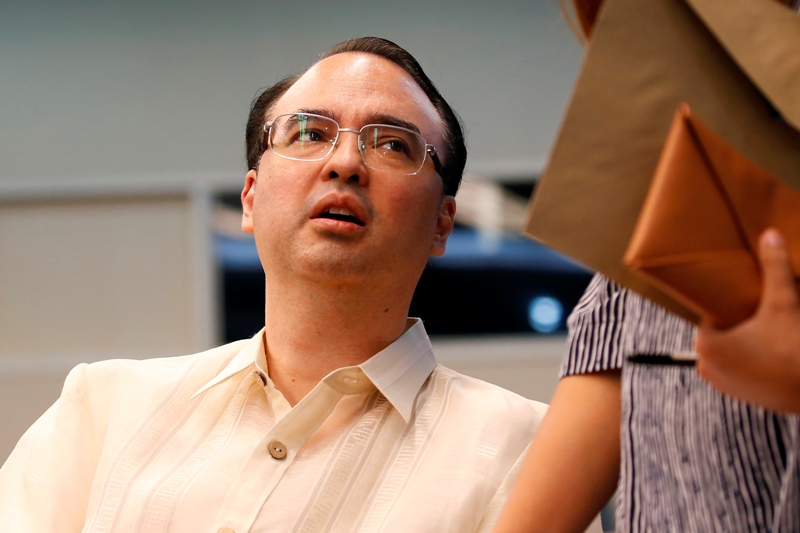 Foreign Affairs Secretary Alan Peter Cayetano said the administration felt no need to file a protest against China as there was no bullying by Chinese President Xi Jinping of President Duterte during their meeting in Beijing last week. Also at the meeting was Chinese Premier Li Keqiang. AP/Bullit Marquez
China sidesteps war threat
(The Philippine Star) - May 22, 2017 - 4:01pm
Alan: China didn't bully Philippines
BEIJING – China yesterday sidestepped the disclosure of President Duterte that it had threatened to go to war over the disputed South China Sea.
In Manila, Foreign Affairs Secretary Alan Peter Cayetano said the administration felt no need to file a protest against China as there was no bullying by Chinese President Xi Jinping of President Duterte during their meeting in Beijing last week. Also at the meeting was Chinese Premier Li Keqiang.
"My interpretation of the meeting is that there was no bullying or pushing around," Cayetano said.
Some senators as well as Supreme Court Senior Associate Justice Antonio Carpio have suggested that the Philippines raise Xi's threat before the United Nations or file a strong protest against China.
"I really said it to their face: that is ours and we intend to drill oil there," said Duterte, who said he made the comments public in response to domestic criticism he was being too weak with China over the maritime dispute.
"And they told me: 'Well, we're friends. We do not want to quarrel with you. We want to maintain the present warm relationship. But if you force the issue we'll go to war.' "
Beijing yesterday did not directly comment on Duterte's version of the leaders' conversation, but said it would "work with the Philippines to peacefully resolve disputes through friendly consultation."
China sought to "deepen cooperation in other fields so bilateral relations can move forward in a sound steady way and also contribute to regional peace stability," foreign ministry spokesperson Hua Chunying told reporters.
The rival claims to the South China Sea, which is believed to sit atop vast oil and gas deposits, have for decades made it one of Asia's potential military flashpoints.
China claims most of the sea, a key waterway for global shipping, and has reclaimed disputed reefs and installed military facilities on them.
Aside from the Philippines, Malaysia, Brunei, Vietnam and Taiwan also have overlapping claims.
The UN-backed Permanent Court of Arbitration ruled in July last year that China's claims to most of the sea were without legal basis, in a case filed by the previous Aquino administration.
But China vowed to ignore the ruling and warned the Philippines against trying to use the verdict as leverage.
Duterte, who began his six-year term in June last year, agreed to take a soft stance on China.
The President has also sought closer ties with China to win billions of dollars of Chinese investments and loans, while loosening the Philippines' long-standing alliance with the US.
Explanation soon
In a press briefing shortly before he joined the President on an official visit to Moscow, Cayetano said he would seek audience with Senate and House leaders as well as with Carpio upon his return to brief them on the highlights of negotiations with China.
"This will be communicated to them. So I'm confident that after I brief the senators who are asking us to protest, I'm confident that that decision would change or they would understand the context of the President's pronouncement," Cayetano said.
He said he is not authorized at the moment to reveal what was discussed in the restricted meeting between Duterte and Xi, but he pointed out it was focused on threshing out ways to avoid conflict, as well as increase trust and mutual respect.
Nothing was said or implied during the meeting, Cayetano said, that would lead any of the two leaders to believe they or any of them had been shown disrespect.
"It is but natural that when you talk about peace and when you talk about conflict, the word war may or may not come up, so I'm not confirming or denying," Cayetano said.
"The conversation was very frank. There was mutual respect, there was mutual trust," he told reporters.
"The context was not threatening each other, that we will go to war. The context is how do we stabilize the region and how do we prevent conflict."
Carpio said the threat of China to go to war if the Philippines extracts oil and gas in Recto (Reed) Bank, or in any area in the West Philippine Sea, is a gross violation of the UN charter, UNCLOS and the Treaty of Amity and Cooperation in Southeast Asia to which China and the Philippines are parties.
Carpio was part of the legal panel that defended the Philippines' case before the arbitral tribunal in The Hague.
Cayetano said the President's making public the Chinese president's threat was in response to excessive badgering at home about what action he should take on the South China Sea issue.
"If you ask me why, I think the President stated those words because he was being barraged by comments of what he should do, 'dapat may ganitong statement sa ASEAN, dapat i-file mo ito, dapat ipadala mo ang navy dito (that the ASEAN should have this statement, that he should file this, that he should send the navy),'" Cayetano said.
Duterte, he pointed out, has assured the nation repeatedly that he is committed to protecting the country's territorial integrity.
"He will protect every single inch of our territory but trust him on how he will do it, how he will approach it and the strategy," the DFA chief added.
Revisit joint patrol tack
Meanwhile, Cayetano's predecessor Albert del Rosario said the administration should follow Carpio's twin suggestions that it protest Xi's bellicose pronouncement before the UN and revisit a joint maritime patrol arrangement with the US and other allies.
He said the use of force as well as threats of force are serious violations of the UN Charter.
"We can expect that the responsible community of nations would be supportive of such a diplomatic action by the Philippine government," Del Rosario said in a statement. He stressed a joint patrol arrangement with the US and other allies is a defensive tack.
The joint patrol initiative with the US was jettisoned by the incumbent government as being inconsistent with the new government's "full embrace of China."
"The joint patrol of our EEZ with the US and possibly other partners would be a combined strategic and tactical move for the Philippine government in defending our national interest and territorial integrity," he added.
"It will furthermore serve to effectively posture our security guarantee agreement as provided for by our treaty alliance with the US," he pointed out.
Beijing's strong statement that it would not honor the arbitral ruling was a clear affront to the rule of law, he added.
"The utterance by the leadership of China on a threat to go to war if the Philippines drills for oil within its EEZ in the South China Sea clearly demonstrates to the world China's position regarding the arbitral tribunal outcome that is consistent with UNCLOS," Del Rosario said.
"Contrary to our position that right is might, China has strongly declared that it is might that will triumph what is right," Del Rosario said. "China – unless it stands to benefit – does not intend to respect the rule of law." – Pia Lee-Brago, AFP