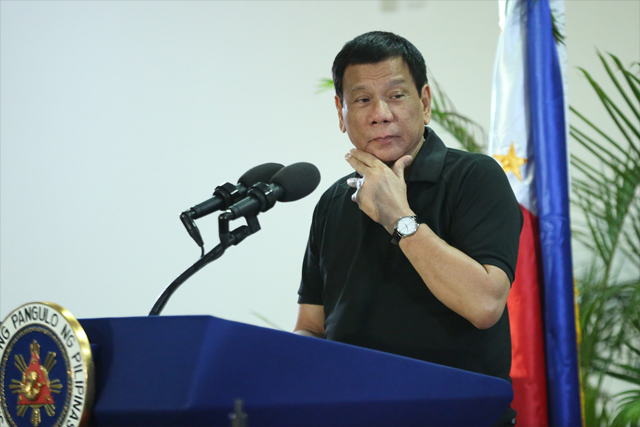 "Mula sa Masa, Para sa Masa" is a spinoff of the "Gikan sa Masa, Para sa Masa," Duterte's weekly talk show when he was still mayor of Davao City. File photo
Duterte talk show to air on PTV-4 soon
MANILA, Philippines — President Rodrigo Duterte will soon have another platform to communicate his views, policies and even his rants as his talk show will be airing soon on state-run PTV-4.
The Presidential Communications Operations Office on Wednesday released a 33-second promo for the "Mula sa Masa, Para sa Masa (from the masses, for the masses)" show on its Facebook page.
Presidential Communications Secretary Martin Andanar said no date has been set for the premiere of the show "but (it) will be airing very soon."
He said the show is meant "to communicate the policies of the Duterte administration to the masses straight from the president himself."
PTV-4 Malacañang correspondent Rocky Ignacio will be the program's co-host.
The promo for the show was released three days after Vice President Leni Robredo's radio program premiered on dzXL. The PCOO, however, announced that Duterte would have his own show days after he assumed the presidency.
"Mula sa Masa, Para sa Masa" is a spinoff of the "Gikan sa Masa, Para sa Masa," Duterte's weekly talk show when he was still mayor of Davao City. The show aired every Sunday on a local ABS-CBN channel.
"Gikan sa Masa, Para sa Masa," was aired on free television, but it did not stop Duterte from cursing and issuing provocative statements against criminals, corrupt officials and drug offenders.
Government media has featured incumbent presidents in the past, but usually in shows that feature the president's activities and projects. The Working President, hosted by Jolina Magdangal, for example, featured President Gloria Macapagal-Arroyo.
The new show will be on top of the live coverage of Duterte's events by state-run media outlets PTV-4 and radio dzRB.
PCOO has also launched tabloid Masa, which contains articles about the administration's programs and accomplishments. Its premiere issue also featured blind items on showbiz personalities allegedly involved in illegal drugs.