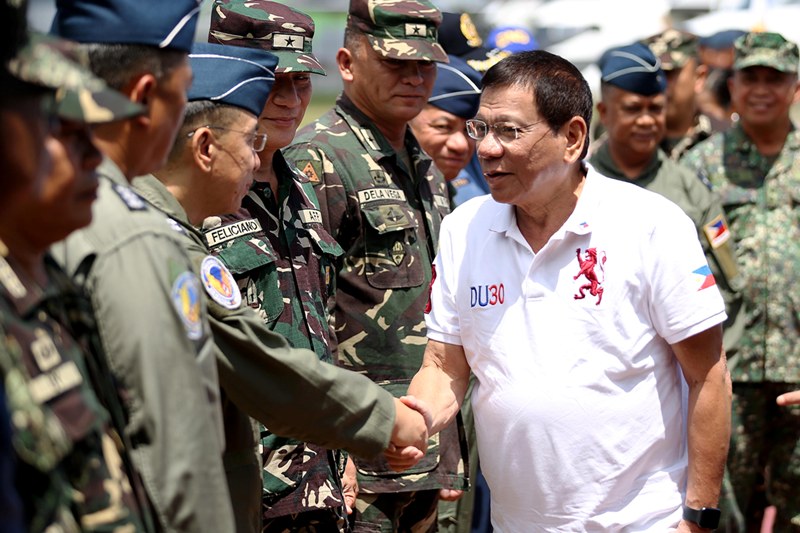 Youth group Anakbayan and rights watchdog Karapatan expressed concern over the recent appointment of President Rodrigo Duterte of members of the military to his Cabinet. PPD/Kiwi Bulaclac, File
Groups concerned over 'creeping militarization' of Duterte Cabinet
MANILA, Philippines — Groups expressed concern over the "creeping militarization" of President Rodrigo Duterte's Cabinet after the latest appointments of two military men to key positions.

In a statement on Wednesday, Anakbayan urged the president to rethink his decision to appoint military officials who they said came from "one of the most corrupt and human rights violating institution in the country."

"Clearly this is not the change the Filipino people want. We appeal to the president to steer clear from the path of fascist terror and repression represented by these military men," Anakbayan said.

The group added that the president should instead support the people's movement to push for genuine agrarian reform and industrialization.

The statement came after Duterte announced on Wednesday that he is appointing Armed Forces of the Philippines (AFP) chief Gen. Eduardo Año as interior secretary following the appointment of former AFP chief Roy Cimatu as environment secretary on Tuesday.

With this, Año and Cimatu now join other ex-generals in the Cabinet: Emmanuel Bautista in the Office of the President undersecretary, Hermogenes Esperon Jr. as national security adviser, Delfin Lorenzana as defense secretary and Ricardo Visayas as National Irrigation Administration chief.

Human rights group Karapatan, meanwhile, said that the recent appointments of Año and Cimatu bring into "serious concern" the direction the Duterte administration is veering towards.

In a statement on Thursday, Cristina Palabay, Karapatan secretary general, said that "impunity prevails" when rights violators are given positions while victims and their families are denied of justice.

"The rise of military generals in key government positions is a preview of a leadership strongly influenced by rightist-militarists who were at the forefront of implementing fascist policies such as the US-driven counter-insurgency programs," Palabay said.

She noted how Año was implicated in the abduction and disappearance of activist Jonas Burgos in 2007, while Cimatu was at the helm of the AFP when civilians were arrested on wrongful accusations of being Abu Sayaff members.

"If the Duterte administration continues with where it is headed, then there can be no respite in rights abuses, both in rural communities and in the urban centers," Palabay said.
Cabinet is not 'balanced'
Sen. Francis Escudero, meanwhile, said that he thinks that the presence of military men in Duterte's Cabinet is "not really too balanced" with the presence of left-leaning officials.

"Para sa akin, malaya ang binibigay ko sa pangulo ang karapatan para piliin, 80:20, 50:50, 60:40, galing man sa kaliwa o kanan, galing man sa Luzon, Visayas o Mindanao because at the end of the day, alter-ego sila ng pangulo," Escudero said in a forum at the Senate on Thursday.

"Importante yung kumpyansa niya sa kanila," he added.

Escudero also noted how former Presidents Benigno Aquino III and Gloria Macapagal-Arroyo also appointed military personnel to their Cabinet.

"Malawak din naman ang mga karanasan nila lalo na yung mga naging heneral," he said.