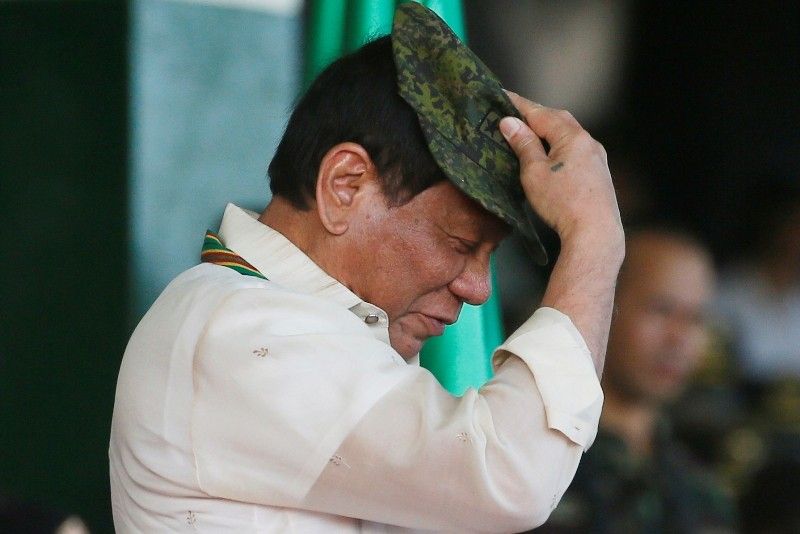 President Rodrigo Duterte dons a Philippine Army ball cap presented to him by Army Chief Lt. Gen. Glorioso Miranda during the 120th-anniversary celebration of the Philippine Army Tuesday, April 4, 2017 at Fort Bonifacio in suburban Taguig city, east of Manila, Philippines.
AP/Bullit Marquez
Duterte creates Order of Lapu-Lapu to honor service to his campaigns
MANILA, Philippines — President Rodrigo Duterte has signed Executive Order No. 17 (EO 17), creating the Order of Lapu-Lapu to recognize individuals who contributed to his advocacy.
The Order of Lapu-Lapu, which will take effect immediately, seeks to reward the efforts and sacrifices of the officials and personnel of the government and private citizens who gave "invaluable" or "extraordinary" service in relation to the president's campaign.
It is comprised of three medals namely: Lapu-Lapu, Kalasag, Kampian. According to the EO, requirements for the implementation of the Order of Lapu-Lapu shall be sourced from the available funds of the Office of the President.
Duterte has vowed to suppress illegal drugs and illegal gambling, protect the environment and eradicate graft and corruption.
Nominees for the Order of Lapu-Lapu will be recommended by the heads of agencies involved in the mentioned campaigns and advocacy.
Duterte would then confer upon the recommendation of a committee composed of the Executive Secretary, who will also act as chair, as well as two representatives from the Presidential Management Staff, who will serve as members.
"The Order of Lapu-Lapu may be awarded posthumously to any person entitled thereto, in which case it shall be received by the awardees' legal heirs. If there is no legal heir, the nearest of kin shall receive the award, and if there is no legal heir or nearest of kin any person designated by the President may receive such award on behalf of the awardee," the EO read.
The committee shall likewise determine the manner of wearing of the award through appropriate rules and regulations.
EO 17, dated April 7, 2017, was signed by Duterte and Executive Secretary Salvador Medialdea. It was an actuality of one of the campaign promises of the president.