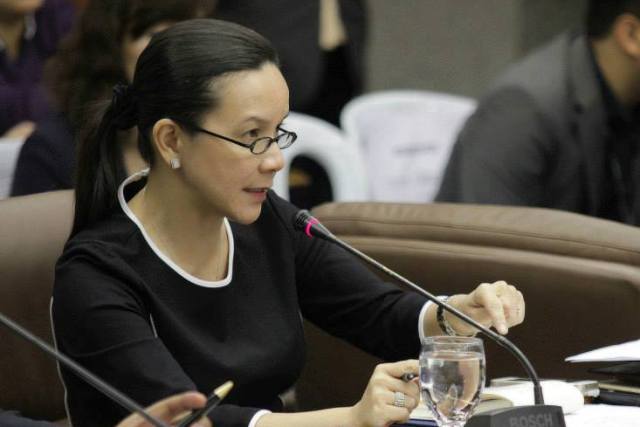 "We want to be part of the solution to the debilitating traffic woes experienced by Filipinos everyday. We will work double time to ensure that we come up with a law that will address and significantly ease the traffic crisis engulfing major urban centers in the country," said Poe, chair of the Senate committee on public services and sponsor of the bill. Senate photo
Senators vow to work overtime on traffic emergency powers
Paolo Romero
(The Philippine Star) - February 8, 2017 - 12:00am
MANILA, Philippines – Plenary debates on the bill to grant President Duterte emergency powers to address the worsening traffic crisis in the country started in the Senate yesterday, with Sen. Grace Poe expressing optimism that the measure would be approved in the coming weeks.
"We want to be part of the solution to the debilitating traffic woes experienced by Filipinos everyday. We will work double time to ensure that we come up with a law that will address and significantly ease the traffic crisis engulfing major urban centers in the country," said Poe, chair of the Senate committee on public services and sponsor of the bill.
Under Committee Report 24 or the proposed "Act compelling the government to address the transportation and congestion crisis through the grant of emergency powers to the President," some alternative methods could be used to speed up the implementation of key transportation projects.
The emergency powers, if approved, will be valid until Congress adjourns in June 2019 unless withdrawn sooner.
The measure authorizes Duterte, through his appointed traffic crisis manager, to use alternative methods of procurement such as selective bidding, direct contracting, negotiated procurement and other modes under existing laws to speed up the implementation of key transportation projects.
Sen. Risa Hontiveros grilled Poe on the powers of the local government units to question dubious procurement processes and programs that may contradict ordinances.
She believes the proposed emergency powers may be too sweeping as it seeks to suspend many provisions in the Local Government Code, the Labor Code, the Urban Development and Housing Act and some laws on environmental clearances.