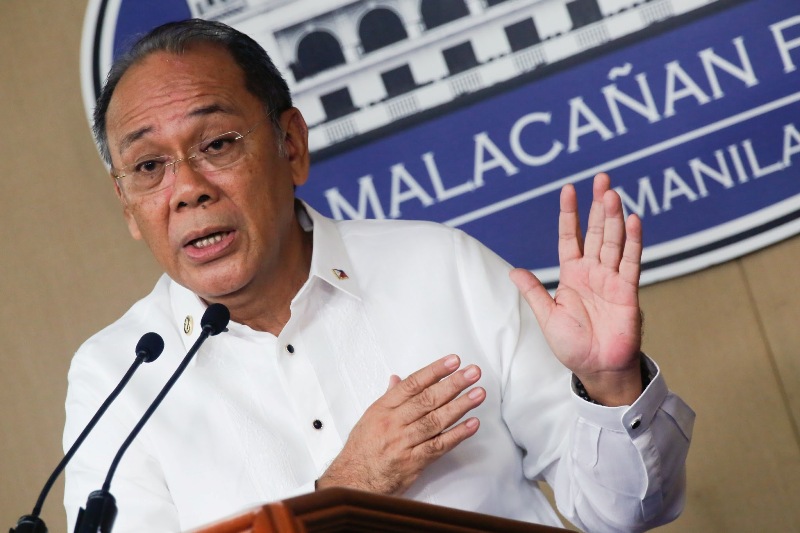 Presidential spokesperson Ernesto Abella explains the economics behind decreasing the demand for illegal drugs during a press briefing in Malacañan on Aug. 26, 2016. PPD/Toto Lozano
Palace plays down rumored 'Oust Duterte' blueprint
MANILA, Philippines (Updated 4:51 p.m.) — Malacañang on Tuesday played down a rumor that former US Ambassador to the Philippines Philip Goldberg prepared a supposed blueprint to oust President Rodrigo Duterte.
Presidential spokesperson Ernesto Abella instead pointed out that the president has a high trust rating in the country — an 'excellent' +72 in a Social Weather Stations poll this month.
"The president continues to enjoy the trust of the people, and the people on the ground apparently appreciate what he's doing," Abella said in a press briefing.
The statement was in reaction to a newspaper article that cited a single unnamed source claiming that Goldberg had prepared a plan "to undermine" the Duterte administration.
The article quoted from an allegedly leaked document of "a strategic recommendation ostensibly to the State Department for the ultimate removal of President Rodrigo Roa Duterte from office."
Abella said that "whoever attempts [the ouster] will find it difficult."
The palace official said he is not sure whether Duterte has already seen the article on the alleged ouster plot. He added that the Palace has not received any word from the US State Department but is aware that it has already denied the existence of such a blueprint and Goldberg's participation in an alleged ouster.
Ties between the Philippines in the US have soured since the US State Department, and later US President Barack Obama, expressed concern over deaths in the government's war on drugs. The Philippines has since announced that it will pursue an "independent foreign policy" that will focus more on regional partnerships in Asia, especially with China.
The president has more than once said that he will have the Visiting Forces Agreement, through which US troops are allowed on Philippine territory, abrogated.
The Palace has said in the past, though, that while the president's statements are a basis for policy, these are not policy until the government acts on them.
Speaker calls for probe
Meanwhile, House Speaker Pantaleon Alvarez, the president's party mate and ally, called Tuesday for an investigation into the supposed plot.
"If true, this has serious consequences not only on our country's political stability but also on the economic and social fabric of our nation. It would also have grave repercussions on our relationship with the United States," Alvarez said in a statement released by the House public information bureau.
He said that if the US does interfere in Philippine politics, "that is anathema to the gospel of democracy the US government, especially under the administration of President Obama, has been preaching to the world."