US to China: Return our underwater drone
December 18, 2016 | 12:00am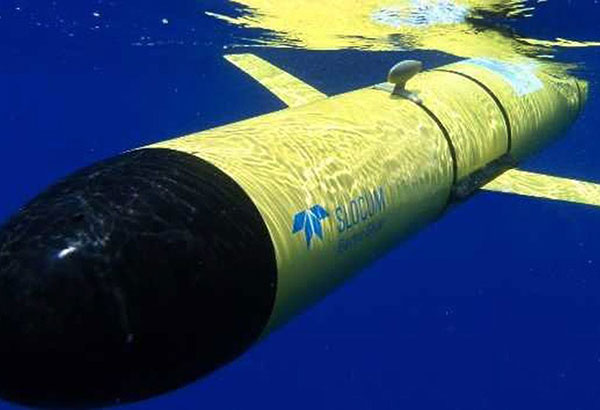 WASHINGTON – The Pentagon on Friday demanded the return of an unmanned US underwater vehicle (UUV) which China seized in the South China Sea about 50 miles northwest of Subic Bay.
Pentagon spokesman Peter Cook said the UUV was unlawfully seized while a US Navy oceanographic survey ship was retrieving it.
The USNS Bowditch and the UUV – an unclassified "ocean glider" system used around the world to gather military oceanographic data such as salinity, water temperature and sound speed – were conducting routine operations in accordance with international law when a PRC Navy ship Dalang III launched a small boat and retrieved the UUV, Cook said.
The Chinese embassy said it had no immediate comment but China's influential state-run tabloid the Global Times – citing an unidentified Chinese source – said Beijing expects a smooth resolution to the seizure by its navy of "unidentified" equipment found in the South China Sea.
Cook said Bowditch made contact with the Chinese Navy ship via bridge-to-bridge radio to request the return of the UUV but the request was ignored.
"The UUV is a sovereign immune vessel of the United States and we call on China to return it immediately and to comply with all of its obligations under international law," Cook said.
Another Pentagon spokesman Navy Capt. Jeff Davis said the US has issued a formal diplomatic complaint over Thursday's incident, but he was not aware of any response yet.
He said this may be the first time in recent history that China has taken a US naval vessel. There have been periodic incidents over the years between US and Chinese military ships and aircraft.
Davis said the Bowditch, which is not a combat ship, was stopped in international waters Thursday afternoon when the Chinese ship approached. The two vessels were within about 500 yards of each other. He said the Bowditch carries some small arms, but no shots were fired.
As the Chinese ship left with the drone, the Pentagon said, its only radio response to the US vessel was, "We are returning to normal operations."
In Manila, Defense Secretary Delfin Lorenzana said they were not taking sides on the incident and is leaving the matter for China and US to resolve.
He added he was not aware a US unmanned underwater glider was operating near the Philippines.
Heightened tension
The incident came on the heels of a report by Washington-based think tank Asia Maritime Transparency Initiative (AMTI) that China has heavily fortified and installed anti-aircraft and anti-missile systems on artificial islands it has built in the disputed South China Sea to support its claim to almost all of the area.
It also coincided with saber-rattling from Chinese state media and some in its military establishment after US President-elect Donald Trump cast doubt on whether Washington would stick to its nearly four-decades-old policy of recognizing that Taiwan is part of "one China."
President Barack Obama said on Friday it was appropriate for Trump to take a fresh look at US policy toward Taiwan, but he cautioned that a shift could lead to significant consequences in the US relationship with Beijing, as the notion that Taiwan is part of "one China" is central to China's view of itself as a nation.
US Sen. Ben Cardin, ranking Democratic member of the Senate foreign relations committee and the sub-committee on East Asia and the Pacific, in a statement on Friday described the seizure of the unmanned scientific research submersible as a "remarkably brazen violation of international law."
China's increasingly aggressive behavior in the South China Sea – including the militarization of the artificial features that it has built in the region, in direct contradiction of a pledge made by President Xi not to do so – is deeply disturbing, and not consistent with the actions of a nation seeking to build a constructive and cooperative relationship with the US, he said.
Quoting a source, Global Times said a Chinese naval vessel retrieved the underwater glider and checked it to prevent any navigational safety issues.
"This person said China has already received a claim request for the equipment from the US side, relevant parties from both sides have maintained smooth communication channels, and believe this issue will be smoothly resolved," the paper said.
"The UUV was lawfully conducting a military survey in the waters of the South China Sea," a US official said, speaking on condition of anonymity. "It's a sovereign immune vessel, clearly marked in English not to be removed from the water – that it was US property," the official said.
The Pentagon said the drone used commercially available technology and sold for about $150,000. The Navy drone is a glider, about 10 feet long and less than two feet wide that can be programmed and moves automatically through the water collecting data on temperature, salinity and other scientific facts used for sonar operations.
Still, the Pentagon viewed China's seizure seriously since it had effectively taken US military property.
"It is ours, and it is clearly marked as ours and we would like it back. And we would like this not to happen again," Davis said.
Signal to Trump
Bonnie Glaser, senior adviser for Asia at the Center for Strategic and International Studies, said the seizure of the glider occurred inside the exclusive economic zone of the Philippines, not China, and appeared to be a violation of international law.
She said China was likely sending a signal to Trump's incoming administration because of his comments about Taiwan. After those comments, Chinese government spokesman An Fengshan said breaching the one-China principle "will seriously affect peace and stability across the Taiwan Strait" and undermine relations between Beijing and Washington.
Under the one-China policy, the US has long recognized Beijing as China's government and maintains only unofficial relations with Taiwan, a former Japanese colony, which broke from the Chinese mainland in 1949.
US law requires the government to ensure that the island has the ability to defend itself and to treat all threats to it as issues of national concern.
"My guess is this is not the act of a rogue commander on a Chinese navy ship. We have seen tight control by (Chinese President) Xi Jinping over the military. I'm more inclined to see it as a deliberate act and as a signal," Glaser said. – Jaime Laude, AP