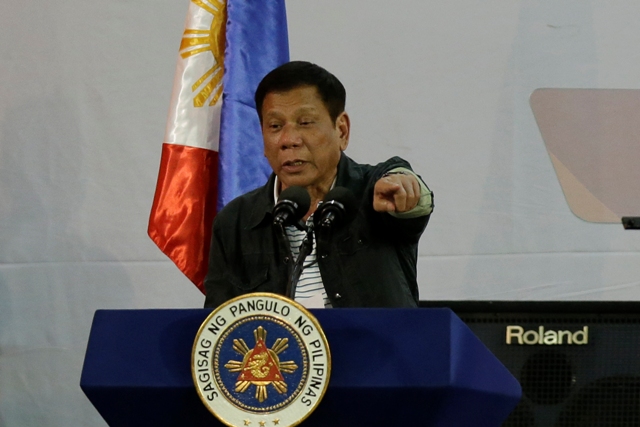 "Ngayon, 'pag talagang loko-loko na, tapos walang alibyo na ang katawan, hindi na masauli, nagpadala rin ako ng mga lubid. Magbigti lang kayong mga p**** i**," President Rodrigo Duterte said. AP/Aaron Favila, File
Rody to drug addicts: Take tranquilizers or hang yourself
MANILA, Philippines — Take tranquilizers or hang yourself.
These were the choices given by President Rodrigo Duterte to drug addicts whom he said should just stay home to avoid arrest.
In a speech delivered Tuesday before leaving for Cambodia, Duterte said he would use part of the P5 billion remitted to him by the Philippine Amusement and Gaming Corp. to buy medicines for drug dependents.
"Stay in your house and wait… I also released another P1 billion… There are about four million of you, I do not know if it would be enough," Duterte said.
"You can buy your medicines. For example, the tranquilizers, the medicines that would keep you calm, medicines that would restore your sanity if it can still be restored. You just stay in the house and I will order the medical workers all around the country to go around the areas (with drug addicts)," he added.
For addicts who can no longer be treated by medicine, Duterte gave this advice.
"Ngayon, 'pag talagang loko-loko na, tapos walang alibyo na ang katawan, hindi na masauli, nagpadala rin ako ng mga lubid. Magbigti lang kayong mga p**** i** (For those who are already crazy and can no longer be cured, I'll send you ropes. Just hang yourselves sons of b******)," he said.
Duterte ordered the Social Welfare department to determine the areas inhabited by drug addicts.
"I hope that one billion would go a long way to treat you this Christmas," he said.
The problem on illegal drugs was one of the topics discussed during the National Security Council meeting in Malacañan Monday night. National Security Adviser Hermogenes Esperon confirmed that they are still verifying the involvement of eight lawmakers in the narcotics trade.
"We are still validating," Esperon said in a chance interview Tuesday.
Duterte has claimed that there are about 3.7 million addicts in the country. He said more than 2,000 government officials, local executives and barangay captains are involved in illegal drugs.