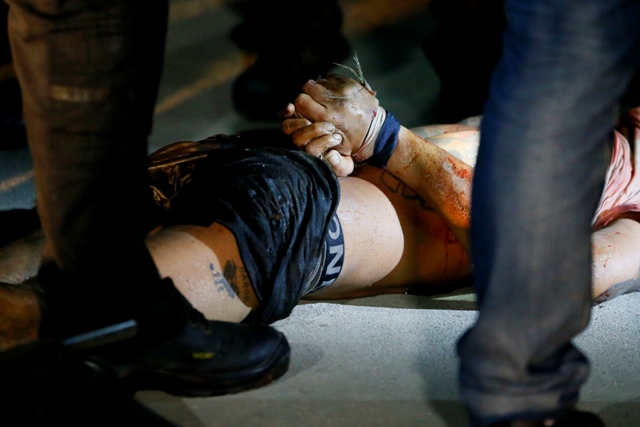 Police examine the rope-bound body of an unidentified man who police believe was a victim in a drug-related killing in suburban Navotas, north of Manila, Philippines Tuesday, Sept. 27, 2016. The man was found floating before dawn in a pumping station under a bridge in the early morning. More than 3,000 suspected drug dealers and users have been killed since July and more than 600,000 others have surrendered for fear of being killed in President Rodrigo Duterte's unrelenting anti-drug campaign.
AP/Bullit Marquez
CHR finds more anecdotal evidence suggesting cops moonlight as vigilantes
MANILA, Philippines — Commission on Human Rights (CHR) Chairperson Jose Luis Martin Gascon expressed worries over growing anecdotal evidence which suggest that members of the police force are moonlighting as vigilantes or directing them.
The CHR chief said this creates a gray area as it becomes difficult to distinguish between drug suspects killed in legitimate police operations and those committed by vigilantes.
"There's a section of our police force that has been involved in drugs that are cleaning up, so to speak, the evidence by ensuring that low-level assets are removed so they could not talk and identify police involvement in drugs," Gascon said Saturday via video chat to an audience in Canberra, Australia who attended the "Tara, usap tayo: Duterte beyond Facebook" forum.
"[T]his is really very dangerous because the whole point of the matter is we fully enforce the law when the law enforcers themselves violate it."
During the Senate hearing on drug killings last September, one of the witnesses, Harra Kazuo, accused two police officers of killing his common-law husband and father while in detention in July.
The two officers were suspended but neither has been indicted.
Last October, President Rodrigo Duterte said that his latest narco list contained 8,000 names of government officials, including barangay captains and police, involved in the narcotics trade.
Turn a blind eye
Gascon pointed out that the broken justice system in the country is a source of the high level of frustration of the public.
"The public's demand for justice and the failure of the government to deliver it, that's how we must understand this current narrative or discussion," he said.
"In fact, I think this is the reason why despite all the killings, President Duterte remains extremely popular."
The CHR chief, however, warned against the thinking that extreme conditions require extreme measures, saying it is a dangerous slope for a country trying to reform itself in accordance with due processes and rule of law.
"If we are to justify the killings of drug addicts and drug pushers because they are a scourge to society, they create criminality and we essentially turn a blind eye to the fact that law enforcers themselves are no longer bound by legal constraints what will happen if after all the drug addicts and drug pushers are killed and we have not contained the brute force of the police?" he said.
As of December 3, there were over 5,800 killed in Duterte's war on drugs. Some 2,028 of the deaths were during police operations while the rest are killed by vigilantes. The president's campaign drew criticisms from rights activists, the United Nations, the European Union and the United States over human rights concerns.
Gascon added that it is crucial to ensure that the police are held by a set of standards so that when they commit violations, they could be held accountable.
"I think it's important not to justify the violence that the police are doing but it's important to highlight the need to improve our justice system all around to make sure that perpetrators are held to account by ensuring we have good investigation, good prosecutions, good convictions and ultimately good correctional systems."