SWS: Unemployment rises to 23.2% in Q2
MANILA, Philippines - The country's unemployment rate grew to 23.2 percent or an estimated 10.5 million adult Filipinos in the second quarter of the year, according to a survey conducted by the Social Weather Stations (SWS).
This is an increase from the 19.1 percent unemployment rate or about 9 million jobless Filipinos in March.
Data from the SWS showed that 10 percent or 4.4 Filipinos lost their jobs while 11 percent or 4.7 million adults voluntarily quit their jobs.
In the previous quarter, 7 percent voluntarily left their jobs while eight percent were retrenched.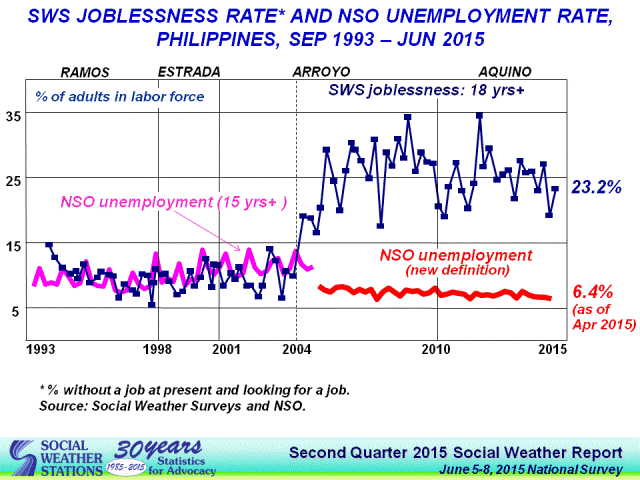 By gender, joblessness among women was recorded at 31.3 percent in June, an increase from 27.6 percent in March. Unemployment among men also rose from 12.2 percent to 16.9 percent.
Meanwhile, joblessness increased in all age groups. Unemployment rate among those 45 years and above was 11 percent, higher than last quarter's eight percent.
Joblessness among the 35-44 age bracket and among the 25-34 bracket went up to 20 percent (from 16 percent) and 29 percent (from 28 percent), respectively.
In the 18-24 bracket, joblessness increased from 50 percent in the previous quarter to 55 percent.
The SWS Labor Force Survey defines unemployed as those who are not working, looking for work and available for work.
The survey was conducted among 1,200 adults nationwide from June 5 to 8.