Lacson's copy of 'Napoles list' revealed
MANILA, Philippines (UPDATED 5:13 p.m.) — Former Senator Panfilo "Ping" Lacson submitted a list of alleged "pork barrel" scam operators to the Senate Blue Ribbon Committee, a copy of which was disclosed to the media on Tuesday.
The newly surfaced list, which has circulated in political circles earlier this week, was confirmed to be sourced from Lacson, who claims to have received the statement from Napoles' family.
"I hope that these documents will assist in the investigation being conducted by your Committee and address the clamor of our people for transparency in public service," Lacson said in the cover letter addresed to Senate panel chairman Teofisto Guingona III.
Lacson's "Napoles list" contains names of nine incumbent senators including plunder respondents Senators Jinggoy Estrada, Juan Ponce Enrile and Ramon "Bong" Revilla, Jr. It also included the late Senator Robert Barbers and then San Juan representative now Senator JV Ejercito.
Incumbent and former members of the House of Representatives—53 of them, including Ejercito—are also identified in the list of alleged cohorts of Napoles in the multi-billion peso Priority Development Assistance Funds embezzlement.
Among the former congressmen named are current administration officials Florencio Abad, Joel Villanueva and former Customs chief Rozzano Rufino Biazon.
The second page of the list tags officials from the Department of Agriculture including current chief Proceso Alcala, Department of Agrarian Reform, and three agencies that served as conduits of Napoles' alleged non-government organizations.
Ruby Tuazon, now a state witness in plunder cases on the "pork barrel" scam, is also mentioned in the list as an "agent," joining eight other suspected co-conspirators of Napoles.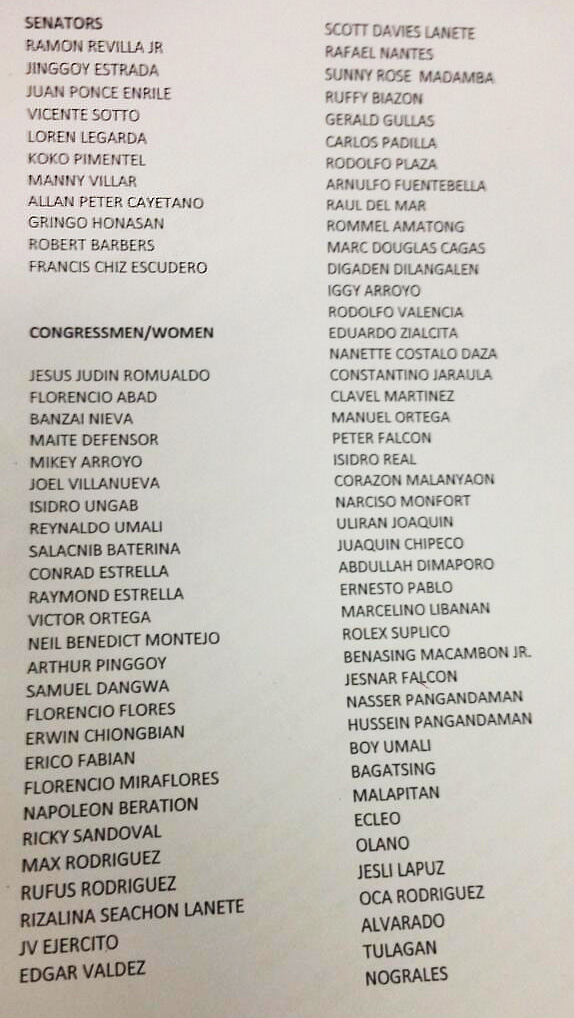 Copy of the first page of Napoles' list from Presidential Assistant for Rehabilitation and Recovery Panfilo Lacson. Marvin Sy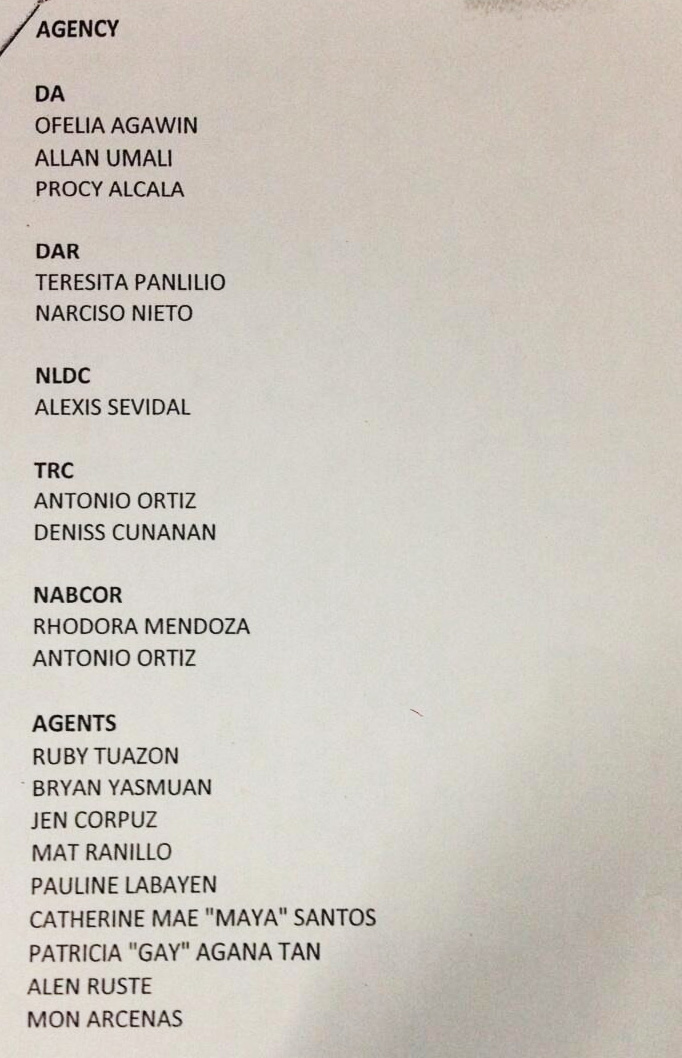 Second page of the document from Lacson. Marvin Sy
Besides Napoles, whose list was submitted to the Department of Justice, Lacson, principal scam whistleblower Benhur Luy and jueteng scandal whistleblower Sandra Cam claim to have lists linked to the pork barrel scam.
Lacson had said that 21 senators and 90 congressmen are tagged in a combined list of "pork barrel" and Malampaya Fund scams. Lacson said one of the lists came from Luy and retrieved from a computer's hard disc drive.
Compare: Napoles' signed list
Cam, meanwhile, claimed that 16 senators and 82 representatives are in a document given to her by an unnamed source.
President Aquino admitted on Monday he has seen two different pork barrel scam lists, which he said "don't match."
Justice Secretary Leila de Lima refused to confirm the credibility of Lacson's and Cam's list, but said she is ready to submit Napoles' affidavit and list to the Senate panel following a subpoena issued Monday. - Camille Diola with Marvin Sy