Attacks, threats vs journalists
+ Follow Story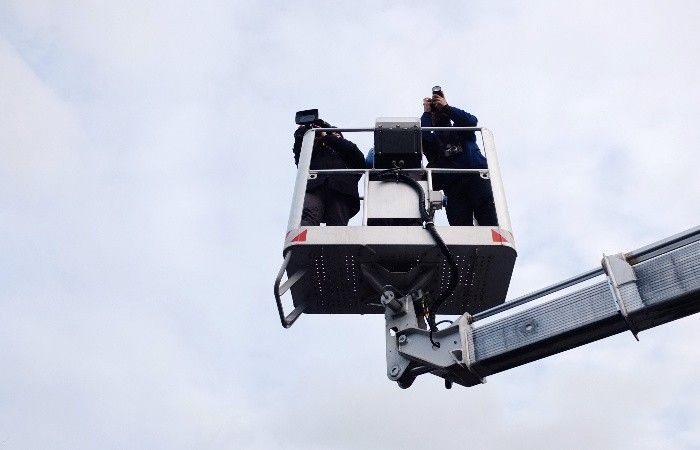 3 days ago
A Moscow court on Tuesday ordered the detention in absentia of Russian blogger Michael Nacke, accusing him of discrediting the Russian army and its offensive in Ukraine.
Nacke, a 28-year-old Kremlin critic, hosts a YouTube channel with more than 700,000 subscribers that discusses Russia's military actions in Ukraine.
A citizen of Russia, he is currently in Lithuania, he told AFP, after Moscow's Basmanny court ordered his detention.
Nacke said he was accused of "calling a war a war" and prosecuted over his updates about the course of Russia's military campaign in Ukraine on his YouTube channel.
He risks up to 10 years in prison if he returns to Russia, he said.
He said his arrest was "part of the massive pressure on journalists and analysts who objectively describe the course of the current war."
"The goal of the Kremlin and Putin personally is to silence everyone," he said.
He said he would continue with his reports.
"There's nothing more important right now than to stop this war," he said.
Nacke creates videos with Ruslan Leviev, the founder of the Conflict Intelligence Team (CIT), a respected team of bloggers investigating the Russian military. — AFP
May 19, 2022
Palace Communications Undersecretary Joel Sy Egco, executive director of the Presidential Task Force on Media Security (PTFoMS), said that Republic Act (RA) No. 11766 recently signed into law by President Rodrigo Duterte which was extended the validity of the license to possess firearms from two years to five or 10 years would "immensely" redound to the benefit of media workers in the country in terms of safety and security.
"Thanks to our President, the new law will surely and immensely benefit our media practitioners who adhere to responsible gun ownership, especially in terms of their personal safety and security. This will also encourage not only journalists but every gun owner to renew their licenses, making it easier for law enforcement agencies to track down loose firearms," the frontline government agency dedicated to protect media workers' executive director said.
RA No. 11766, signed by Duterte on May 6, 2022, amended RA 10591 or the Comprehensive Firearms and Ammunition Regulation Act., by extending the validity of the license to possess firearms and ammunition from the original two years to five or 10 years.
"All licenses to possess a firearm, regardless of type or classification, shall be renewed every five years or ten years, at the option of the licensee, which shall be reckoned from the birthdate of the said licensee, unless sooner revoked or suspended," RA 11766 read. — The STAR/Artemio Dumlao
May 16, 2022
Georgia on Monday jailed for over three years an owner of the nation's most popular television station critical of the government, further raising concerns over media freedom in the country.
Nika Gvaramia, an anchor and owner of the pro-opposition Mtavari TV, was found guilty of harming financial interests of a television station he had earlier run, a judge of the Tbilisi city court said.
He was sentenced to three and a half years behind bars. — AFP
May 15, 2022
US Secretary of State Antony Blinken spoke with the family of slain Palestinian journalist Shireen Abu Akleh after criticizing Israel's use of force at her funeral, an official said Sunday.
Blinken, during his flight Saturday to Berlin for a meeting of NATO foreign ministers, offered "deep condolences" in a phone call with family members of Shireen Abu Akleh, a State Department official said.
The top US diplomat "noted Abu Akleh's journalistic body of work and the importance of a free and independent press," the official said on customary condition of anonymity.
Blinken offered the support of US diplomats in Jerusalem to the family of Abu Akleh, who also held US citizenship. — AFP
May 13, 2022
Veteran Al Jazeera journalist Shireen Abu Akleh will be buried alongside her parents in a cemetery near Jerusalem's Old City on Friday, two days after she was shot dead in an Israeli army raid.
The Palestinian American's body has been transferred from the occupied West Bank, and her funeral will be held at a Jerusalem church.
Israel and Palestine have traded blame over the killing of Abu Akleh, 51, a journalist with the Qatar-based network's Arabic service, during clashes in the Jenin refugee camp.
The United States, European Union and United Nations have backed calls for a full investigation into what Al Jazeera labelled a deliberate killing "in cold blood", but the Palestinian Authority (PA) has rejected holding a joint probe with Israel.
In a sign of Abu Akleh's prominence, she was given what was described as a full state memorial at Palestinian president Mahmud Abbas's Ramallah compound on Thursday, with officials, foreign diplomats and a long stream of mourners present. -- AFP
May 11, 2022
The Presidential Task Force on Media Security (PTFoMS) through its Executive Director, Undersecretary Joel Sy Egco thanked the men and women of the Philippine National Police (PNP) "for their invaluable contribution to the peaceful conduct of the national and local elections and for ensuring the safety of journalists."
Egco said, "I am very happy to say that no journalist or broadcaster was harmed during the elections, a testament to the government's continued vigilance in providing a safe environment for media workers through the task force."
"I am very grateful for the tireless efforts of the PNP, especially the Media Security Vanguards (MSV) headed by PBGen Roderick Augustus Alba, chief of the PNP Public Information Office, for their proactive approach in protecting our media workers during this crucial time for Philippine Democracy," Egco stressed.
— The STAR/Artemio Dumlao
March 14, 2022
A US journalist was shot dead and another wounded on Sunday in Irpin, a frontline suburb of Kyiv that has witnessed some of the fiercest fighting since Russia invaded Ukraine.
Video documentary maker Brent Renaud, 50, was working for Time Studios on a project about global refugee issues, the media outlet said.
"We are devastated by the loss of Brent Renaud," Time editor in chief Edward Felsenthal said in a statement.
"Our hearts are with all of Brent's loved ones. It is essential that journalists are able to safely cover this ongoing invasion and humanitarian crisis in Ukraine."
A New York Times identity card was among Renaud's papers, leading to earlier reports he worked for the paper.
The International Federation of Journalists identified the wounded reporter as American photographer Juan Arredondo.
A third victim, a Ukrainian who had been in the same car as the Americans, was also wounded, according to a medic at the scene.
February 22, 2022
UN rights experts have called for an end to "misogynistic and sectarian" online attacks against a Muslim Indian woman journalist, asking the authorities to investigate the harassment.
Rana Ayyub, a fierce critic of Prime Minister Narendra Modi and the Hindu nationalist ideology of his Bharatiya Janata Party (BJP), has been the target of a relentless campaign of online abuse — including death and rape threats.
She is the "victim of intensifying attacks and threats online by far-right Hindu nationalist groups", the independent rapporteurs, who do not speak for the United Nations but are mandated to report to it, said in a statement Monday. — AFP
February 8, 2022
A Venezuelan court has officially handed over the headquarters of the newspaper El Nacional to Diosdado Cabello, widely seen as the government's number-two man.
The move came as Cabello won a defamation lawsuit against this opposition daily.
"Ownership of the headquarters of El Nacional and the land on which it is built were directly awarded to Diosdado Cabello (...) in an irregular and clandestine judicial auction," a statement from the newspaper said.
The newspaper said the auction was carried out without fair information exchanges or open bidding.
The headquarters of EL Nacional was seized in May.
In April, a Venezuelan court had sentenced the daily to pay $13.4 million for causing "serious moral damage" to Cabello, deputy and number two of the ruling United Socialist Party of Venezuela (PSUV).
The conviction is the legal follow-up to a complaint filed in 2015 by Cabello against El Nacional after it re-ran an article from the Spanish newspaper ABC which linked him to drug trafficking.
At the same time, he filed suits against ABC in Spain and The Wall Street Journal in the United States. Both of these complaints were dismissed. -- AFP
January 26, 2022
The murders of two journalists in the Mexican border city of Tijuana in less than a week have triggered calls for the government to step up protection of media workers.
The killings of photographer Margarito Martinez and reporter Lourdes Maldonado have sparked outcry among colleagues in what is one of the world's most dangerous countries for journalists.
Reporters organized protests on Tuesday in cities across the country, while UN Secretary-General Antonio Guterres urged Mexico to take tougher action.
"We call on Mexican authorities to strengthen the protection of journalists, in particular, to take further steps to prevent attacks on them, including by tackling threats and slurs aimed at them," said Guterres's spokesman Stephane Dujarric. — AFP
January 25, 2022
US President Joe Biden was caught on a live microphone Monday calling a Fox News journalist a "stupid son of a bitch" on the sidelines of a White House photo op.
As journalists were leaving the room after the event, a reporter from Fox News, the favorite channel of conservatives, asked whether inflation is a political liability.
The Democratic leader, possibly unaware that his microphone was still on, began by deadpanning: "It's a great asset. More inflation."
And then muttered, "What a stupid son of a bitch," before glancing briefly down.
A pool reporter who was in the room at the time admitted to not being able to hear what Biden actually said over the noise.
But he added that he would "direct your attention to video of the event if you are curious how the president really feels about being asked about inflation from Fox's Peter Doocy."
Doocy shrugged the insult off in a later interview on Fox.
"Yeah nobody has fact-checked him yet and said it's not true," he said, nonchalantly — AFP
January 12, 2022
The Department of Interior and Local Government has ordered the Philippine National Police to designate "Media Security Focal Persons" in each province and city nationwide to provide a mantle of protection for members of the media who may face threats or intimidation in the course of the 2022 elections.
Interior Undersecretary Jonathan Malaya said the memorandum was issued by Secretary Eduardo M. Año to PNP Chief General Dionardo Carlos upon the request of PTFoMS Executive Director Joel Sy Egco in anticipation of a possible increase in violent incidents involving mediamen during the election season.
This at the heels of the killing Wednesday morning of broadcaster Jaynard Angeles, also former station manager of Radyo ni Juan-Tacurong in that city. — The STAR/Artemio Dumlao
December 16, 2021
There are currently 488 media professionals imprisoned around the world, the highest number since Reporters Without Borders began counting more than 25 years ago, the NGO announced Thursday.
By contrast, the number killed this year -- 46 -- was the lowest since it began issuing annual tallies, due to the relative stabilisation of conflicts in the Middle East. — AFP
December 9, 2021
The number of journalists jailed around the world hit a new record in 2021, the New York-based Committee to Protect Journalists said Thursday, with China and Myanmar having put a quarter of the 293 media workers behind bars.
In its annual report, the CPJ listed 50 journalists imprisoned in China, 26 in Burma, 25 in Egypt, 23 in Vietnam and 19 in Belarus.
Adding those jailed in Saudi Arabia, Iran, Turkey, Russia, Ethiopia and Eritrea, the CPJ said a total of 293 journalists were in prison worldwide as of December 1 — up from 280 the year before. — AFP
November 15, 2021
A US journalist detained in Myanmar since May has been released and will be deported soon, a junta spokesman told AFP on Monday.
Danny Fenster was being taken to the capital Naypyidaw from Yangon where he was jailed and will be deported, another government source told AFP, speaking on condition of anonymity.
Fenster, who had been working for local outlet Frontier Myanmar for around a year, was arrested as he headed home to see his family in May.
"We can confirm that he has been released and will be deported. Detail will be released later," spokesman Zaw Min Tun said.
Fenster, who spent 176 days in detention, was sentenced to 11 years in prison last week for encouraging dissent against the military, unlawful association and breaching immigration law. — AFP
November 14, 2021
Sudanese security forces have arrested the bureau chief of Qatari-based Al Jazeera TV network, the media outlet said on Sunday, a day after the latest crackdown on anti-coup protesters left at least six dead.
"Security forces raided the house of Al-Musalami al-Kabbashi, the Al Jazeera bureau chief in Sudan, and detained him," the network said on Twitter without elaborating.
Al Jazeera has given prominent coverage to demonstrations against the October 25 coup but last week it also aired a detailed interview with top general Abdel Fattah al-Burhan, one of only two he has granted.
Demonstrations against Sudan's latest coup, including by tens of thousands of people nationwide on Saturday, have occurred regularly despite a rigorous internet outage. — AFP
November 14, 2021
Cuban authorities on Saturday revoked the credentials of journalists who work for Spanish news agency EFE, its local editor-in-chief said, on the eve of planned anti-government demonstrations by the opposition.
Atahualpa Amerise, head of EFE's Cuba bureau, said authorities asked them to return their credentials, without providing "the exact reason" why they would be prohibited from reporting.
"When we asked why, they pointed to the regulations on foreign press," Amerise said.
"They haven't told us whether it's temporary or permanent."
EFE's local bureau has three editors, a photographer and a videographer.
Amerise said it was the first time such an order had been given to a foreign press office in Cuba. — AFP
September 28, 2021
NUJP Metro Manila retiterates their call to stop attacks against journalists covering hearings after a reporter was kicked out of th Viber group of House good government and public accountability chair Michael Aglipay.
Rappler reporter Rambo Talabong was kicked out of the group chat after writing a story and quoting Aglipay asking if anyone died from expired face shields during House hearings on Pharmally's dealings with the government.
NUJP Metro Manila streesed that "no journalist should be singled out and be barred from covering government offices and personalities."
NUJP Metro Manila chapter
stands firm that no journalist should be singled out and be barred from covering government offices and personalities.@ramboreports#DefendPressFreedom pic.twitter.com/PlhqoG974r

— NUJP (@nujp) September 27, 2021
July 13, 2021
The United States on Monday criticized its ally Morocco for handing a five-year prison sentence to a journalist and urged the kingdom to protect media freedom.
The US State Department said it was "disappointed" by Friday's sentencing of Soulaimane Raissouni, the editor-in-chief of the now-defunct Akhbar Al Yaoum whose allies say he was targeted for his critical coverage.
Raissouni, who has lost a significant amount of weight after a hunger strike of more than 90 days, was convicted of indecent assault against another man, making him the latest in a string of journalists prosecuted for alleged sex crimes.
"We believe the judicial process that led to this verdict contradicts the Moroccan system's fundamental promise of fair trials for individuals accused of crimes and is inconsistent with the promise of the 2011 constitution and His Majesty King Mohammed VI's reform agenda," State Department spokesman Ned Price told reporters.
"Press freedom is foundational to prosperous and secure societies, and governments must ensure that journalists can safely perform their essential roles without fear of unjust attention, violence or threats," he said.
But the Moroccan prosecutor's office said Raissouni received a "fair" trial and had been "prosecuted for crimes that have nothing to do with his journalistic work." — AFP
July 2, 2021
Denial of service attacks against alternative media sites Bulatlat and AlterMidya have been traced to the Department of Science and Technology and to the Philippine Army, Swedish non-profit Qurium Media Foundation says.
DOST previously denied links to the attack, saying an IP address that was traced to it may have been used by another government agency that it gives access to its network. It has yet to comment on whether it will investigate the attacks traced to its network.
"Looking deeper into the network of the DOST machine, Qurium identified another setup with identical firewall configuration, strongly suggesting that the machine was set up and operated by the same organization. Via a digital certificate of a firewall, this machine was linked to the email address acepcionecjr @ army.mil.ph and the Office of the Assistant Chief of Staff for Intelligence (OG2-PA) of the Philippine Army," Quirum also says.
June 24, 2021
The Department of Science and Technology disputes that it was involved in online attacks on alternative media websites, saying an IP address traced to the agency could have been used by some other government agency.
It says in a statement that the DOST Advanced Science and Technology Institute "is part of a larger government network and DOST-ASTI assists other government agencies by allowing the use of some of its IP addresses in the local networks of other government agencies."
Bulatlat.com, among the websites attacked, says in response that DOST should investigate the attacks and make its findings public.
"They must not allow their infrastructure to be used in silencing independent media."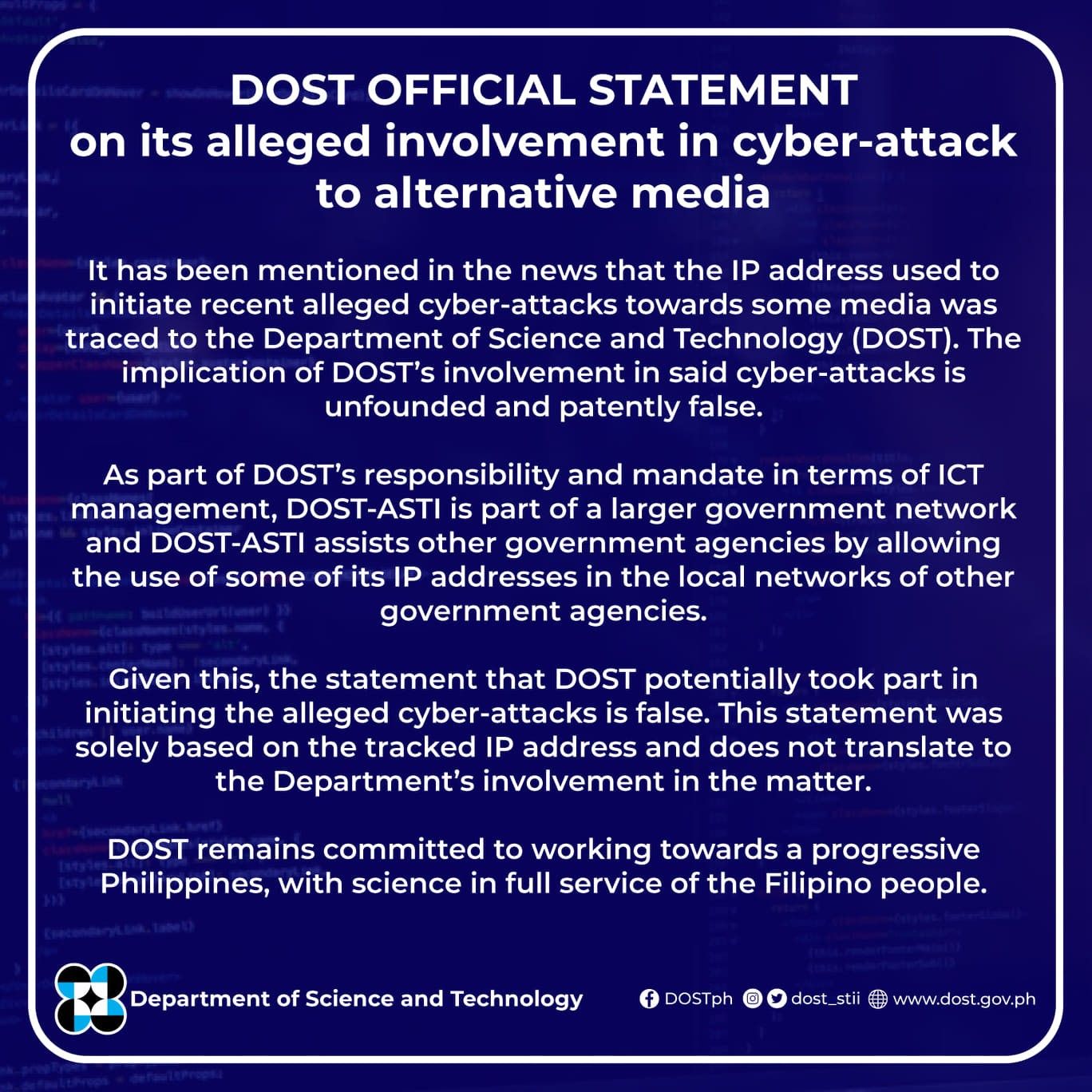 June 18, 2021
A Mexican judge on Thursday sentenced one of the murderers of acclaimed journalist and AFP contributor Javier Valdez to 32 years and three months in prison for the killing, which sparked international condemnation.
The 50-year-old was a prominent chronicler of Mexico's deadly drug wars and known for writing articles critical of powerful gangs such as notorious kingpin Joaquin "El Chapo" Guzman's Sinaloa cartel.
A judge handed down the sentence against Juan Francisco Picos Berrueta for his role as co-perpetrator and organizer of the May 2017 murder in the northern state of Sinaloa, the prosecutor's office said.
Valdez's widow Griselda Triana welcomed the ruling, but noted that the alleged mastermind of the killing has yet to be prosecuted for it.
"This is an important sentence because it sets a precedent," she told AFP.
"The murder was clearly due to his work as a journalist and now everyone will know that there are heavy punishments for people who violate freedom of expression," she added. — AFP
June 6, 2021
The PNP launches a manhunt on the killers of Yentez Quintoy, a media executive shot dead in General Santos City.
"We're going to look at whether or not the killing had job-related motivations, but we're not discounting other possible angles," PNP chief PGen. Guillermo Eleazar says in a statement.
May 10, 2021
An Iraqi journalist was in intensive care after being shot in the head early Monday, doctors said, only 24 hours after a leading anti-government activist was killed.
Anti-corruption campaigner Ihab al-Wazni was shot dead early Sunday in Karbala, sending protest movement supporters onto the streets to demand an end to such bloodshed and official impunity.
Wazni had led protests in the Shiite shrine city of Karbala, where pro-Tehran armed groups hold major sway.
He was shot overnight outside his home by men on motorbikes using a gun equipped with a silencer, in an ambush caught on surveillance cameras. His death was confirmed by security forces and activists. — AFP
March 5, 2021
Mandaluyong court issues a release order for Manila Today editor Lady Ann Salem a month after the dismissal of her case.
Salem's legal counsel Krissy Conti tells Philstar.com that they are still confirming with the jail if the journalist can be released within the day. — report from Kristine Joy Patag
March 4, 2021
Maria Ressa, chief executive of news website Rappler, testified in court in a case widely seen as retribution for her criticism of Duterte's administration.
Rappler was three years ago branded a "fake news outlet" by Duterte and she has since been the subject of at least 11 investigations into her business.
Ressa has said the cases are payback for her criticism of the president's policies including his war on drugs that has killed thousands of people.
"It hurts to tell the truth nowadays. There are costs to telling the truth," she told reporters after spending over two hours on the witness stand.
Last year top broadcast network ABS-CBN was forced off the air when Congress refused to renew its license after Duterte vowed to personally shut it down for allegedly failing to air his 2016 presidential election campaign ads. — AFP
March 3, 2021
Three female media workers have been shot and killed in Afghanistan, their TV network said, in what appeared to be the latest targeted killing to rock the country.
Tuesday's murders came in two separate attacks in the eastern city of Jalalabad, said Zalmai Latifi, the director of Enikass TV, where the three women worked.
"They were going home from the office on foot when they were shot," Latifi told AFP, saying all three worked in the dubbing department for the broadcaster. — AFP
February 26, 2021
The US director of national intelligence is expected to release a damning report Friday that fingers Saudi Crown Prince Mohammed bin Salman for the brutal murder and dismemberment of dissident journalist Jamal Khashoggi in October 2018.
The classified report is believed to say that, based on intelligence collected by the CIA and other spy bodies, the kingdom's de facto leader directed the assassination of the respected US-based writer in the Saudi consulate in Istanbul.
The prince has steadfastly denied a part in the murder, even as some of his closest advisors have been shown to be deeply involved. — AFP
February 8, 2021
Detained journalist Lady Ann Salem, through the Public Interest Law Center, has filed an urgent motion at the Mandaluyong Regional Trial Court for her release, Manila Today, of which she is editor, reports.
The court last week junked the charges of illegal possession of firearms and explosives against Salem and labor organizer Rodrigo Esparago, citing irregularities in how search warrants that led to their arrests were served.
"Law enforcers are authorized to seize only those items listed in the search warrant leaving them with no discretion regarding what articles they shall seize," the court said, adding there were inconsistencies in the testimonies of police officers and an informant that cast doubt on the existence of probable cause to issue the warrant in the first place.
"All told, there being numerous inconsistencies and contradictions, the testimonies of the foregoing witnesses cannot be given full faith and credence," the order read.
The court said that since the sworn affidavits and testimonies served as the sole basis of the search warrant, "the Court finds that probable cause was not sufficiently established."
January 22, 2021
A Brazilian court on Thursday ordered the lawmaker son of President Jair Bolsonaro to pay damages to a journalist after claiming she had "tried to seduce" a source to obtain compromising information about the far-right leader.
Deputy Eduardo Bolsonaro "attacked the honor" of journalist Patricia Campos Mello, "questioning the seriousness of her journalism and of her employer," the highly respected daily Folha de S.Paulo, the court said.
The 36-year-old was ordered to pay 30,000 reais ($5,600) in compensation for moral damage.
Eduardo Bolsonaro had claimed on YouTube last May that Campos Mello had tried to seduce an employee of a digital marketing company to obtain information.
He also claimed the award-winning journalist had been promoted for publishing false information. He then reiterated his statements on Twitter. — AFP
December 29, 2020
Fifty journalists and media workers were killed in connection with their work in 2020, most of them in countries that are not at war, Reporters Without Borders said in its annual report published Tuesday.
The figures show an increase in the "deliberate" targeting of reporters investigating organised crime, corruption or environmental issues, the watchdog said, highlighting murders in Mexico, India and Pakistan. — AFP
December 28, 2020
A Chinese citizen journalist held since May for her livestream reporting from Wuhan as the Covid-19 outbreak unfurled was set for trial Monday, almost a year after details of an "unknown viral pneumonia" surfaced in the central China city.
Zhang Zhan, a former lawyer, could face up to five years in jail if convicted of "picking quarrels and provoking trouble" for her reporting in the chaotic initial stages of the outbreak.
Her live reports and essays were widely shared on social media platforms in February, grabbing the attention of authorities, who have punished eight virus whistleblowers so far as they defang criticism of the government's response to the outbreak.
Around a dozen supporters and diplomats gathered outside Shanghai Pudong New District People's Court on Monday morning, but police pushed journalists and observers away from the entrance as the defendant and her lawyer arrived. —AFP
December 24, 2020
A Colombian journalist who had covered organized crime died Wednesday two days after suffering multiple gunshot wounds in Cali, in the southwest of the country, his newspaper said.
"Felipe Guevara, our crime reporter, died this Wednesday afternoon after being injured in an attack on Monday evening," said the newspaper Q'hubo on its Twitter account.
Guevara, 27 had reported death threats to the police since 2017, Cali's mayor Jorge Ivan Ospina said at a press conference, where he offered a reward of up to $15,000 for any information on the killers.
Although police had initially denied the attack against Guevara was linked to his work as a reporter and photographer, Ospina said the authorities were studying "all possible hypotheses" as to the motives for the killing.
According to the Press Freedom Foundation (FLIP), Guevara had had to leave the neighborhood where he was fatally injured in 2017, following threats "after he had written about a criminal gang operating in this area." — AFP
December 22, 2020
Dozens of journalists at Qatar's Al-Jazeera broadcaster had their mobile communications intercepted by sophisticated electronic surveillance, a cybersecurity watchdog said, following a months-long investigation.
Interceptions of 36 journalists' phones were revealed in a report by the Citizen Lab research centre at the University of Toronto on Sunday, after they monitored journalists' devices for suspicious activity.
"The impact is very clear and dangerous," Al-Jazeera Arabic investigative reporter Tamer al-Misshal, who was targeted, told AFP Monday.
The news outlet said it approached the cybersecurity watchdog in January after receiving suspicious messages on a device used to contact people for comment. — AFP
September 8, 2020
Turkey on Monday said a Saudi court ruling overturning five death sentences in the 2018 murder of journalist Jamal Khashoggi failed to meet expectations.
"The final verdict that a Saudi court issued today regarding journalist Jamal Khashoggi's execution inside the Kingdom's consulate in Istanbul fell short of meeting the expectations of Turkey and the international community," Fahrettin Altun, spokesman for the Turkish presidency, wrote on Twitter. — AFP
September 8, 2020
A UN expert on Monday dismissed a Saudi court ruling in the case of journalist Jamal Khashoggi's murder, decrying especially that top officials who allegedly ordered his killing had walked free.
"The Saudi Prosecutor performed one more act today in this parody of justice. But these verdicts carry no legal or moral legitimacy," UN special rapporteur on extrajudicial, summary or arbitrary executions, Agnes Callamard said in a tweet.
She denounced the fact that "the high-level officials who organised and embraced the execution ... have walked free from the start", and that Saudi Crown Prince Mohammed Ben Salman "has remained well protected against any kind of meaningful scrutiny in his country". — AFP
December 25, 2019
A Saudi court verdict exonerating the crown prince's top aides over the murder of journalist Jamal Khashoggi has been condemned globally as a travesty of justice, but won the backing of key ally Washington.
Five unnamed people were sentenced to death while three others were handed jail terms totalling 24 years over the killing of the Washington Post columnist last year at Saudi Arabia's consulate in Istanbul.
The verdict underscores Saudi efforts to turn the page on one of its worst ever diplomatic crises, which tarnished powerful Crown Prince Mohammed bin Salman's global reputation and sparked intense scrutiny of the kingdom's human rights record. — AFP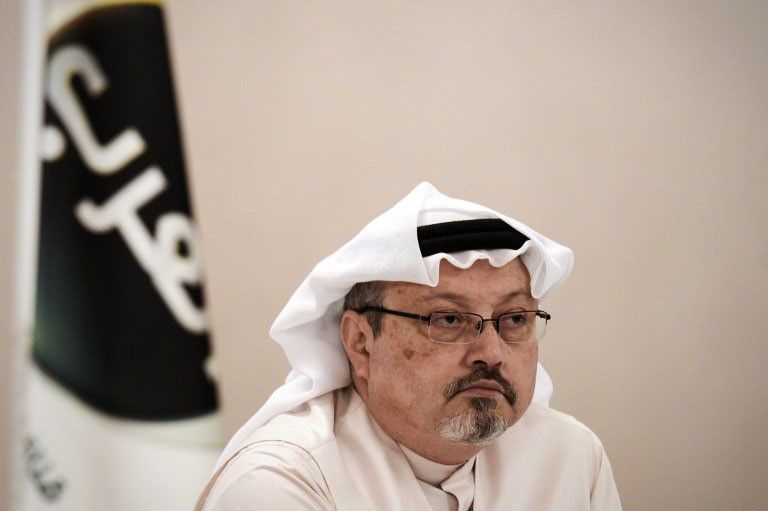 December 15, 2019
ACT-CIS (Anti-Crime and Terrorism Community Involvement and Support) party-list is pushing for passage of a bill that will establish minimum wage levels for journalists and the creation of a Commission on Press Freedom and Media Security, it says in a release.
"The Maguindanao Massacre and the trial brought to the forefront of national consciousness the high-risk lives of journalists, especially those entrenched in conflict areas like Maguindanao, where mostly political warlords hold sway over the lives of residents," says Rep. Jocelyn Tulfo.
Tulfo says HB 2476 also provides for death, disability, and SSS/GSIS benefits, as well as reimbursement for medical expenses up to P100,000.
"For media firms that hire and comply, HB 2476 has an allowable deduction provision equivalent to 25% of the benefits paid to their media workers," she says.
November 19, 2019
The Quezon City procecutor's office has junked a libel complaint that Agrarian Reform Secretary John Castriciones filed against Rappler executive editor Maria Ressa and reporter Rambo Talabong, the news website reports.
"The statements made by respondents in their online website are not in itself defamatory," Rappler quotes Assistant City Prosector Arnel Pabellar as saying in his resolution dated September 10.
Castriciones filed the complaint in 2017, while he was still an undersecretary of the Department of the Interior and Local Government.
"A public official, more especially an elected one, should not be onion-skinned… Always, he is expected to act and serve with the highest degree of responsibility, integrity, loyalty, and efficiency, and shall remain accountable for his counduct to the people," Pabellar says in his resolution, quoting the Supreme Court in Yabut v. Office of the Ombudsman.
November 11, 2019
A P80,000 reward has been set for information leading to the capture of police officer Roger Rubio and financier Tomacino Aledro, a newspaper reports.
The two men are believed to be behind the killing of Dumaguete City radio anchor Dindo Generoso.
Two other suspects, Glenn Corsame and Teddy Reyes Salaw, were arrested last week in connection with Generoso's death.
November 7, 2019
National Union of Journalists of the Philippines says a broadcaster was killed in Dumaguete City Thursday morning.
According to police spot report, Dindo Generoso was driving along Hibbard Avenue in Barangay Piapi around 7:30 a.m. when he was shot dead by a lone gunman. He was on his way to his program on radio station dyEM 96.7 Bai Radio.
[ALERT] Dumaguete radio man shot dead

A broadcaster was murdered in Dumaguete City Thursday morning, November 7.

A police spot report said Dindo Generoso, was driving his car when he was shot dead by a lone gunman along Hibbard Avenue in Barangay Piapi around 7:30 a.m. pic.twitter.com/eQLEG06EgP

— NUJP (@nujp) November 7, 2019
"Generoso was the second journalist murdered since Edmund Sestoso, who died on May 1, 2018, a day after he was shot on his way home from hosting his radio program," NUJP says on Twitter.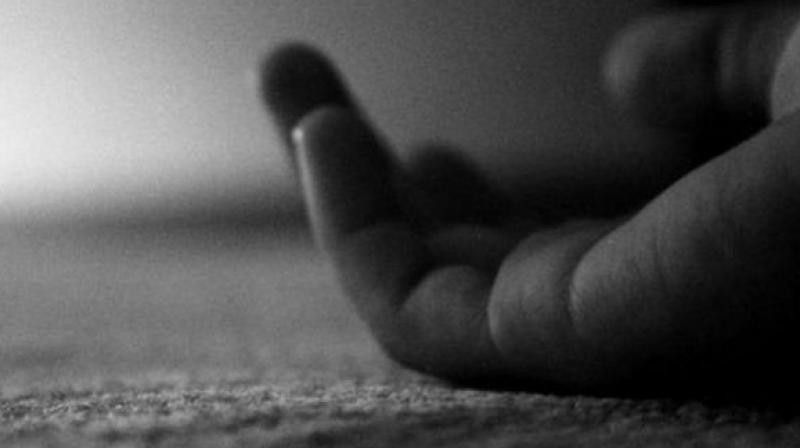 November 2, 2019
Staement by Altermidya - People's Alternative Media Network
Community journalism is not a crime: Stop disinformation on Negros 57, free Anne Krueger!
Today, the International Day to End Impunity for Crimes Against Journalists, the Altermidya Network is calling on the Duterte administration to immediately release Negros-based community journalist Anne Krueger, who was unlawfully arrested with 56 others in simultaneous raids on various offices in Bacolod City last October 31.
That Krueger was supposedly taking part in a military training of the New People's Army in the regional office of the women's group Gabriela is nothing short of ludicrous.
A live video broadcast on Facebook by Krueger minutes before her arrest clearly shows that evidence was being planted by the authorities who conducted the raid.
Major General Antonio Parlade, Jr., spokesperson of the National Task Force to End Local Communist Armed Conflict, is also peddling outright lies when he named Krueger as "Deputy Secretary for Cultural/Propaganda and Deputy Secretary for Social Media" of a supposed regional committee of the Communist Party of the Philippines.
First of all, being arrested for doing "social media" work is clearly a violation of the constitutional right to freedom of expression and of the press.
Secondly, the military always red-tags journalists and other activists they want to silence. Krueger is not a combatant and is in fact a community journalist and one of the founders of Paghimutad, an alternative media group covering the Island of Negros.
Paghimutad was formed after the Sagay 9 massacre in response to the growing human rights violations in the island. Despite the culture of fear in Negros, Paghimutad and its volunteer community journalists courageously filled the void of information, publishing audio-visual reports through social media.
During Altermidya's Third National Congress held in Quezon City last September, Paghimutad, represented by Krueger herself, was recognized as a new member of the network, which currently comprises more than 30 independent and community-based media outfits all over the country.
Krueger is also an organizer for the BPO Industry Employees Network, assisting and helping call center workers in their campaign and legal battle against mandatory overtime.
We enjoin the public to join us in exposing the lies being heaped upon the Negros 57, including Krueger. Many of those arrested are known leaders of mass organizations and have been vital sources of information for the media, such as John Milton Lozande, secretary general of the National Federation of Sugar Workers.
Also included in the mass arrests are more than 20 bus workers who were consulting with the regional labor center of Kilusang Mayo Uno when the raids happened.
We call on our colleagues in the media to get at the truth behind these arrests. Local authorities must provide the media and other human rights defenders access to the detainees, who have a right to be heard.
Right now, we are mostly hearing the voices of those who have monopoly of power, ignoring facts and the rule of law as they please. Let us not let disinformation prevail. If we allow such mass arrests to go unquestioned in Negros, we are in fact allowing it to go unquestioned anywhere in the country today.
October 31, 2019
A community journalist was arrested by the police Criminal Investigation and Detection Group and Special Weapons and Tactics unit in Bacolod City on Thursday evening, the National Union of Journalists of the Philippines says in an alert.
Ann Kreuger of alternative media outift Paghimutad was among six people named in a search warrant issued by a Quezon City court that led to raids on the offices of Gabriela, Bayan Muna and the National Federation of Sugar Workers in Bacolod City.
The Unyon ng mga Manggagawa sa Agrikultura says in a statement that more than 50 activists have been arrested in the raids.. It says that among those arrested by police and Army personnel were "Romulo Bito-on Jr of Bayan Muna and his wife Mermalyn; John Milton Lozande secretary general of the National Federation of Sugar Workers; Noli Rosales of Kilusang Mayo Uno; Proceso Quiatchon of Karapatan; Aldrin De Cerna of Kilusang Magbubukid ng Pilipinas and Danny Tabura of NFSW."
NUJP says Kreuger was at the Gabriela office when authorities served the search warrant and managed to broadcast it on Facebook.
Kreuger is now detained at the Negros Occidental Provincial Police Office.
Paghimutad says on its Facebook page that it is "the people's alternative media in Negros Island."
According to NUJP, the alternative media outfit has been reporting on extrajudicial killings on Negros Island.
October 31, 2019
The broadcaster shot and wounded by a still unidentified gunman in Tacurong City Wednesday is now conscious but still in critical condition, relatives say Thursday.
Benjie Caballero, acting manager of Radyo ni Juan, was waiting for a tricycle in Barangay Isabela in Tacurong City at around 1:15 p.m. when motorcycle-riding gunmen arrived and shot him repeatedly.
Reporters in Tacurong City and South Cotabato province on Thursday posted on their Facebook accounts that doctors have successfully removed two .45 caliber slugs from the lungs of Caballero that pierced through his shoulder.
Caballero is now recuperating in the intensive care unit of the St. Louis Hospital in Tacurong City, guarded by local police personnel.
Probers from the Tacurong City police are still investigating on the incident. — The STAR/John Unson
October 7, 2019
Sotero Jacolbe, Jr., one of the accused in the July 10 murder of Kidapawan City radio commentator Eduardo "Ed" Dizon, has surrendered to authorities a week after Judge Henelinda Molina-Diaz of Regional Trial Court Branch 61 issued a warrant for his arrest.
Jacolbe is one of three suspects in the case, two of whom the court has ordered arrested.
The other suspect wanted by the court, Junell Gerozaga, is at large.
Dizon was critical of the controversial KAPA investment scheme that President Rodrigo Duterte shut for alleged violation of regulations of the Securities and Exchange Commission and the Anti-Money Laundering Council.
READ: Too good to be true: Why the government is shutting KAPA down
The warrant for their arrest was released about three weeks after acting city prosecutor Mariam April Mastura-Linsangan charged Jacolbe, Gerozaga and Bong Encarnacion, whose real name is Dante Tabusates, with murder in connection with the fatal ambush of Dizon. — The STAR/John Unson
September 27, 2019
Lt. Gen. Noel Clement, Armed Forces chief of staff, should focus on defending Philippine sovereignty instead of telling journalists how to do their jobs, Altermidya-People's Alternative Media Network says in response to the general's statement that media should not show alleged bias towards communist rebels.
Clement, has been quoted as saying journalists should "just be factual and do not give biases" when asked about some journalists being tagged as rebel leaders or supporters.
"Kasi minsan ang nangyayari kasi naha-highlight yung alleged violations na ginagawa ng security forces vis-a-vis doon sa ginagawa ng other threat groups," Clement is quoted as saying.
(Because sometimes the alleged violations by security forces are highlighted in relation to those done by other threat groups)
"It is not in Clement's job description to tell us to rid our reports of biases because, in the first place, we believe that good journalism is biased for truth and relevance," Luis Teodoro, a journalism professor and national chairperson of Altermidya, says.
"Speaking of truth, it is not even true that Filipino journalists in general purposefully highlight rights violations by the AFP. It just happens that violations are indeed perpetrated by them, even among themselves, as in the case of the hapless PMA cadets mercilessly subjected to hazing," Teodoro adds.
"Lastly, Clement may do well to disabuse soldiers of the thought that red-baiting is an effective way of endearing the military to media workers. It is exactly the opposite."
September 10, 2019
Vice President Leni Robredo's spokesperson, Barry Gutierrez, says they condemn the recent attack on the printing press of tabloid newspapers Abante and Abante Tonite.
"This brazen assault on our free press cannot be allowed to pass unchallenged. A free press is essential in a free nation, and this attempt to intimidate and silence Abante, the leading Filipino language publication in our country, must be resisted by all freedom-loving Filipinos," Guiterrez says.
"We call on the authorities to act swiftly on this matter and bring the perpetrators to justice. In the meantime, we send this message to all those who seek to curtail our freedoms through threats and violence: We will not be cowed. We will stand together and defend our freedom," he adds.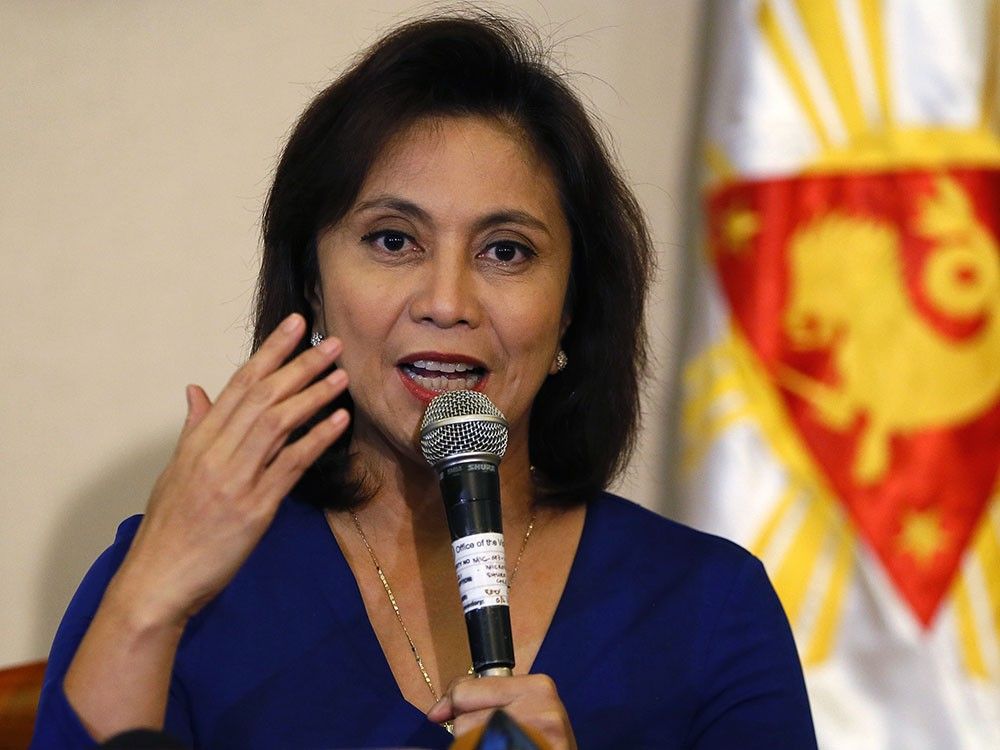 August 7, 2019
The shooting of human rights worker Brandon Lee in front of his house in Lagawe, Ifugao is not related to his work as a correspondent for weekly newspaper Northern Dispatch, Ifugao police tell the Presidential Task Force for Media Security.
Maj. Ernesto Bekesanin, Lagawe police chief, says in a telephone interview that they have limited information on Lee, except that they came to know of his involvement in the non-government Ifugao Peasant Movement.
Police had no information on his being a contributor to Northern Dispatch.
"He is still a journalist who was shot," Kim Quitasol, chairperson of the Baguio-Benguet chapter of the National Union of Journalist of the Philippines and Lee's colleague at Northern Dispatch says. — The STAR/Artemio Dumlao
August 2, 2019
Justice Secretary Menardo Guevarra confirms Executive Secretary Salvador Medialdea filed a libel complaint against columnist Ramon Tulfo, who is also special envoy for public diplomacy to China.
The complaint was filed at the Office of the City Prosecutor in Manila "about three weeks ago."
Press freedom groups have been campaigning to decriminalize libel.
August 1, 2019
Kidapawan City police have filed charges against three suspects, two of them broadcasters, for the July 10 murder of radio commentator Eduardo Dizon.
Dizon was killed in an ambush by men on motorcycles while on his way home after his radio program in a Brigada FM station in the city.
Local reporters, among them friends of the two radiomen, were implicated in the murder.
The spokesman of the North Cotabato provincial police, Lt. Col. Bernard Tayong, confirms charges have been filed but declines to name the suspects. — The STAR/John Unson
July 12, 2019
Justice Secretary Menardo Guevarra has ordered the creation of a Special Investigation Team to investigate the killing of radio commentator Eduardo "Ed" Dizon, he says in a message to reporters.
Dizon was shot in his car in Makilala, North Cotabato on Wednesday night after hosting his program on a Kidapawan City radio station.
He says the teams are led by prosecutors who assist in building cases and who coordinate with local law enforcement, including the National Bureau of Investigation.
"We have formed similar SITs in [extrajudicial killing] cases against human rights advocates, labor advocates, etc. and these investigations are rolling," he also says.
"For media killings, the Presidential Task Force [on Media Security] has an executive director, Joel Egco, who supervises all investigations directly.
July 8, 2019
The Cagayan de Oro chapter of the National Union of Journalists of the Philippines condemns Monday the posting of paraphernalia tagging it, the National Union of Peoples' Lawyers and others as being "front" groups for communist rebels.
NUJP-Cagayan de Oro says the posters, which were put up on the fence of the Iglesia Filipina Independiente church in Barangay Agusan on Sunday, were "clearly meant to intimidate and silence a critical press."
"Perhaps the people behind this dastardly act need reminding that a free press is guaranteed under the Philippine Constitution. Perhaps the people behind this despicable act need reminding that journalists are not enemies of the state. Perhaps the people behind these lies forget that journalists are just truth-tellers whose job serves the public interest," the group also says.
"The NUJP is not a 'front' for any organization. But it shall and will also not stand idly by while the truth is under persistent attack; it shall and will not cower while the freedom of the press and the people's right to truthful, accurate, and relevant information is under assault," the statement signed by chapter chairperson Pamela Jay Orias and JB Deveza of the NUJP Western Mindanao Safety Office, also says.
July 4, 2019
A gunman driving a red pickup truck opened fire at DXES, a Bombo Radyo station in General Santos City, on the night of Wednesday, July 3, the National Union of Journalists of the Philippines reports in an alert.
While windows were shattered by the firing, no one was hurt in the attack.
Bombo Radyo GenSan station manager Jonathan Macailing said the incident might be connected with the station's constant reporting on the Kapa Community Ministry International, a religious organization accused of proliferating a financial scam among its members.
May 27, 2019
The Cagayan de Oro chapter of the National Union of Journalists of the Philippines reports a streamer tagging NUJP and other organizations as terrorists was hung by a monument to press freedom at the provincial capitol grounds in Cagayan de Oro City.
NUJP-Cagayan de Oro says members of the Cagayan de Oro Press Club found the streamer when they went to the monument to mark the 37th Press Freedom Week.
Also labeled as terrorists in the streamer were:
The Union of People's Lawyers in Mindanao (UPLM)
National Union of People's Lawyers (NUPL)
Rural Missionaries of the Philippines (RMP)
League of Filipino Students (LFS)
College Editors' Guild of the Philippines (CEGP)
Student Christian Movement of the Philippines (SCMP)
and the Confederation for Unity, Recognition and Advancement of Government Employees (COURAGE)
"We condemn the red-tagging of the NUJP," Uriel Quilinguing, a former president of the COPC as well as a former chairman of NUJP-Cagayan de Oro, says in an alert by NUJP.
"A critical press serves the public interest and should therefore not be subjected to attacks," Pamela Jay Oria, chair of the NUJP-Cagayan de Oro chapter, says.
No group has claimed responsibility for the streamer but NUJP was accused in February by a group called "Kilusan at Alyansa ng mga Dating Rebelde (KADRE)" of being a front organization of the New People's Army.
Members of the Cagayan de Oro press have also previously been "red-tagged" or labelled as communist rebels.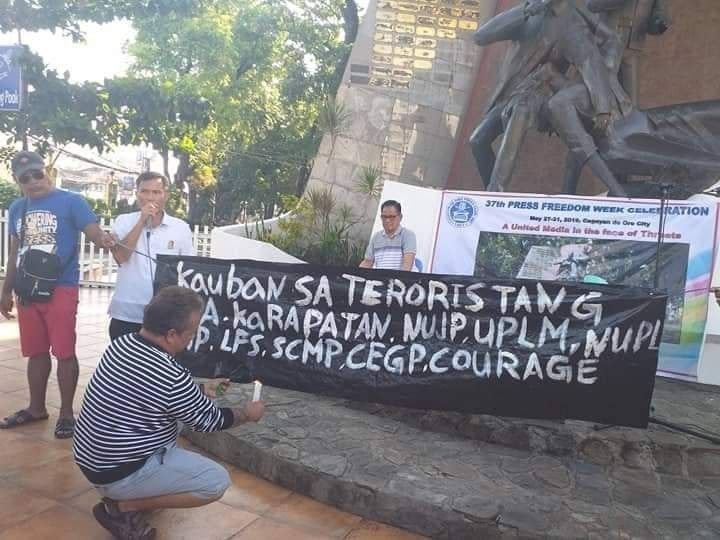 March 18, 2019
A radio station manager in Gumaca, Quezon has alleged that she is being harassed by Erwin Caralian, the town's mayor.
According to an alert from the National Union of Journalists of the Philippines, Radyo Natin Gumaca station manager Mitch Hernando took to social media over the weekend to denounce the alleged harassment.
NUJP says Hernando "was terrified and felt like a criminal, and her parents were stressed, when a big group composed of firetruck, representatives from the Business Permit and Licensing Office, Treasury, National Telecommunications Commission, barangay, along with men in plainclothes rushed up to the station office in the third floor of her residence."
She was reportedly told by the NTC representative that it was a normal inspection and that the station's papers were in order.
Hernando says she and the mayor have "long-standing personal differences" and that the suprise inspection may have been triggered by her stories that aired over GMA 7, Radyo Natin Gumaca, and other news outlets.
She says that her radio show "Dear Heart" is focused on "affairs of the heart" and on breaking or top-of-the-hour news. Because of the nature of the show, she says there is no way for her to editorialize or to comment on political issues.
February 19, 2019
Lawyer Harry Roque, former spokesperson of President Rodrigo Duterte, has renewed the call to decriminalize libel.
"In light of recent discussions on press freedom, it seems like we have an opportune moment to have yet another conversation about decriminalizing libel," Roque, a human rights lawyer before joining government, says.
"I call upon the Philippine government to defend freedom of expression and repeal our criminal libel laws. Draconian libel laws that punish all controversial speech, that do not allow for truth as a defense, should be utterly intolerable to us all at this point," he says.
"It is with great hope that I urge this administration to file a bill that will repeal our criminal libel laws to protect not only the profession of journalism, but also the free speech of every Filipino citizen. People should only worry about being answered when they make public statements, not worry about whether they'll be getting jail time."
February 9, 2019
President Donald Trump appears prepared to ignore the US Congress's deadline to determine who ordered the assassination of Jamal Khashoggi amid new revelations that Saudi Arabia's crown prince spoke of going after the journalist "with a bullet."
With pressure mounting in Washington and Riyadh, the US president theoretically had until the end of the day to designate those responsible for the murder of the Washington Post columnist, who was strangled and dismembered by Saudi agents in the kingdom's consulate in Istanbul on October 2. — AFP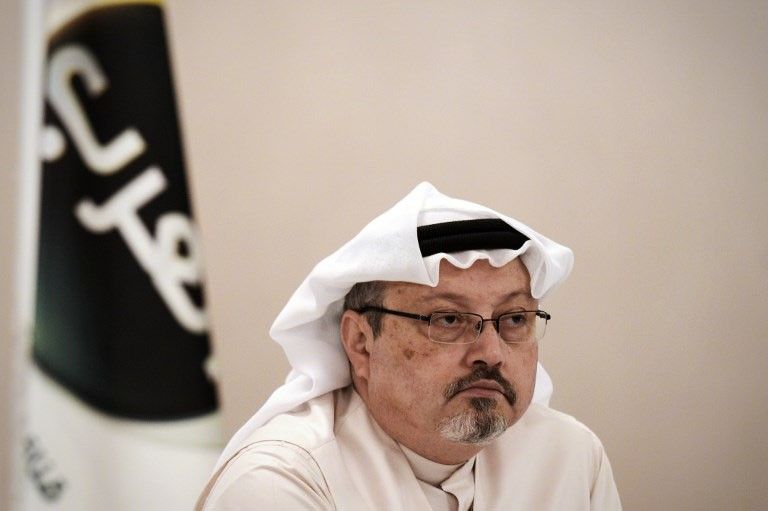 February 1, 2019
Alternative news site Bulatlat has been subject to violent cyberattacks since January 19, Qurium media foundation, which is hosting the website on its Virtualroad.org secure hosting infrastructure.
Qurium says Virtualroad is "a non-profit hosting provider specialized in defending independent media and human rights against digital attacks."
It says "[Bulatlat] has been down for several days due to the attacks. In one of them, the attackers used nearly 2,000 computers to saturate the website and make it unreachable. In another attack, they sent 3 million packets per second of bogus traffic."
Qurium notes that the site "was also attacked in December 2018, and that was not the first aggression against the media outlet."
January 11, 2019
US lawmakers from both parties, friends of murdered journalist Jamal Khashoggi and press freedom groups mark 100 days since the Saudi dissident's assassination.
Featuring a portrait of Khashoggi against a back drop of American flags, the ceremony began with a moment of silence. — AFP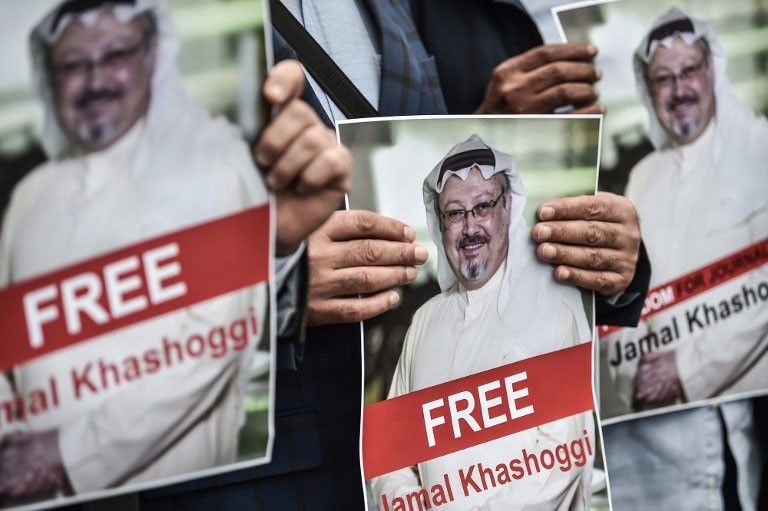 December 19, 2018
Journalists faced growing dangers of being targeted for killing for their work in 2018 even as the risks from war and conflict declined, a media watchdog says.
The Committee to Protect Journalists says 34 of the 53 journalists killed on duty this year around the world were "singled out for murder." — AFP
December 13, 2018
The Committee to Protect Journalists says at least 251 journalists have been jailed around the world in 2018.
This number, CPJ says, "[suggests] the authoritarian approach to critical news coverage is more than a temporary spike. China, Egypt, and Saudi Arabia imprisoned more journalists than last year, and Turkey remained the world's worst jailer."
CPJ released Thursday its annual census of journalists jailed for their work worldwide. #China, #Egypt, and #SaudiArabia imprisoned more journalists than last year, and #Turkey remained the world's worst jailer. #pressfreedom https://t.co/3KNcz93QjV pic.twitter.com/Pd3hK9AwPI

— Committee to Protect Journalists (@pressfreedom) December 13, 2018
"The majority of those imprisoned globally—70 percent—are facing anti-state charges such as belonging to or aiding groups deemed by authorities as terrorist organizations," CPJ also says.
"The number imprisoned on charges of false news rose to 28 globally, compared with nine just two years ago. Egypt jailed the most journalists on false news charges with 19, followed by Cameroon with four, Rwanda with three, and one each in China and Morocco. The increase comes amid heightened global rhetoric about 'fake news,' of which US President Donald Trump is the leading voice."
December 8, 2018
A Myanmar court will hear the appeal later this month of two Reuters journalists jailed for their reporting on the Rohingya crisis, a lawyer said Saturday.
Wa Lone, 32, and Kyaw Soe Oo, 28, were found guilty under a state secrets act in September after exposing the extrajudicial killing of 10 Rohingya men during a brutal military crackdown in Myanmar's western Rakhine state last year.
The pair -- who have been held behind bars for nearly a year since their arrest last December -- were sentenced to seven years in jail, a verdict that drew widespread condemnation, including from US Vice President Mike Pence. — AFP
December 5, 2018
Turkey is seeking the arrest of two former aides to Saudi Crown Prince Mohammed bin Salman who were dismissed amid the fallout from the killing of Washington Post columnist Jamal Khashoggi.
Turkey's official Anadolu news agency says a court approved arrest warrants for former royal court adviser Saud al-Qahtani and former deputy intelligence chief Ahmed al-Assiri, who are believed to have overseen the team that killed and dismembered Khashoggi at the kingdom's Istanbul consulate in October. Saudi authorities say the agents who killed Khashoggi exceeded their authority. — AP
November 23, 2018
Turkey says President Donald Trump intended to turn a "blind eye" to Saudi journalist Jamal Khashoggi's murder after he said Washington's ties with Riyadh would not be affected by the incident.
November 22, 2018
US President Donald Trump has doubled down on his partnership with Saudi Arabia, calling it an indispensable ally after a journalist's grisly murder, but critics say his position ignores Washington's enormous leverage over Riyadh.
Trump gave Saudi Crown Prince Mohammed bin Salman a pass on Jamal Khashoggi's murder, glossing over the Central Intelligence Agency's reported conclusion that the kingdom's de facto ruler had authorised the killing. — AFP
November 21, 2018
President Donald Trump says a CIA report into the killing by Saudi agents of dissident journalist Jamal Khashoggi found "nothing definitive."
"The CIA looked at it," he tells journalists at the White House. "They have nothing definitive." — AFP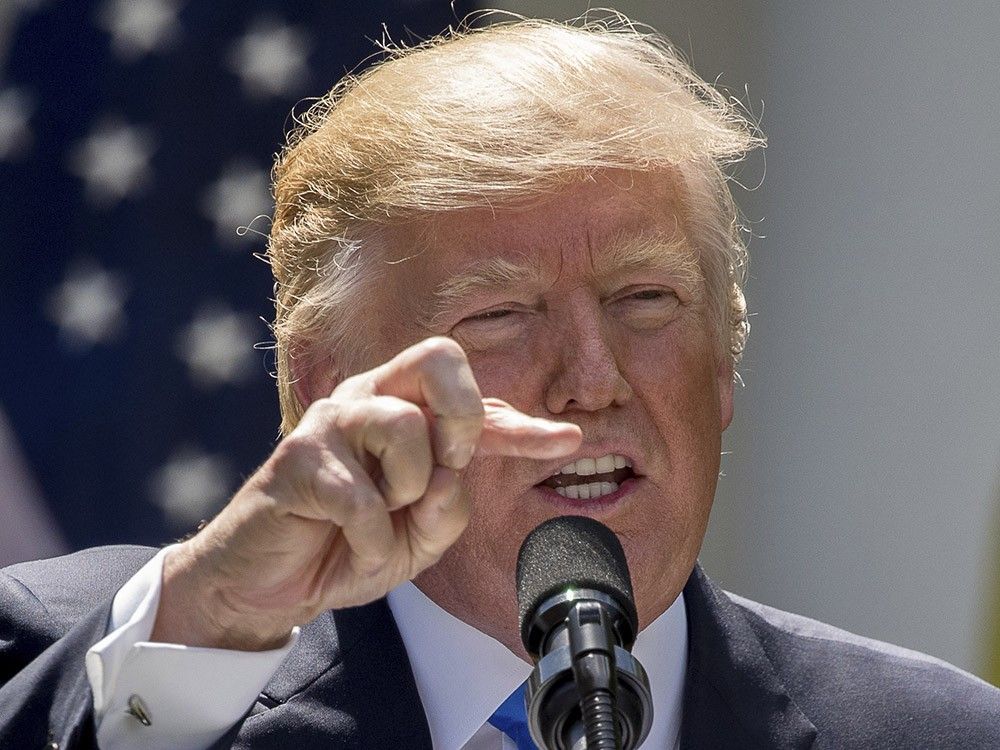 November 17, 2018
Vice President Mike Pence has vowed the US would hold the murderers of Jamal Khashoggi to account, following media reports that the CIA had concluded the Saudi Crown Prince was behind the journalist's killing.
"The United States is determined to hold all of those accountable who are responsible for that murder," Pence says on the sidelines of an APEC summit in Papua New Guinea. — AFP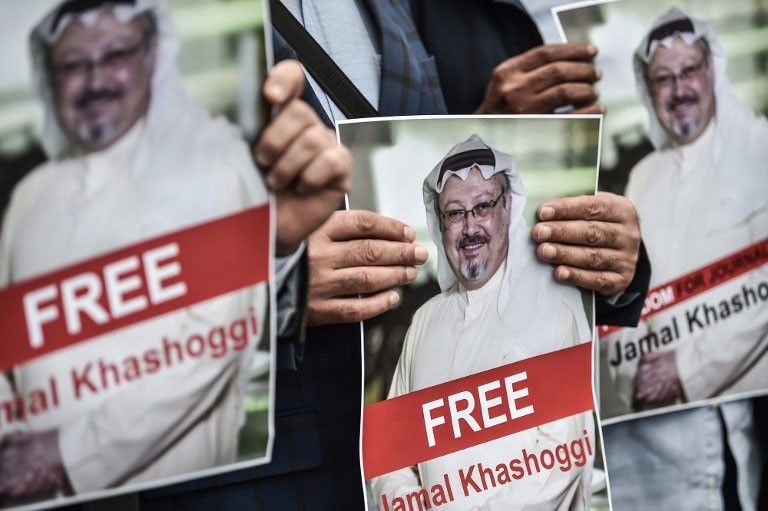 November 10, 2018
The killers of Saudi journalist Jamal Khashoggi poured his remains down the drain after dissolving him in acid, a Turkish newspaper reports.
Samples taken from the drains at the Saudi consulate in Istanbul showed traces of acid, pro-government daily Sabah said, without quoting sources.
This led investigators to believe the dead body of the insider-turned-critic of the Riyadh regime was disposed of through the drains as liquid, the paper says. — AFP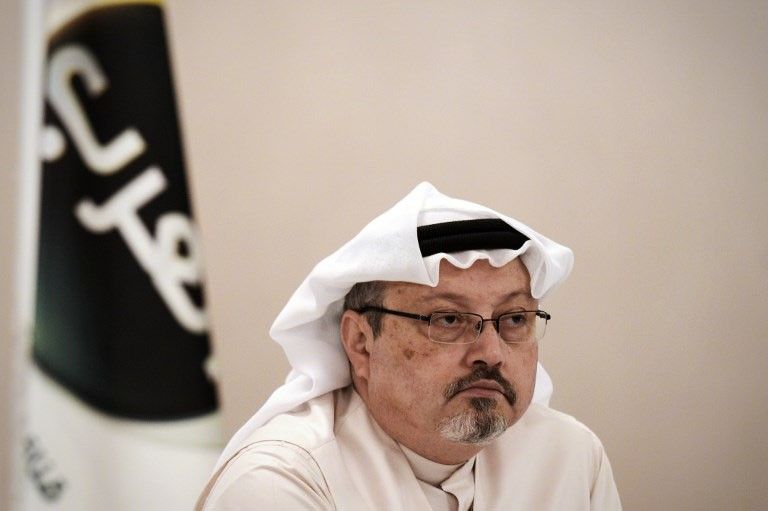 November 9, 2018
The fiancee of slain Saudi journalist Jamal Khashoggi has expressed "shock and sadness" over reports suggesting that his body may have been dissolved with chemicals. — AP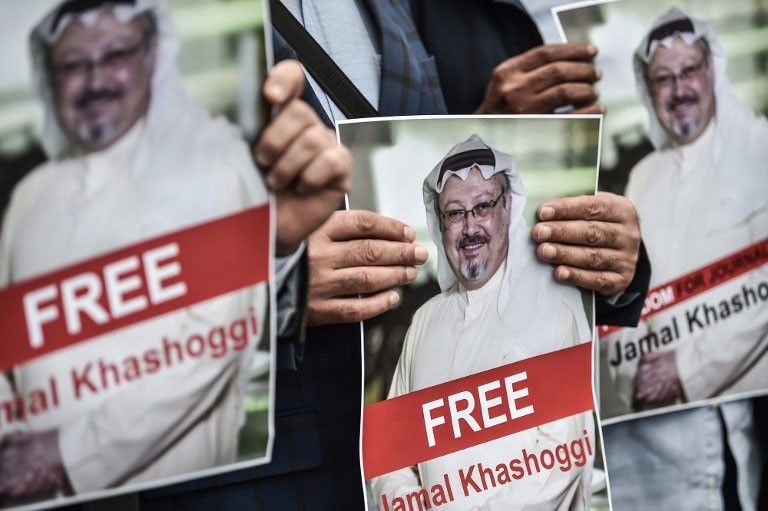 October 26, 2018
Turkish president says Saudi chief prosecutor will arrive in Turkey on Sunday for investigation of Khashoggi killing. — AP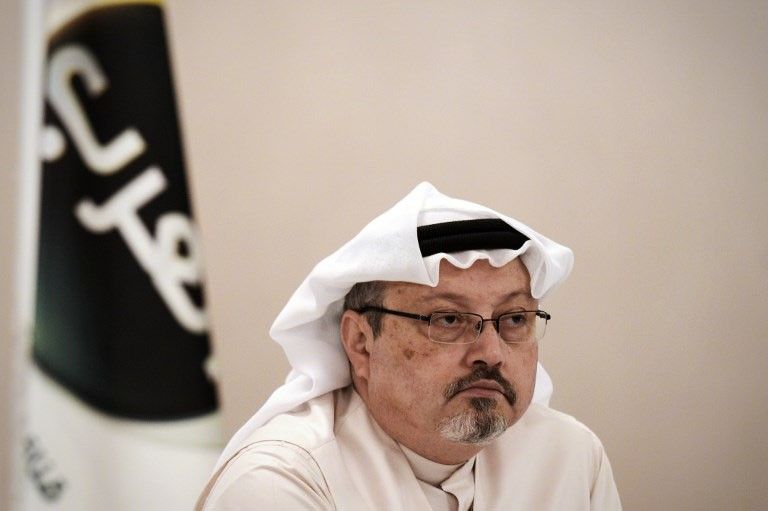 October 24, 2018
U.S. President Donald Trump says he will be briefed Wednesday afternoon by U.S. officials looking into the killing of journalist Jamal Khashoggi by Saudi Arabian agents.
After tomorrow, Trump says, "We'll know pretty much everything there is to know."
He calls the killing of Khashoggi "a total fiasco" and says Saudi Arabia never should have thought about killing the dissident Washington Post contributor.
Trump says, "Once they thought about it, everything else they did was bad too."
Trump is repeating the denials by Saudi Crown Prince Mohammed bin Salman that he knew of the plot before it was carried out. — AP
October 20, 2018
Amnesty International says the "impartiality" of a Saudi investigation into the killing of Jamal Khashoggi would remain in question after authorities in the kingdom said the journalist died after a fight in the consulate in Istanbul.
Amnesty's Rawya Rageh says early Saturday the rights group and other organizations have been very clear that what is needed is "an impartial and independent investigation by the U.N. to find out what happened and ensure justice" for Khashoggi.
She said rights groups have been concerned of a "whitewash" in the investigation.
Khashoggi disappeared after visiting the Saudi consulate in Istanbul on Oct. 2. Saudi authorities say a fight broke out in the consulate after which Khashoggi died. — AP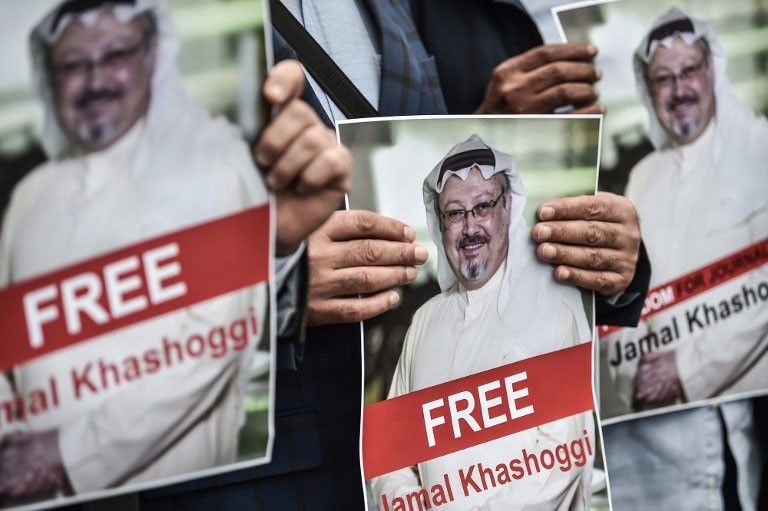 October 20, 2018
US President Donald Trump says that he found credible Saudi Arabia's assertion that dissident journalist Jamal Khashoggi died as a result of a fight.
"I do, I do," Trump says when asked if the Saudis' explanation was credible, while adding: "It's early, we haven't finished our review or investigation." — AFP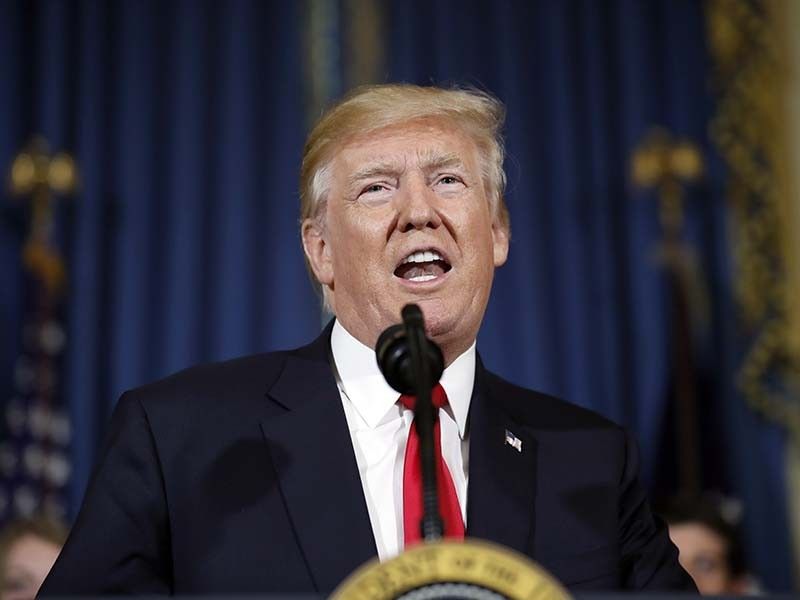 October 19, 2018
President Donald Trump says he now believes journalist Jamal Khashoggi is dead and warned of "very severe" consequences should Saudi Arabia be proven responsible. - AFP
October 18, 2018
President Donald Trump says the U.S. is asking Turkey for audio and video relating to missing Saudi journalist Jamal Khashoggi "if it exists." The president on called Saudi Arabia an important ally, noting it is an important customer for U.S. military exports. Turkish officials have said Khashoggi was murdered in the Saudis' Istanbul consulate, which Saudi officials have denied. U.S. officials say they are taking Khashoggi's disappearance seriously, but Trump says he has not sent the FBI, stressing that he was not "American citizen." In an intervie, Trump warned against a rush to judgment, comparing condemnation of Saudi Arabia to the allegations of sexual misconduct against Supreme Court Justice Brett Kavanaugh. — AP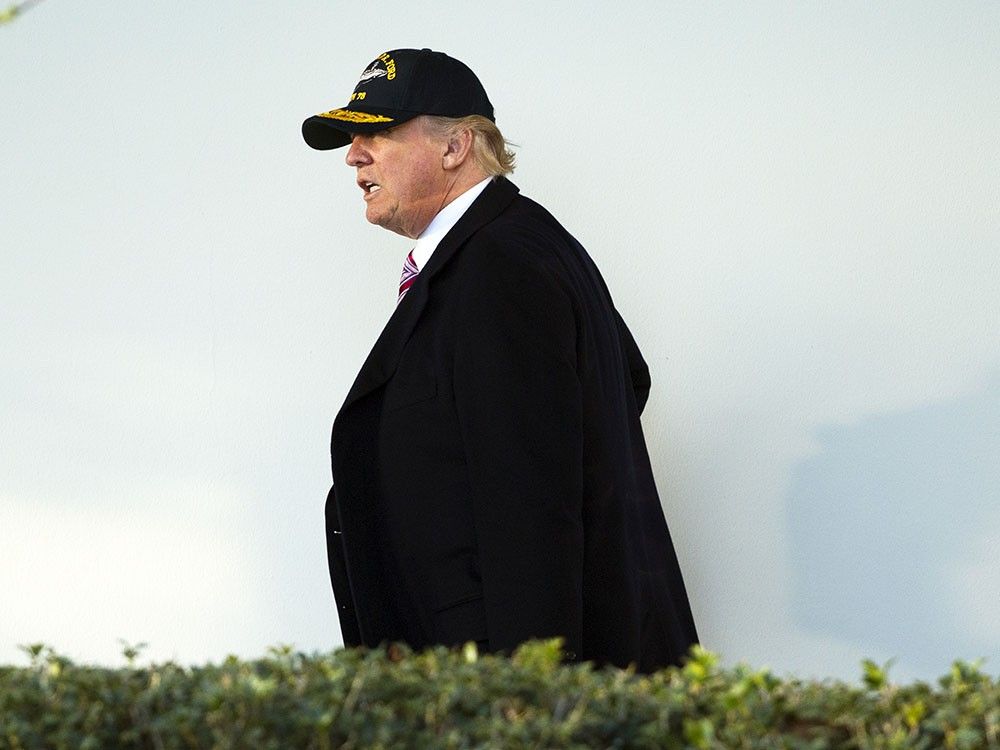 October 18, 2018
The Washington Post has published a new column by Jamal Khashoggi in which he warns that governments in the Middle East "have been given free rein to continue silencing the media at an increasing rate." The Post published the column Wednesday, more than two weeks after Khashoggi was last seen entering the Saudi consulate in Istanbul. Turkish officials say he was killed by Saudi agents. The Saudi government has denied it. Post Global Opinions editor Karen Attiah says she received the column from Khashoggi's assistant a day after he was reported missing. Khashoggi writes that actions like imprisoning journalists and seizing control of newspapers "no longer carry the consequence of a backlash from the international community." He says, "Instead, these actions may trigger condemnation followed by silence." President Donald Trump has suggested that the global community has jumped to conclusions that Saudi Arabia is behind Khashoggi's disappearance. — AP
October 18, 2018
The Washington Post plans to publish a new column by missing journalist Jamal Khashoggi in which he discusses the importance of a free press in the Middle East. The WashPost PR Blog says Khashoggi filed the column just before he disappeared. It will be published online Wednesday night in the U.S. Khashoggi was a Post Global Opinions contributor who had written opinion pieces critical of the Saudi crown prince. He was last seen Oct. 2 entering the Saudi consulate in Istanbul to pick up paperwork he needed to get married. Turkish officials have claimed Saudi agents killed and dismembered him. Saudi Arabia has denied the allegations, but provided no evidence he left the consulate. The Post also plans to publish a page dedicated to Khashoggi in its opinions section Thursday.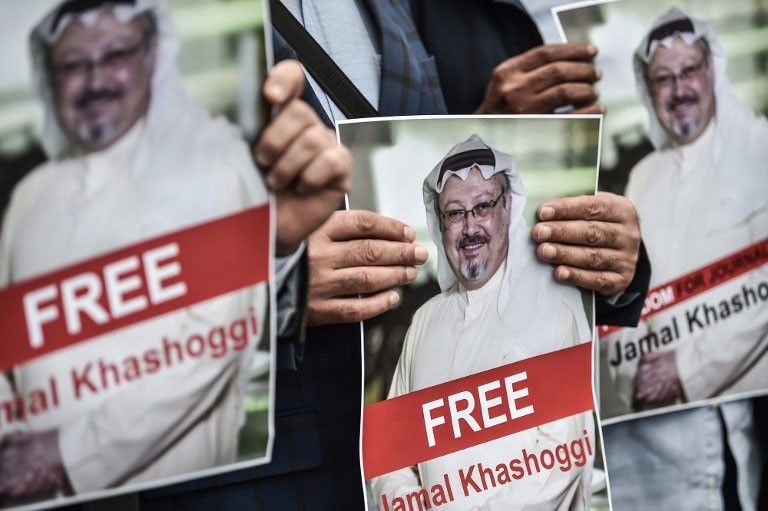 September 22, 2018
A newspaper in southern Mexico says one of its reporters was shot to death as he left his home to work on a story.
El Heraldo de Chiapas says journalist Mario Gomez was attacked by two men Friday in Yajalon, a town in a jungle area of Chiapas state near the border with Guatemala.
Gomez is at least the 10th news worker to be killed in Mexico this year. — AP
September 20, 2018
Unidentified gunmen on motorcycles shot at the house of a Talisay City-based radio broadcaster on Wednesday night, the Bacolod chapter of the National Union of Journalists of the Philippines reports.
In a statement, NUJP Bacolod says men on two motorcycles strafed the house of Muews Radio's Rey Siason in Carmela Valley Homes in Talisay City.
Siason was not in his home at the time as he had stopped along the way home to eat. His daughter, a minor, told him of the incident over the phone, NUJP-Bacolod says.
"We call on the authorities to swiftly investigate the incident and bring those responsible to justice," Marchel Espina, NUJP-Bacolod chair, says in the statement.
In February, Ranilo Azue, also with Muews Radio, was mauled outside the radio station by men believed to be associated with the government.
August 30, 2018
A Mexican television reporter was shot in the resort city of Cancun, the eighth journalist killed this year in a country notoriously dangerous for the media.
Javier Enrique Rodriguez Valladares worked as a cameraman and reporter for Canal 10.
The station says his family had confirmed his death.
News reports in Cancun say he was shot while walking with another man in the central part of the city. Local officials have not released any information about the case. — AFP
July 20, 2018
Broadcaster Joey Llana, 38, was shot dead by an unknown attacker in Daraga, Albay early Friday morning.
Llana, a blocktimer at Legaspi City's DWZR and known for his hard-hitting commentaries, was shot while he was on the way to work, the Bicol Standard reports.
June 30, 2018
Hundreds of people have gathered in the shadow of the Maryland State House for a candlelight march in memory of five slain newspaper employees.
The mood was somber as Capital Gazette reporter Phil Davis read aloud the names of his five slain co-workers before those gathers began marching through downtown Annapolis.
Some in the crowd carried signs and banners that said "#AnnapolisStrong."
Melissa Wilson and her husband, Benjamin Wilson, brought their children to the vigil. Melissa Wilson's employer has offices in the same building as the newspaper and has co-workers who were there when the gunman opened fire. She said many Annapolis residents have a "one degree of separation" connection with at least one of the five paper employees who were fatally shot. — AP
"It's not something you can ignore when it's in your backyard," she said.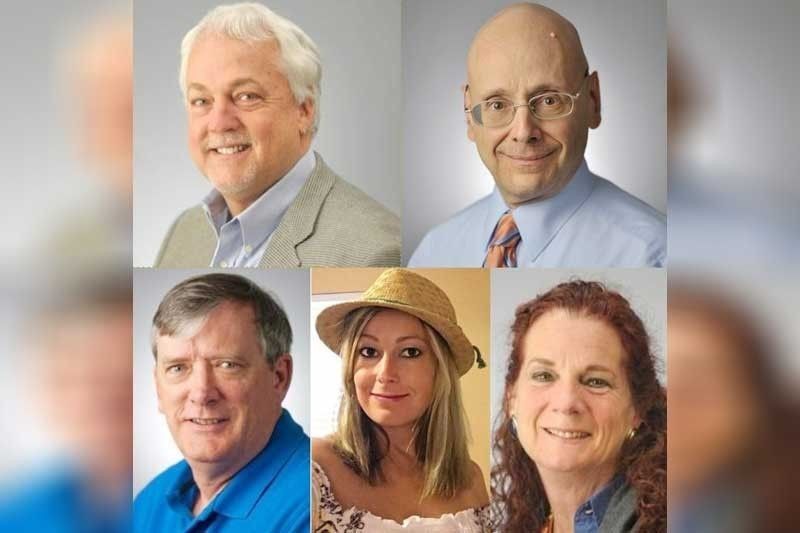 Dennis Denora, a Sun.Star reporter and publisher of the Trends and Times community paper, has been shot dead by unidentified killers, according to the Davao chapter of the National Union of Journalists of the Philippines.
Denora was killed near the wet market of Panabo City in Davao Del Norte on Thursday afternoon, NUJP Davao says.
The Davao del Norte Press & Radio-TV Club says in a statement that is is angered and saddened by news of the killing.
"His death awakens the anger and pains of journalists who do their job and yet are being judged by the pistol," the group also says.