Jupiter Ascending opens in IMAX 3D February 5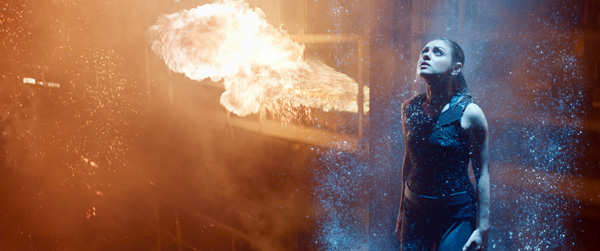 MANILA, Philippines – IMAX Corporation, Warner Bros. Pictures and Village Roadshow Pictures' Jupiter Ascending, an original science fiction action adventure from filmmakers Lana and Andy Wachowski, and starring Mila Kunis and Channing Tatum, will be digitally re-mastered into the immersive IMAX® 3D format and released into domestic IMAX® theaters on Feb.5, 2015 —Tickets will be available at www.smcinema.com.
"Jupiter Ascending" follows the adventures of Jupiter Jones (Kunis) who was born under a night sky with signs predicting that she was destined for great things. Now grown, Jupiter dreams of the stars but wakes up to the cold reality of a job cleaning other people's houses and an endless run of bad breaks. Only when Caine (Tatum), a genetically engineered ex-military hunter, arrives on Earth to track her down does Jupiter begin to glimpse the fate that has been waiting for her all along—her genetic signature marks her as next in line for an extraordinary inheritance that could alter the balance of the cosmos.
From the streets of Chicago to far flung galaxies whirling through space, "Jupiter Ascending" is written and directed by the Wachowskis. Award-winning producer Grant Hill, with whom they have collaborated since The Matrix Trilogy, is producing, together with Lana Wachowski and Andy Wachowski. Roberto Malerba and Bruce Berman serve as executive producers.
The IMAX® 3D release of Jupiter Ascending will be digitally re-mastered into the image and sound quality of The IMAX Experience® with proprietary IMAX DMR® (Digital Re-mastering) technology. The crystal-clear images, coupled with IMAX's customized theatre geometry and powerful digital audio, create a unique environment that will make audiences feel as if they are in the world of the movie.
For more information about Jupiter Ascending, visit the film's official website at http://www.jupiterascending.com.
IMAX Theaters are located at SM Cinema Mall of Asia, SM Cinema Megamall, SM Cinema North EDSA, SM Cinema Aura Premier, SM Cinema Southmall, SM Cinema Clark, SM Cinema Cebu and SM Cinema Lanang.
For information about movie tickets, visit SM Cinema's official website at www.smcinema.com.