The Pinoy connection in Malta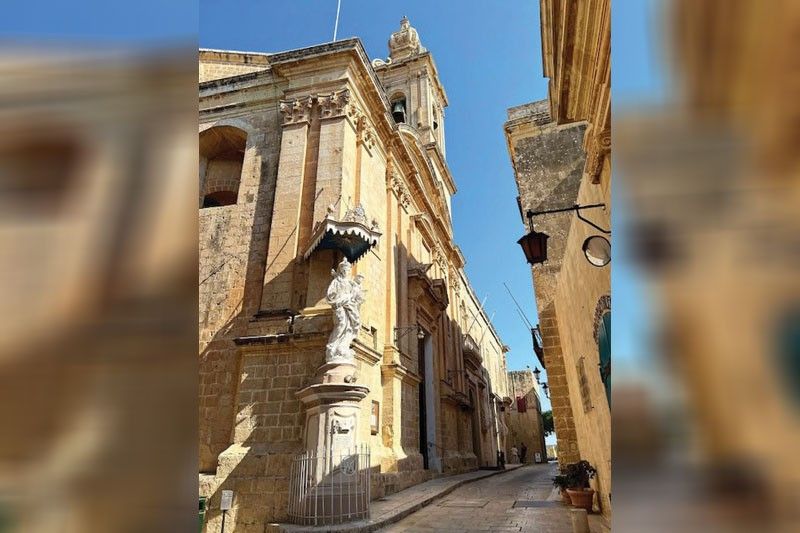 Malta is a charming island country in the European Union, and the last stop in the 10-day Celebrity Beyond cruise I went on last month with Keren Pascual and Leo Katigbak. Malta is also the world's 10th-smallest country, with an area of 316 square kilometers and a population of roughly 500,000 people.
As soon as we docked on July 19, we got off the ship and right away were conveniently on land. Though it was the first time for Leo and I to visit Malta, we were in good hands because Keren had been there before. Instead of joining a tour group, we opted once again to explore on our own. Not only was this more economical, it also gave us the luxury to proceed at our own pace without worrying about sticking to a schedule.
The first thing we did was to hire a taxi driver. For 100 euros, our cab driver "Pawl" agreed to drive us around for two and a half hours.
Our first stop was the Presidential Palace, a.k.a. San Anton Palace in Attard, the official residence of the President of Malta. Only the palace garden, it turned out, was open to the public. The grounds had a pretty relaxed atmosphere that I guess the locals enjoyed, as we saw quite a few folks who were walking their dogs, exercising, or just hanging out there. It didn't strike me as being particularly "presidential" since the landscaping was simple. There was no sign of the manicured lawns I expected to see in a presidential or palatial home.
Our next stop was Mdina, the former capital of the island up to the medieval period. It's a popular tourist destination that's famous for being an ancient walled city with a mix of medieval and baroque architecture. Restaurants and shops line the cobbled streets, and you will find Catholic churches in almost every corner. No surprise there since Malta is a predominantly Catholic country.
Our third stop was a church called the Rotunda of Mosta or the Sanctuary Basilica of the Assumption of Our Lady. This is the largest and most popular church in Malta and was built between 1833 and the 1860s according to the neoclassical style. The Maltese people believe that it was a miracle that the church avoided destruction during World War II when the Germans dropped an aerial bomb there on April 9, 1942. The bomb pierced the dome, landed inside the church during Mass, but failed to explode. The bomb (which has been deactivated, of course) is proudly displayed in the church and the dome has been patched up, though the part where it was hit has been left unpainted as a reminder of that terrifying day.
Our fourth and last stop was the town proper of Valetta, the capital city, which we arrived at in time for lunch. Keren wanted us to dine at a restaurant he visited a few years ago, but whose name he forgot. We asked around and talked to a store owner who surprisingly knew the restaurant Keren was looking for! It's called Da Pippos and is owned by the very good-looking Francesco, who also happens to be the cook. His cozy Italian restaurant is famous not only among locals but attracts celebrities as well. Upon entering, you'll notice photos of stars like Brad Pitt, Angelina Jolie, Tom Hanks, Luke Evans and others lining the wall. After we ordered the calamares, Francesco also recommended the spaghetti marinara, which was served straight from the pan it was cooked in and was absolutely delicious!
After lunch, we explored the city more and entered a food court.Lo and behold, there was a stall serving Pinoy food that was called Pinoy Street Food! During my brief interview with Gem, the Filipina cashier, she shared that the owner is a Filipina who is married to a Maltese, and that their patrons are mostly Maltese. Among their specialties are lechon kawali, sisig and halo-halo. Count on the Pinoy to be in every corner of the world!
Later, while we were walking, we came across an old man who was serenading pedestrians with an electric guitar for tips. He asked us where we came from and we replied that we were from the Philippines, he started singing Anak by Freddie Aguilar! Impressed, we of course gave him a handsome tip. Apparently, he's been doing this for several years since Keren remembered him.
By this time, we were slowly making our way back to the ship as it was to set sail for Barcelona, Spain at 5 p.m. Though we were in Malta for just a couple of hours, it was enough time for the beautiful island city to captivate us with its unique charm and plant wonderful memories that will last a lifetime.