Gloria Sevilla tributes in Manila and Cebu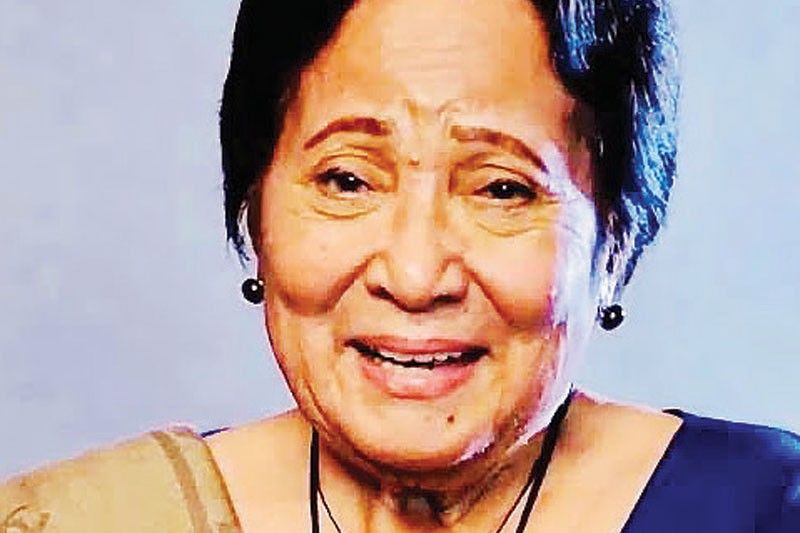 Gloria Sevilla was a queen. Long before others thought about their possible monikers, so the public will easily remember them, the actress was already christened the "Queen of Visayan Cinema."
She was known for having starred in most of the Visayan-made films in the Philippines in the '50s and '60s. While other actresses were busy making films for the Manila-based local cinemas, Gloria was making a name for herself on that side of the country. Undisputedly.
In August 2021, Gloria was able to travel to the US to attend the wedding of one of her grandchildren. She returned in December.
"Majority of us then decided that because of her weakening condition, she should remain in the US permanently, so we could watch over her," disclosed Gloria's son, Dandin Ranillo. "Since then, Mommy was shared by the siblings taking turns caring for her for those able to."
A couple of weeks before Gloria's passing, Mat brought her to Las Vegas, where she spent time with his family — wife Linda, children Kevin, Trixie and Krista with her five children and husband Nino Lim, the CEO of Island Pacific Supermarkets.
"Mommy enjoyed playing in the casinos," Dandin recalled. "She was also brought to the parlor, where she was given facials and eyebrow sessions. Her appetite was good. The doctor gave her a clean bill of health before the trip."
Gloria passed on peacefully in her sleep on April 16, 2022. On the day that she passed, she was staying on her final day with her son, Jojo Ranillo, in Oakland, California. "She was supposed to be picked up and transferred to Mat's house in L.A. (Los Angeles)," Dandin said.
"That morning, we received text messages from our brother, Jojo, stating mom's unresponsiveness. Except for Mat, who lives in Los Angeles, and Suzette, who just returned to Manila, all children went to Jojo's house.
"With mom's passing, the most important lesson learned by all is that life really is short and unpredictable," Dandin maintained. "That every second is precious. And we have God to thank for the wonderful lives He gifted us."
The Sangguniang Bayan of Sibonga in Cebu, where Gloria was born on Jan. 31, 1932, readily issued a resolution and extended their heartfelt condolences to the family when the veteran actress passed on. She was hailed as "biggest and most admired movie star in the Visayas and Mindanao regions."
On July 30 and 31, Gloria will be given tributes in Manila and Cebu. Some of her children based in the US West Coast are coming over.
The tribute in Greenhills will be organized by Suzette and attended by her brothers Jojo and Juni. Meanwhile, Dandin will grace the tribute in Cebu, where Gloria will be presented with a municipal, provincial and city resolution acknowledging her work in the Visayan film industry.
The Gloria Sevilla Foundation will also be launched, with Dandin as chairman and Mat Ranillo III, Lilibeth Ranillo de Rivera, Dr. Warfe Engracia, lawyer Michael Alan Ranillo, Richard Yap and Dulce as board members.
The foundation will promote Visayan films and will assist in poverty alleviation, according to Dandin. It will hold seminars, workshops and productions related to the promotion of Visayan films.
Filmmaker Marlon Hofer who works in the office of Cebu City councilor James Anthony Cuenco, is the organizer of Gloria's tribute in Cebu. James is the son of the late Cebu congressman Antonio Cuenco, producer of Gloria's Visayan film, Leroy Salvador's Matud Nila (1991).
Gloria did a string of other Visayan films — Leonora (1951), Pailub Lang (Be Humble), Gloria Akong Anak (My Child Gloria) both in 1952 and the award-winning Badlis sa Kinabuhi (1969), where she won a FAMAS Best Actress award.
Consultant for Media Affairs of the province of Cebu, Sam Costanilla will host the special tribute at the Wing Atrium of SM Seaside in Cebu City. Several filmmakers are expected to attend.
The program will start with a registration at 12 noon, followed by the screening of Palad Ta ang Nagbuot (Our Fate Decides), from 1:30 p.m. to 3:30 p.m., Gloria's last Visayan film, directed by Dandin in 2013.
The presentation of recognition for Gloria will take place at 6 p.m., followed by performances of Cebuano artists Girlie Las Piñas, Dante Javelosa and Chacha Blanco with Dandin and possibly Dulce.
The venue of the tribute will be dressed up like a barrio fiesta to give the place a festive look. Donations to the foundation will be highly appreciated and will help the family reach their goals in staging projects for Gloria in the near future.