How Sam Raimi brought horror and madness to Doctor Strange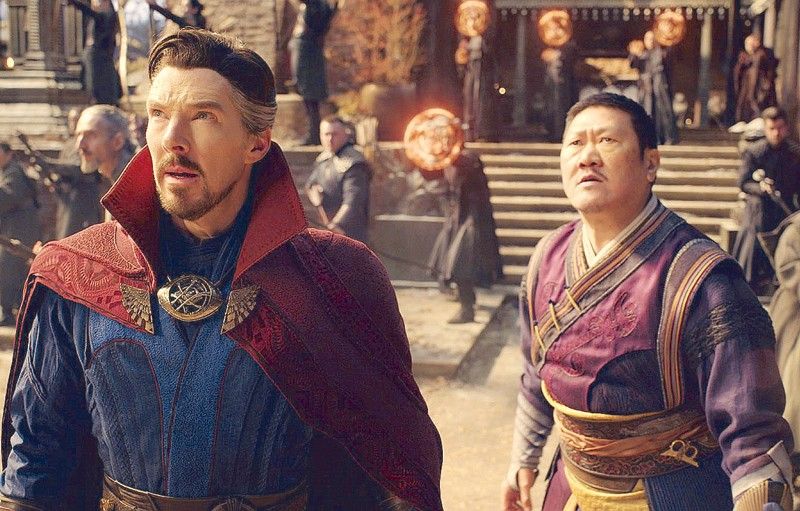 Dubbed "master of macabre" and "godfather of modern superhero filmmaking," the 62-year-old Raimi is now at the helm of MCU's latest big-screen offering, Doctor Strange in the Multiverse of Madness. Now showing in cinemas, the second Doctor Strange movie marked his return to the superhero fold, where he brought his signature horror touch.
Raimi had a throwback moment during the virtual presscon attended by this media outlet for his newest directorial outing. He was with the president of Marvel Studios, Kevin Feige, who also served as producer on Doctor Strange 2.
Feige described working anew with Raimi as a particularly surreal and full-circle moment because "I was a young producer who just felt lucky to be in the same room with him. And now, I'm an old producer that just feels lucky to be in the same room with him."
"There were really a lot of Marvel movies being made when we made the Spider-Man movies with Kevin. Kevin was also working, I think, on the X-Men movies… And the Iron Man movies. So, Kevin and his boss, Avia Rod (PH), were already developing the Marvel Cinematic Universe even back then," Raimi looked back.
"So, I was very fortunate to get that directing job. I loved Spider-Man. I'm glad it had a moment in helping one of the first MCU movies."
It's been 15 years since Raimi last did a superhero movie and the invitation to do another was just too tempting to pass up, especially since he's a fan of the first Doctor Strange film in 2016.
"I was a big fan of the first one. I thought that the director, Scott Derrickson, did a great job, and Benedict Cumberbatch delivered an incredible performance," he said in a separate Q&A.
"It was a really intelligent and interesting movie. I loved how they gave you a little taste of Eastern thought and religion combined with the superhero picture. I thought it was unique, and I really enjoyed it. So, when that offer came in, I thought it would be a really good challenge. It had been a long time since I had made a superhero movie, and I wondered if I could still do it. That alone was reason enough."
Another main attraction for him was the fact that the producers wanted it to be the spookiest and scariest Marvel movie.
"Horror and suspense have always been fun aspects of moviemaking to me. One of the reasons I'm interested in Doctor Strange as a character is because he's a magician," said Raimi.
"Growing up I was a magician for kids' parties and weddings. I really enjoyed creating illusions. A superhero who is an illusionist and a magician is of particular interest."
In case you haven't seen the film yet, Doctor Strange in the Multiverse of Madness unveils another adventure for Doctor Strange (Cumberbatch) after meeting America Chavez (Xochitl Gomez), a teenager who can cross from one universe to another. He saves her from a monster called Gargantos which turns out to be just one of the many forms of a demon haunting America across the multiverse to claim her unique power.
After defeating the monster, Doctor Strange and Supreme Sorcerer Wong (Benedict Wong) realize that they're running out of time before another demon appears. Having sworn to protect barriers between the universes, the safety of America becomes their responsibility. Doctor Strange also enlists the help of fellow Avenger Wanda Maximoff (Elizabeth Olsen).
What happens next is a dangerous and mind-bending journey into alternate universes in the multiverse, where Doctor Strange comes face-to-face with versions of his friends, enemies and even himself, and a foe with powers he has never encountered.
What Raimi enjoyed exploring this time around in the Multiverse of Madness, which he didn't get to do because of limitations back in the 2000s, was the wonders of technology. Like many of us during the pandemic, he credited much of the work getting done with the help of Zoom.
"Well, the technology has changed. And it's just become a lot easier. But mostly the technological difference that really enabled me to work on this movie so effectively was Zoom. The modern telecommunications system," he laughed.
"I could speak, you know, to tens of crewmembers at once. We could show a storyboard from an artist. The editor could bring up a piece of the cut. We really had great communication — audio-visual. And (we) were able to speak to hundred people at once. It's fantastic.
"But, as far as the most important thing that changed? The thing that didn't change is how I want to answer your question. The most important thing is having great actors, like these two. Like this gentleman (Benedict). Like this young lady (Xochitl). And them knowing that the most important thing they can do is within themselves. That's how people connect to our superheroes."
He further praised his entire cast as "great actors" who, at the same time, know what it's like to be a human being. "They've got a vast set of experiences that they're not afraid to pull into their performances. And they also know their characters very well."
"It's great to see that knowledge of their characters that they had in this film. Because what they meet is the Multiverse. They — and in the Multiverse, it's basically a mirror. And they meet altered versions of themselves. And these actors are so good, they just have to change the slightest aspect of their character's personality to make an interesting conflict with the alterself," he further noted.
Meanwhile, when asked what it was like incorporating some of his beloved horror elements into the MCU, the director best-known for the supernatural horror-thrillers The Gift, Drag Me To Hell and the Evil Dead franchise, said, "It was great. When Kevin announced that this movie would be the first entry of Marvel, putting their toe into the world of horror, I was thrilled that he called me to come in and talk about the possibility of directing the picture.
"I was able to take those horror films that I made in my youth and what I had learned from them building suspense sequences, titillating the audience, gonna give them the scare now? No. Now, I'm gonna give it to them. That's stuff I was able to apply in the spooky sequences in this film. So, it was very helpful."