P-pop girl group Calista eyes international music scene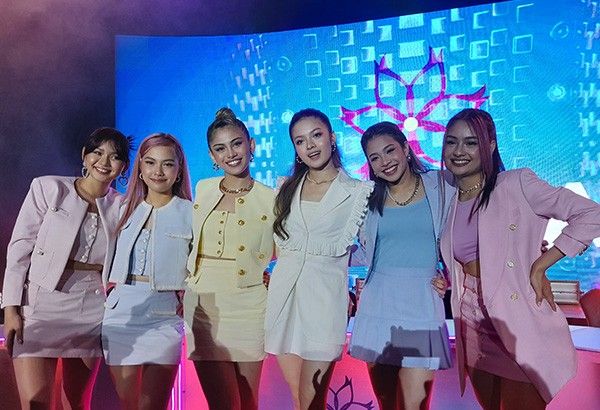 MANILA, Philippines — At first blush, Olive, Laiza, Anne, Denise, Elle and Dain of the new P-pop group Calista strike you as any typical band of performers. They own the stage with their fiery moves, powerful vocals, and telling message – "watch me vroom, vroom, vroom" as encapsulated in their debut single, "Race Car."
But a short open forum between them and the media after their mini-concert show in a Quezon City hotel shows why these girls are confident that they can go beyond P-pop, aiming to make waves in the challenging international music scene. They express themselves as forcefully as they can dance up a storm.
Asked what makes them uniquely P-pop — not K-pop or J-pop, like their idols Korean groups BTS, Black Pink and Twice — Calista said their signature song "Race Car" talks about the famous Pinoy resiliency.
"It's about fighting troubles and being brave every day, no matter how hard the challenges are," they chorused. This strong message, they pointed out, is very Pinoy.
Another proof that Calista isn't content with being just another girl group is its plan to compose a Filipino song which will be included in their next project. This way, they can be instruments in the rise of Pinoy pop in the global stage.
But the plan is long term. The immediate target, as their manager Tyronne Escalante said, is international. Hence, their English debut song and its music video showing the girls aboard a chopper and sitting behind the wheel of a sports car.
The girls went through rigorous trainings, care of Amie Mendranos and Marnie Jereza for vocals and Nesh for dance. They also had personality trainings, and other skill-improving sessions that cost over P5 million. The six girls bested over 100 aspirants before making the cut as official members of Calista, a Greek name which means "most beautiful." The girls also added the adjectives "strong, edgy and fierce" as the meaning of Calista.
It's no coincidence that the launch of Calista's music video was timed for International Women's Day, March 8. It's also interesting to note that not a single parent of the girls were in the event, perhaps to stress their independence and can-do stance.
After all, the girls also define Calista as "Call It a Star." And a star that shines on her own. Hence the logo with six flame-shaped petals representing the members – a singer-actress-model (Anne), social media maven (Tiktok and Instagram star Olivia), a dance scholar (Denise), a brand ambassadress- beauty queen (Dain), a Star Magic actress (Laiza), and actress-beauty queen (Elle).
Unlike other girl groups, each member shows her own moves on stage. Each has her own branding: alluring, sporty, edgy.
Each will show what stuff she is made of in Vax to Normal, a tribute concert for health care frontliners on April 26 at the Smart Araneta Coliseum. The show also toasts the advent of the new normal after two years of the pandemic.
Yeng Constantino, AC Bonifacio, Elmo Magalona, Andrea Brillantes, Darren Espanto and Ken San Jose will also perform in "Vax to Normal. "
RELATED: P-pop group Calista makes debut with high-octane track 'Race Car'