Cuisine inspired by 'anything that is proudly Filipino'
February 21, 2022 | 12:00am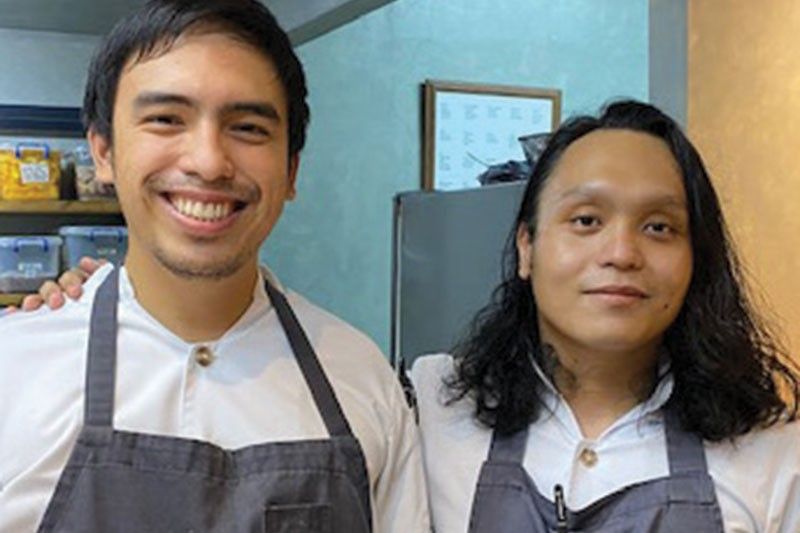 Last Feb. 11, I had dinner with my high school barkada, two of them were celebrating their joint birthday. The venue was Hapag, which is located along Katipunan Ave. Extension i Quezon City. I had never been to Hapag, but my curiosity was piqued after a friend raved about their food in a recent social media post.
I arrived at the venue just before 6 p.m., hungry and excited to try the 10-course degustation menu, which was their Valentine's weekend special.
The meal began with the Pan de Kalinga, which is fermented black rice sourdough served with butter, Palawan honey, and fermented purple potato halaya with Malagos La Rosita cheese. I also ordered a glass of their bestselling Sampaloc Juice, which was a refreshing variation of the usual iced tea.
Then came the glass-covered snack box which contained five tiny appetizers: 1.) Tuna Bagaybay, which is miso-cured tuna sperm sack mousse, choux pastry, tomato jam, and tuna roe sack katsuobushi; 2.) Champorado at Tuyo, made with Auro chocolate sticky rice croquette topped with crispy "palad" dry fish; 3.) Keso at Kabute tartlet, which is local oyster mushroom with kesong puti mousse, sukang Iloko jelly and arnibal; 4.) Empanada, made from rice tostada, pork longganisa, papaya, sukang Iloko emulsion and homemade banana ketchup; and 5.) Soy Caramel Kutsinta, which is homemade kadios shoyu with grated fresh coconut. Though the snack box was just a teaser, my appetite was already growing.
More appetizers came (a.k.a. Panimula):
Kinilaw na malasugi sa pakwan, which is local blue marlin with citrus dressing and watermelon consommé.
LuzViMinda, which is a unique serving of three dishes arranged like the Philippine islands. "Luzon" was kilawing baka, consisting of beef tartare, fermented mustard seeds and pickled gamet. "Visayas" is scallop napoleons, made from Iloilo baby scallops, puff pastry, smoked eggplant ensalada and kadios miso glaze. "Mindanao" is Crab Alavar, made from seaweed crackers, crab salad, alavar sauce, pineapple palapa jam and Davao pomelo.
Inihaw na sugpo sa miso is grilled prawn with a homemade dayap-munggo miso glaze, served with fresh vegetables tomato jam, pineapple-labuyo jam and house fermented buro.
Uni Arroz caldo, this soup was excellent and one of my favorites from the 10-course menu. It was made of Adlai arroz caldo with fresh Pangasinan uni, uni cream, tinapa, puffed rice and bihod bottarga.
To cleanse our palates, we were served a sorbet (Kinaskas in Tagalog), which is strawberry granita with house-cultured yogurt, calamansi sago and basil.
Our main course was aptly called Salu-Salo because Filipinos enjoy eating as a group, family style. We were served Binusog na Manok, which are chicken inasal wings, stuffed with chicken and mushroom embutido; Pinasingaw na Lapu-Lapu, steamed with black bean miso; and my all-time favorite that evening, the Inihaw na Baboy. This may be a common Filipino dish but Hapag's version was marinated 24 hours in a secret marinade and was so very tender. Served with steaming pandan rice, our main dishes were all gastronomic delights.
For dessert or the Panapos, we had the tropical fruit salad, which is toasted rice panna cotta with a mix of fresh and pickled tropical fruits; Choc-nut which was Auro chocolate and chocnut creameaux, cacaoa-koji soil, and sea salt barquillos; last was the Buko tart, made from coconut pastry cream, macapuno and quezo de bola crisps.
After the meal, I was so impressed with how Hapag elevated Filipino cuisine to fine dining levels that I wanted to meet the chefs. They are Thirdy Dolatre and John Kevin Navoa, who have been friends since they were in grade school at La Salle Greenhills.
Thirdy is a graduate of the Center for Culinary Arts, Manila. He began working at Rational International and then as a line cook with several restaurants in Manila and then moved on to Benu restaurant in San Francisco. Kevin, on the other hand, is a graduate of Culinary Arts at KDU University in Kuala Lumpur, and worked under Darren Teoh of Dewakan Restaurant in Kuala Lumpur, Malaysia. As for their romantic status, Kevin has a girlfriend, while Thirdy will tie the knot on March 2.
Here are the highlights of the brief chat we had about Hapag:
How did you come up with the idea for Hapag?
"We started Hapag back in December 2017 as a small, privat e dining company. We go to the homes of our customers and cook multiple courses of Filipino food for them. After two years of doing private dinners, we opened a small restaurant in a humble 20-seater space in Katipunan, Quezon City. Everything started from the idea of promoting Filipino cuisine and highlighting our dishes and local ingredients."
Where did you get your inspiration for the dishes? Where do you source your ingredients?
"We try to get our inspiration everywhere. Anything that is proudly and genuinely Filipino, we serve in Hapag. Whether it's an ingredient, a heritage recipe or even a humble dish from a carinderia, all these can be a source of inspiration to us. As much as possible, we try to source and support local purveyors."
Why did you choose Philippine cuisine? Do you think Filipinos are ready to elevate homegrown dishes to make them more global?
"As young cooks, we've had background and training for different types of cuisine. It came to a point where we wanted to represent what's truly our own. There is no need to elevate our dishes. Filipino cuisine in its purest form is already beautiful and globally acceptable if done right."
What's next for Hapag?
"We plan to go and dive deeper into learning more about our cuisine. For the past years, Hapag was all about familiarity and comfort. The next thing that we would like to do is immerse ourselves more in the unfamiliarity of our cuisine and showcase these discoveries through our own interpretation."