Escape with Emily in Paris
December 25, 2021 | 12:00am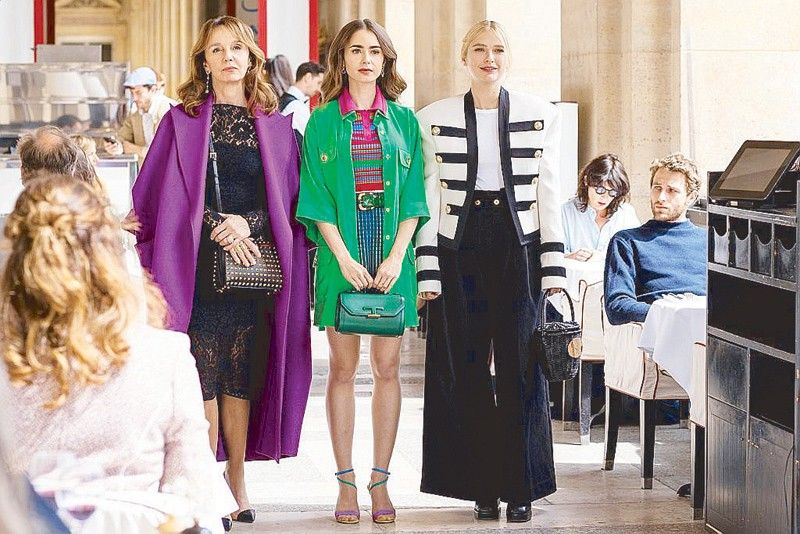 By now, most of you have seen the second season of Emily in Paris which dropped last Wednesday on Netflix.
With its beauty shots of France, "happy clothes" as iconic costume designer Patricia Field calls it, which looks like the next season's fashion trend, and the très magnifique life of Emily at her French marketing firm Savoir… it's so easy to just succumb to the light romantic-comedy storyline and finish the series in one go.
Well for me, we had the opportunity to screen it prior to release and I had to stop myself from finishing the 10-episode season or else I would not be able to make it to my exclusive interview with Emily herself, Lily Collins, plus the dashing and talented Ashley Park who plays Mindy, her equally fashionable BFF.
Until now, Lily is somewhat still in disbelief about how the show went on to become Netflix's most viewed comedy series of 2020. She said, "Look, none of us knew when we were filming this that it would come out during a pandemic. We had so much fun, it brought so much joy to our lives to shoot the first season and we were just hoping that that would translate in some way onscreen and people to have a sense of escapism and travel, and joy and laughter, and to remember what fun feels like during the pandemic by watching Season 1. To hear those reactions, to us, were just so meaningful because I love what I get to do because it could be a form of therapy."
For the second season, Emily is more entrenched in her life in Paris but is still struggling with the idiosyncrasies of French life.
The first season ends up with Emily getting caught in a love triangle with Chef Gabriel and her friend Camille. Lily shared where the pick up will be for this new season. "Emily and Gabriel are, per usual, in a bit of a sticky situation. Gabriel is now staying in Paris to open his new restaurant with Antoine, and Emily is wondering just how much Camille knows.
"Emily has to make a very distinct separation between her personal life and her professional life. Camille is one of her closest friends in Paris, and she's also a colleague and client at Savoir and pursuing Gabriel would potentially interfere with both a friendship and her career, which continues to be extremely important to Emily," Lily added.
Even though Emily is far from a perfect character with somewhat questionable decisions, she is well aware of the situations she gets herself into. "She's in on the joke, you know? She doesn't take herself too seriously. Her fashion is bright, bold and bubbly and it is just her personality as well and she is just a constant optimist and solution driven person," shared Lily.
One of the strongest points of the series is how well it understands its assignment to entertain lightly. French stereotypes and all, the massive following the show managed to create just proves that it's actually a selling point of the show. This season, people are taking down notes on the new spots Emily and the cast are basking on like the Cinema Le Champo, Père Lachaise Cemetery, and Place Saint-Michel, just to name a few. The show got to shoot at Versailles and Saint-Tropez, and returned to the Loire Valley as well. For sure when Omicron eases up, I'll hope to see you all there!