Ursula Corbero: Being Money Heist's Tokyo changed me at every level
September 15, 2021 | 12:00am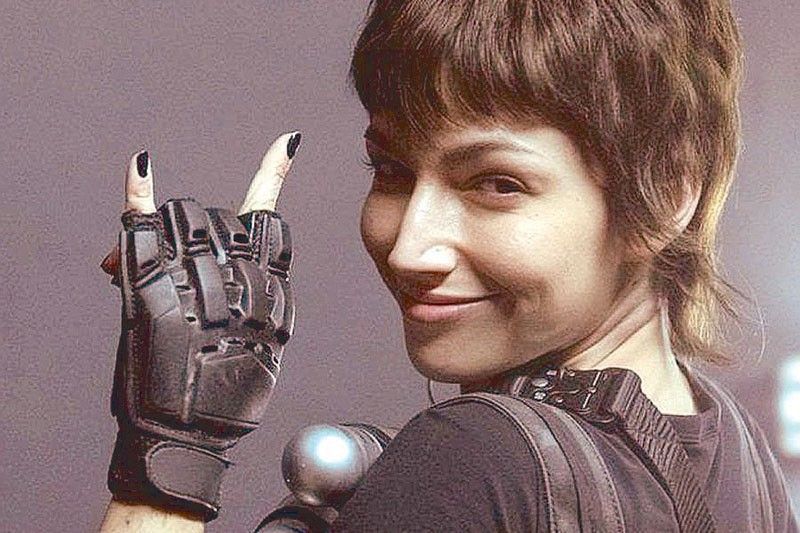 The end has begun for Netflix's wildly popular series Money Heist. The first half or Volume 1 of the final season is now streaming with a stunning twist involving fan favorite Tokyo, played by Ursula Corbero.
Ahead of the season premiere last Sept. 3, The STAR had a virtual interview with some of the main cast members, including Ursula, to talk about the impact of Money Heist not just on the viewers, but also on their own 1 lives.
The story of the show's journey is one for the books. Fans would know that Money Heist (titled La Casa de Papel in Spanish) was supposed to be a limited-run series about a gang of robbers executing heists on the Royal Mint of Spain and the Bank of Spain under a mastermind named The Professor.
Originally created by Alex Pina for Spanish audiences only, the crime thriller was on the brink of cancellation when Netflix swooped in to acquire its international rights. A year after, it rose to become the most-watched non-English language series and one of the leading titles overall on the streaming giant.
Now that it's coming to a close, with Volume 2 coming in December, Ursula said she couldn't help but start looking back.
"When you finish something, you start looking back. And I was kind of melancholy, I remembered the whole time, like… everything, you know? What I had experienced from the beginning, what had happened to us, the journeys we'd made, where we'd filmed, what had happened with the show," the 32-year-old Spanish star reflected in the press notes.
"I got a bit blue, I thought a lot about everything that had happened to me, about how my life had changed and about how much I was going to miss the whole team, my colleagues."
When the show takes a bow, Ursula's Tokyo will forever be remembered not just as the show's narrator, but also as the source of many riveting, badass moments in the series — an action heroine through and through.
Nevertheless, this tough chick on screen became a bundle of emotions on the day she shot her final scene. She recalled to The STAR that the Money Heist set was normally loud and that they would expect their deputy director to be always ordering everyone to hush down. But her last day on set was uncharacteristically silent.
"That day, silence was raining over that scene. I guess, everyone was aware of the fact that the ending was coming. I remember while I was waiting in the dressing room and I got the warning saying, 'Look, Ursula, we're ready to shoot your last scene.' I remember that walk very clearly, very distinctively," she shared.
"I remember that I felt as if I was running along a death tunnel. I felt vertical, I felt really nervous, and the emotions were running really high. So high that I thought, well look, maybe I'm not going to be capable of pulling through this last scene because I felt so sad, so exhausted, but also wanting to end it as well on the best note. So, it was a crazy, crazy day!"
Ursula never imagined she'd be part of Money Heist. She was already making a mark as a comedian when she was asked to join in the auditions for the show back then. She said, "It was not until a month later that they told me that I would be playing Tokyo and it came as a surprise for me because up until then I had been playing comedy characters and doing comedy films."
For her, it was a "very audacious decision" for Alex Pina to cast her as Tokyo "because they didn't know and I myself didn't know how I could pull through this kind of character. That's why I had a thirst to uproot myself in order to see how I would create this character, who was very different from what I had played before."
Several seasons after, the road has been paved for more action projects for her, including the movie Snake Eyes: G.I. Joe Origins, where she plays a villain.
"So now, it's the other way around. People are struggling to see me as someone who can play in a comedy. I love comedy. I think that action scenes, action films and action series are very demanding. Now that I have had the opportunity to go through a master's degree in action series, I don't rule out any possibility there. But I'm very keen to participate again in a comedy and I must confess I missed that."
One thing's for sure, being Tokyo on the show didn't just change the trajectory of her career, it also has changed her life "at every level".
"Tokyo has changed my life, yes… And she'll keep changing it, I suppose… I think that really intense things have happened to all of us. Things have happened to us that weren't even the conventional sort of things that might happen here," she said in a separate interview.
"A Spanish show taking everyone by storm, crossing so many international borders, at the global level, with a budget that… We did something quite modest (at first), it was almost an experiment. I remember when we started, it was like, 'Well, let's check this thing out, let's see what ends up happening,' you know? Because it could have turned out very well, or it could have been a shambles. It was a big risk."
She couldn't believe its global reach that she'd get fan art from India or see her face in Dubai and South America. "Sometimes, I feel like I'm still not all that aware of it, you know? And clearly that has changed me personally, at every level."
Ursula said she tries to be the same person and stay grounded amid the fame. "Sometimes it works out, sometimes it doesn't… But yeah, I guess it happens a bit to all of us, right? Yet, I'm lucky to be sort of surrounded by people who are really grounded and, at least, I try to be surrounded by people like that. I know that it's good for me, because I'm very fanciful and I go off with my head in the clouds… But it is true that, through Tokyo, I feel like I've been able to take charge of all kinds of things."
In a way, being part of Money Heist has been a journey of self-discovery for Ursula. "Don't ask me why, but I've had to really have a tighter grip on myself, you know? And I mean that in all areas. I'm talking about holding on to my family, holding on to my self-esteem, my confidence… The things that I know are good for me… being who I am, you know? And that's probably something I wasn't always so aware of. I'm also doing a lot of therapy, let's be real. Therapy is always a welcome thing. I recommend it to everyone."
Meanwhile, during our interview, Ursula was asked if she brought anything from the show as a souvenir. "I took everything (laughs)! Well, I took many, many things, some of them with permission, some of them without permission. But I thought, look, no one is going to really miss it and I'm going to look after it really well. I like looking after my things and I'm very fetish, I must confess. I like finding some objects that make me reminisce about the shooting times, about the filming, etc."
She took home the now-iconic, red-colored coverall or jumpsuit, plus the boots she wore in the last scene she shot. "But then, I got a box from Netflix, where they gave me the coverall, a brand new-one, and I felt awful, really, of course," she mused.
As for her character Tokyo, there's something in her that Ursula hopes will continue to live on in her.
"What I wish I could take from Tokyo and keep it forever — is her strength. The strength she has to confront any adversity that life puts in her path. I think that's something that's hard to have all the time. Now, I'm a little more like that, thanks to Tokyo, I have to say. I wasn't always like that. But… yeah, I'd like to keep that, her courage, her tenacity.
"There's also something that's really nice, which makes people hate Tokyo and love her at different moments, which is that she might well be wrong, but she does it anyway. I think that's something that is very important in life in general: Do what you believe in, what you trust to be right and follow your own intuitions, because sometimes you're going to mess up, and you'll be messing up because of a decision you made in the moment, well, OK… But if you mess it up because of someone else's decision, that's really horrible, you know?
"I think, in that sense, Tokyo is super true to herself. And I like that. I like that she messes up. I like that she gets back up and says, 'Alright, I'll keep going. I'm a disaster. I'll keep going, it's fine.'"