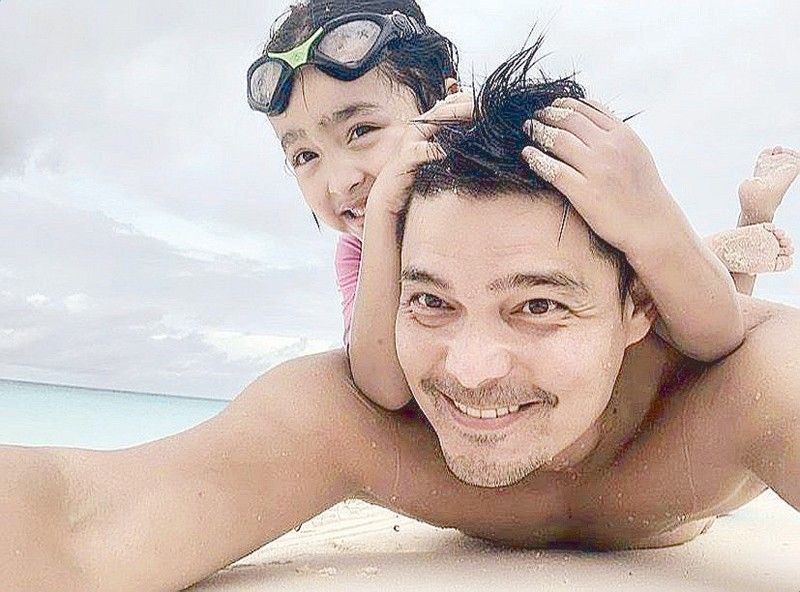 Dingdong Dantes wants daughter Zia
Why Dingdong considers fatherhood a lifelong learning
Jerry Donato
(The Philippine Star) - June 21, 2021 - 12:00am
MANILA, Philippines — Dingdong Dantes is known to followers as the TV-movie actor and host. Away from the klieg lights, he is simply a loving and fun-to-be-with dad to daughter Zia and son Ziggy. Even if he is perfect in the eyes of his children, Dingdong humbly knows that he is a work in progress, fatherhood- and parenting-wise.
"I can validate the saying that there's no manual to becoming a parent or specifically to becoming a dad," said the actor about his lifetime role in a virtual media call to promote the third anniversary of his GMA 7's weekend program Amazing Earth.
"Every day is always a learning process for me. While I consider myself a work in progress in so many aspects, not only in becoming a parent but also within myself, like in the things I want to do, I'm a work in progress (as a father)."
Aspiring to be a better dad each day
The wisdom behind such a basic principle is the aspiration of dads like Dingdong to become better each day. Toying with the idea that they know everything is counterproductive.
"Medyo delikado 'yun (It's a bit dangerous to consider and if that's the case), there's no room for improvement," said he, "there's no room for you to right the wrong you may have done."
Following his train of thought, one can say that Dingdong looks at fatherhood as a lifelong learning and that his children can also provide him new perspectives about life.
"I also learn from my kids and I grow together with them," shared he. "Sometimes they just ask the simplest questions about life, about the planet and (about) everything around (us)." Given how smart young minds are these days, his kids also got curious about today's global health crisis. Dingdong's paternal instinct was to give them a genuine and truthful answer, and engage them in real talk.
"Kailangan kasi tatandaan talaga nila forever ang mga 'yan (The answer has to be genuine and truthful because they will remember it forever)," said he. "Alam mo naman na ang kalaban natin ngayon is misinformation para sa maraming bagay. It's our responsibility in the first level to give them the right information at 'wag masyadong i-sugarcoat yung mga bagay, bagay."
His conversations with Zia and Ziggy are some of the father-and-children bonding activities Dingdong looks forward to.
"Time is very important," said he. "As much as possible, I'd like to spend time with them because ito yung mga bagay na kapag na-miss mo eh hindi mo mababalikan (It is one of those moments that you wouldn't want to miss because you can't turn back time and do them again). I cherish each and every milestone with them, it's not just for them, it's not just for my family but (it's) also for myself as a father."
Life lessons learned from dad
What are the lessons in life that Dingdong has learned from his own dad? One of them, said he, is the Bible verse "Everything comes from the Lord."
"Kung ano mang meron ka, kung anuman ang wala ka, lahat yun ay bigay nang Panginoon and He has plans for you," continued he. "(My dad also said that) kahit saan ka man mapunta, kinakailangan na intact yung mga values and principles mo (Make sure your values and principles are intact wherever you may go). Kung ano man yung values and principles na yun, nagbabago yan sa bawat henerasyon, nagbabago yan sa bawat indibidwal. Ang mahalaga ay solid ka dun."
Dingdong's amazing journey as host
From being Zia and Ziggy's dad, Dingdong wears the hat of Amazing Earth host every Sunday before Kapuso Mo Jessica Soho (KMJS). He and his team are committed to present educational animal stories that are accessible to all.
"Well, I always put myself in the audience's situation (or shoes)," he said. "While I'm narrating stories of animals and beautiful places, for me, I feel like I'm part of the audience. I learn from them and I grow together with the audience. I continue to learn from every episode that we present to them. Sometimes, I get myself amazed by the stories and napapatigil ako while I'm doing the spiels."
Dingdong also looked back on how the Amazing Earth team had to pivot and be resilient last year due to COVID-19. Their first challenge was to continue delivering stories without compromising the quality.
With the help of technology like the Zoom app, Amazing Earth was able to get Filipino frontliners such as one who was based in Wuhan on board to shed light on the pandemic.
"I owe it to the team despite the many restrictions," said Dingdong, who acknowledged everyone's ability to rise to the occasion.
"In the normal shooting day, we would have one or two interviews," he recalled, "because of Zoom, we talked to more (people). That's why we are grateful for having this technology. We are able to fulfill our duty, and that is to tell amazing stories."
What also keeps the team going is the sense of family its members have established for the past three years. They bank on their experiences of putting the show together through good times and bad times.
Dingdong said, "We all share all the learnings together, that's why naging matindi yung bond namin… ang laking bagay na may ganuon kaming synergy, malaking bagay na may ganun kaming klase na openness to collaborate with each other (It helps that we have that kind of bonding and openness). With that, we can easily adjust to last-minute changes."
From the standpoint of an advocacy host and father, Dingdong said he wants his kids to experience the going-back-to-the-basics adventure. "They will get to enjoy outdoor activities, ma-e-enjoy nila yung kagandahan ng ating mga beach, mga rivers, mga falls, mga mountains," added he, "yung mga laro na pwede sa kalsada (and that they can also play street games)."
More importantly, Dingdong will be there for his kids to inform them about the shared responsibility in taking care of mother nature. "While we're doing it for them," he said, "they should also do that for the next generation."