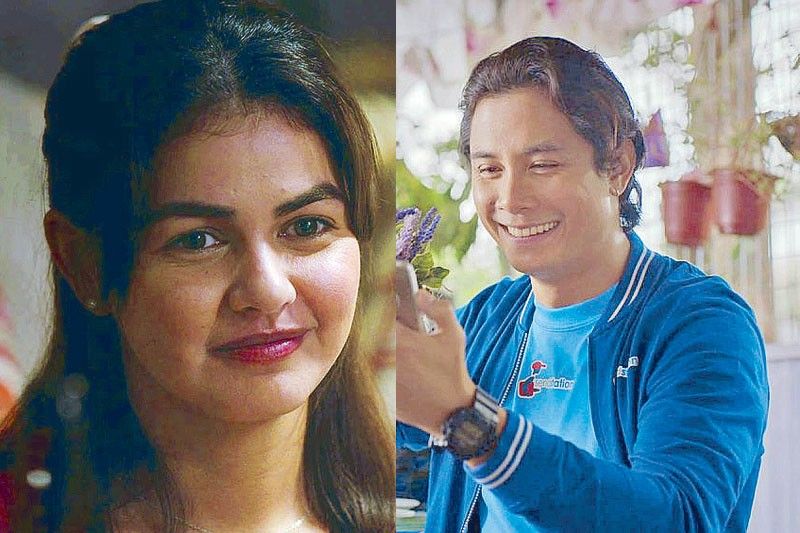 Janine Gutierrez and JC Santos topbill Dito at Doon, now available in over 60 countries via TBA Play.
STAR/ File
Why Dito at Doon needs a sequel
Following the success of its first-ever pandemic production Dito at Doon, film producer TBA Studios recently held a virtual thanksgiving party to celebrate, among other things, the extended run and international digital release of its rom-com topbilled by JC Santos and Janine Gutierrez.
TBA is also proud that Dito at Doon became the first local film to be released during the pandemic and on five major streaming platforms (Cinema76@Home, Iwant TFC, Upstream, Ticket2me and KTX).
Just this month, it has been made available in over 60 countries, including the US, Canada, as well as select territories in the Middle East and North Africa via TBA Play. TBA Play has also partnered with international distribution and sales company, TVCO, to bring TBA Play content to key European markets.
In the film, JC and Janine are Cabs and Len, respectively, two people with divergent views on life and backgrounds — he, a delivery rider, and she, a Master's student — who meet virtually at the onset of the first COVID-19 lockdown in early 2020. Sparks fly as they exchange pointed opinions on social media and then, eventually, flirty direct messages and video calls.
The STAR is leaving it up to the viewer to figure out why this JP Habac-directed take on love in the time of COVID has been, in the words of the producers, embraced by many. But one of the things that would most likely leave a lasting impression on audiences is the film's "twist ending," the subject of several media questions during the virtual gathering last week.
Janine also declared it as her favorite scene. "The most impactful really is the ending and I hope to those who haven't seen it, sana mapanood niyo even for just the feeling na naibigay nung ending that still surprised me even though I already knew what would happen."
Prodded to explain the ending without spoiling anything, direk JP said, "Di ba during the pandemic, yung mga priorities nag-bago talaga? Like kung before pandemic, kung meron tayong nililigawan, kaya natin iwan lahat, pwede natin siya balikan anytime. This pandemic, nag-reassess tayo kung ano ba talaga yung priorities natin — is it family, love life or work? So, I think, that's why the ending is like that."
No spoilers here, but the ending seemed to open up possibilities for a sequel.
"So much possibilities of a sequel," said JC.
Direk JP agreed but there are factors to consider. "Open yung possibility for a Part 2 kaya nagdadasal kami na sana maging maganda ang reception ng pelikula globally."
Asked if he already started writing the sequel, JP said that he's only waiting for a go-signal from Daphne Chiu, executive vice-president at TBA Studios.
"Endless possibilities, but for sure, we'd like more people to watch the film because we're still streaming. You get the chance pa (to watch) until the end of the month," Daphne said. "If more people ask for it, then let's see."
"We really want a Part 2," Janine further admitted, "But it really depends on the reception."
When asked where they want their characters' stories to "end up" should there be a Part 2, JC said, "My character is longing to go home to Cebu, he's from the province, so I think I want to see him na kasama niya yung family niya. It would be something valuable to him, I think. What will be Cabs' future if he's with his family?"
On her part, Janine said, "Gusto kong naging prof na talaga si Len, kasi yung inaral niya, kaka-graduate lang niya. Oh my gosh, I hope she's happy! Ang hirap magsalita kasi baka may hindi pa nakapanood at may spoiler, basta I hope masaya siya and she will not close her heart to new opportunities that come her way."
They also shared the love lessons they learned from working on Dito at Doon. JC said, "Hindi mo pwedeng sabihin na, 'Uy kilala kita,' at the same time hindi mo rin talaga malalaman kung kilala mo yung tao. So, you cannot predict someone, alam mo yun? Even if you truly know that person, darating pala talaga yung point na di mo pala talaga siya kilala.
"So, you just have to take care of them, take care of how you communicate with them and how you treat them. We don't know what everyone is going through. You cannot predict someone. You can't tell someone that I know you through and through."
Janine, on the other hand, said that one of her realizations from doing the movie is "you have to make the most of every opportunity, even if it's just a videocall or a text, sabihin mo na lahat ang gusto mong sabihin, because everything is so uncertain now.
"Medyo may ganun naman talaga akong mentality that I always say I love you, I'm vocal with that. Even with everything, if you like someone, just say it, don't be afraid too much to take a risk because you never really know what's going to happen, you only have today."
Meanwhile, JC admitted that he was surprised by his onscreen chemistry with Janine.
"Di ako na-surprise because naramdaman ko siya on set, kinikilig talaga ako," Janine quipped.
The actress credited their effective pairing to the actor's efforts to get to know her on set. "It helped a lot. I think we just both enjoyed talking to each other."
Both also revealed the reactions of their respective real-life partners to their first film together.
JC related wife Shyleena's comment: "'Buti nalang ang ganda ng pelikula mo, tagal-tagal mo nawala.' Nag-enjoy siya."
According to Janine, actor-boyfriend Rayver Cruz envied JC because he had never experienced acting alongside his GF in a film.
Janine, who won Best Actress awards last year for the movie Babae at Baril, has more projects coming, including a film directed by Aureaus Solito, where she plays a star who lost her luster and is struggling in lockdown. While JC wants a biopic for his next project.
In the pipeline for TBA Studios is Quezon, the last installment of Jerrold Tarog's historical trilogy (after Heneral Luna and Goyo: Ang Batang Heneral) with pre-production starting in June. Direk JP is also involved in TBA's musical comedy-drama Golden about homeless gay seniors who restage old drag queen shows to raise funds for a retirement home.
During the thanksgiving event, TBA Studios — led by president Vincent "Ting" Nebrida — also expressed their gratitude and paid tribute to the late STAR Entertainment editor Ricky Lo for his support for the film outfit "from the very start until his last days" and unparalleled contributions to the movie industry.