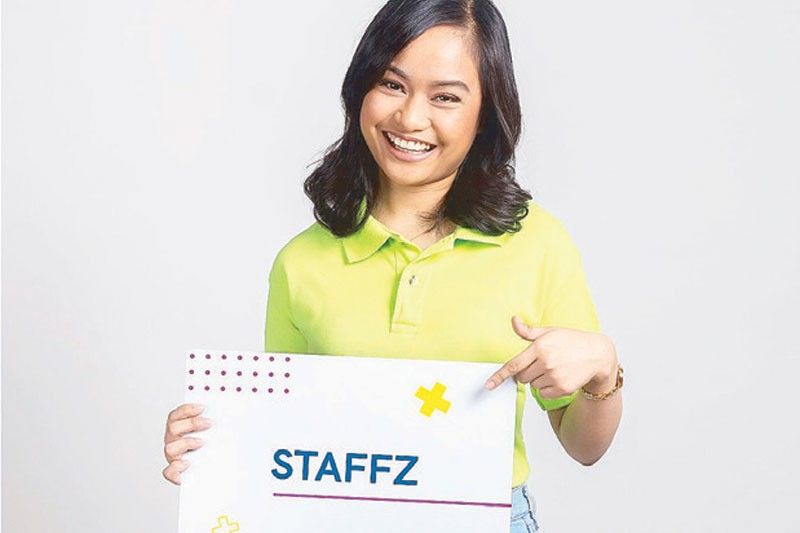 Pearl Janine de Guzman of Staffz says doing the reality show was an amazing experience and it helped validate their idea and provided them tools to getting their idea off the ground.
STAR/ File
Project GO winner on the road to making its idea real
Jerry Donato
(The Philippine Star) - December 23, 2020 - 12:00am
Coming up with a very unique proposition and communicating it well help one make a grade. Staffz, led by Pearl Janine de Guzman, did bank on these to win Project GO, a reality series that empowers entrepreneurs by making their idea real. The outsourcing solutions platform took home the P1M cash prize.
"Well, I think the whole competition was really challenging in itself," said Pearl in a virtual mediacon held the day after the finale episode was aired (Project GO was presented by GoDaddy with AXN), "because you really faced off with competent entrepreneurs who had really great ideas. It's a matter of being able to differentiate yourself from the rest and really being able to communicate your message to the audience and what you're trying to build as an entrepreneur."
If there was any strategy that Staffz had in mind when joining the show, it would be, as Pearl put it, "more of knowing our business — the ins and outs — and really preparing for everything, especially with the finances and the numbers, then being able to show them (the judges) how it should be executed if given the chance to jumpstart the business itself. It's really just knowing the business itself. So that's really our strategy if you call it that."
After its successful stint in Project GO, what's next for Staffz?
"We've been already trying to do a lot of planning internally in terms of marketing and also in terms of doing all our budgeting for the resources that we are going to need (in) moving forward," replied Pearl, whose outsourcing solutions portal, according to the information given to media, carries out cost-effective SEO, copywriting and graphic design services to small and medium enterprises worldwide.
Pearl said that Project GO was "an amazing experience and an entirely new thing" for her and Team Staffz. The "business reality show," she shared, helped validate their ideas and equipped them with tools that were vital in getting their idea off the ground. Staffz, along with three other team finalists AO Innovations Tech, Loop Store PH and Mindoceo, had boot camps with mentors Maggie Wilson (also the show's host), GoDaddy marketing director for Asia Tina Shieh, Mikko, Macky and Mark Tung of Ligo and Bea Cupin of Rappler. The show gave contestants the avenue to exchange ideas with mentors, competitors and experts and clarify their entrepreneurial vision.
"If you have an idea in mind, don't be afraid to test it out and make it a reality," said Pearl of her biggest takeaway from Project GO. Tools and resources already available to one, she added, will bring that idea to life.
The media call also had judges sharing their thoughts on how they chose Staffz as Project GO's first-ever winner.
"I considered a number of things in the final pitch," said GoDaddy International president James Carroll, "First of all was, how innovative was the idea? The second was, does this business idea actually fit a market need? So is there a market for the product or the service being delivered? And that market must be big as well." He also considered the execution of the plan.
As for Jodi Valenta, GoDaddy VP for global marketing, Staffz stood out for its passion for helping others and well-delivered smart business plan.
The other judges, who graced the show's final pitch, were Bona Fortuna Farms, Inc. president and co-founder Lyrna Esmeralda-Hewitt and Biggs, Inc. CEO Carlo Buenaflor.
"Pearl, you were indeed a pleasant surprise," said Maggie of the Staffz's representative. "When you first started, I would say that you were the quiet one… In such a short amount of time, you grew. On the day you delivered your big pitch, I saw a confident, driven and extremely passionate woman. I can say for a fact that you wowed us all… (The Staffz's win) was well-deserved."
In the course of the show, it was not just the contestants and viewers who gained new entrepreneurial insights, but the mentors as well.
"Before I take on a show or a project, I always ask myself if I will grow more as a person and learn from it," said Maggie. "So when I got asked to host and be a mentor for Project GO, I immediately jumped at the opportunity. I mean it is a show that makes people's ideas real. So even as an entrepreneur, I am still in the process of learning and I have learnt so much from my fellow mentors, our judges and our contestants, too. The willingness to share their knowledge, experiences and ideas is a rare commodity these days. I will take all of those learnings with me."
So as Staffz is making its business idea to real, Project GO will carry on in empowering entrepreneurs.