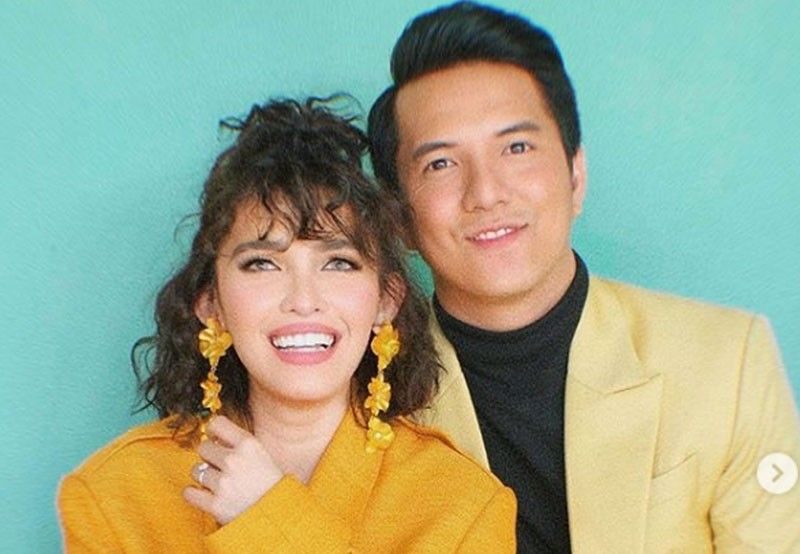 TJ Monterde, with fiancée KZ Tandingan, felt it was proper timing to do the proposal in the presence of their respective families on his special day.
Since there is no manual for popping the question, it is always interesting to know what it feels like for a guy to propose marriage to his ladylove. Equally fascinating is finding out the kind of joy it brings to the lady's heart. In showbiz, celebrity couple engagements make for an exciting news.
Just before 2019 came to a close, KZ Tandingan got engaged to TJ Monterde, her musician boyfriend of five years. The proposal was made after TJ took advantage of his birthday celebration attended by their loved ones. He deemed it as a perfect occasion to make things official with KZ.
KZ revealed that she already had an inkling about the planned wedding proposal. "June of last year, nag-paalam s'ya sa parents ko. So, nung nag-paalam s'ya sa daddy ko, siguro nawala sa utak ng daddy ko na it was supposed to be a secret," she narrated.
She continued, "So, while I was arranging my things, my dad was telling me stories and then he said, 'Nag-usap pala kami ni TJ, parang may binanggit s'ya na propose, propose.' Napasigaw talaga ako, sabi ko, 'Daddy! Dapat secret yun!' at sabi na lang n'ya secret pala yun." And that very moment also led KZ to realize that TJ is ready.
According to KZ, her fiancé didn't talk much about marriage that every time they would discuss about it, TJ would just tell, "Hindi, mga ano pa 'yan, in five years."
"But that five years," revealed KZ and in a frustrated tone continued, "is somewhat fixed because every year, he's been telling me that — five years."
Thus, KZ shared that hadn't TJ carried it out sooner, she would be the one popping the question instead.
Good thing, TJ felt it was proper timing to do it in the presence of their respective families on his special day. He reasoned, "Families are important to us so sakto my family was there on my birthday and I also invited her family. I told myself, this is the best moment with the best people."
All he had in mind was the proposal he's gonna make and, TJ admitted, he didn't feel it's his birthday.
KZ, in turn, recalled that wonderful moment and described how she felt upon seeing TJ on his bended knee while uttering that music to the ears one-liner, "Will you marry me?"
"You know when I saw him, he's pouring his heart out for me and declaring his leveled-up commitment to me, hindi ko na din napigilan umiyak."
Asked to express his love for KZ via a song, TJ said the first line of the song that he wrote for her is just perfect, and he proceeded to sing, "You are God's guarantee/ this beautiful reality / If I may ask now can I be your first, your last and your only?/."
"It's important to me the part that says, you are God's guarantee because magulo 'yung mundo but whenever I see her, she's God's guarantee that life is good and this is the woman I gave you," said TJ.
No specific date of the wedding yet but the newly-engaged couple assured that it will happen this year "in a place somewhere cold," as how KZ put it.