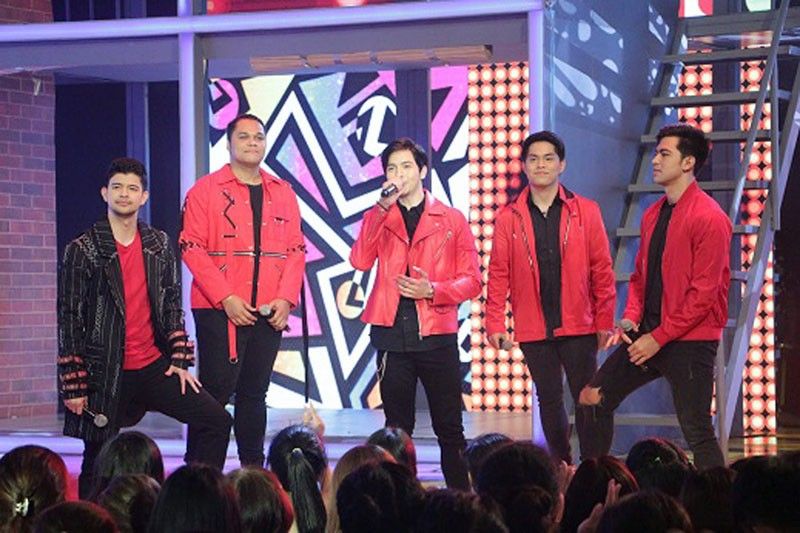 Alden Richards (center) with (from left) Rayer Cruz, Garrett Bolden, Nef Medina and Derrick Monasterio
A promise of all-out Sunday entertainment
Jerry Donato
(The Philippine Star) - January 8, 2020 - 12:00am
MANILA, Philippines — The Kapuso network has defined what an "all-out entertainment" is with the pilot episode of All-Out Sundays. The musical-comedy-variety program has singing, dancing, acting and playing (games) that are evenly appropriated and arranged to form a cohesive whole. They are the elements that make each Sunday feel light and easy.
"Our master is the viewer," said the show's TV director Miguel "Miggy" Tanchanco in an interview with The STAR. "What the viewers want we will cater (to it or respond to it). We listen to social media a lot, comments, (and to other) digital platforms, we will explore (those) and we will make (or do what they want)." So, All-Out Sundays will thrive in audience engagement. "Kumbaga, kung ano yung napanood nila sa pilot (and if they liked what they saw) we can (extend it) and add (new elements)," he added.
It's safe to say that last Sunday's performances and segments (such as Tapsikret, Familympics, SingKilig and Four the Win) resonate with the preferences of Kapuso viewers. According to Miggy, people deserve to unwind, especially on a Sunday, and if one may add, make them forget all the cares in the world.
Among his roster of talents, he considers Mark Bautista, Christian Bautista, Aicelle Santos, Glaiza de Castro, Julie Anne San Jose, Alden Richards, Rayver Cruz, Derrick Monasterio, Kakai Bautista, Paolo Contis, Rita Daniela and Ken Chan as the show's headliners. Although people may think that they are good at this and that form of entertainment, some of them can cross over. They can be a triple-threat. Kyline Alcantara, Migo Adecer, Miguel Tanfelix, Gabbi Garcia, Mavy and Cassy Legaspi, Betong Sumaya, JD Domagoso, Boobay, Super Tekla and Lexi Gonzales can complement them as well.
Not to be left behind in the performing department are Golden Cañedo, Garrett Bolden, Jong Madaliday, Jeremiah Tiangco, Thea Astley and Shayne Sava.
Also to look forward to are Vince Crisostomo, Karl Aquino, Radson Flores, Abdul Raman and Kim de Leon, who all have the potential to be cross-over mainstays.
With that line-up, All-Out Sundays is never wanting, talent-wise, and will pull out all the stops for an all-out Sunday entertainment.
"To serve the audience and (to make them) love the show," replied Miggy when asked about his challenges in mounting such show. "We will improve more. I could feel and promise that we could do more. As much as possible we need to twist things up, we need to create and to develop, those are the things we need to do." This is Miggy's response to the inevitable comparison of All-Out Sundays to its predecessors. "We will do our best for (it)," added he who also considers that being consistent is another challenge that artists, production and creative people must face and take on.
"What we need to do now is to blend more as a family, (thinking that) artists and production (people are living) in one house, forming a good relationship," said Miggy. After that, everything is possible.
Miggy has transitioned from being a dancer to head of choreography to a blocking director and TV director. He has film background (doing short films, music videos and TV commercials) and was at the helm of Studio 7. The musikalye was his training ground for All-Out Sundays, he agreed.
As a director, through his camera works, Miggy said the show needs to maintain the storytelling in Tapsikret, to show rhythm and movements in dancing and to capture feelings in singing. What's good about Miggy is his being a collaborator. He works with stage director Rem Zamora, who is in charge of Tapsikret and has theater background (Ateneo university theater, Repertory Philippines and Red Turnip Theater).
"My idea (lies on the fact) that people need to be entertained," he said of all-out entertainment. "Filipinos have a different taste level. From what I know... we need to give people more credit to what they need and GMA is doing that. I think GMA is trying to give audiences what they want."
He noted that the network has a system "to rely on" in knowing the viewers pulse. "There's a story plotline and arc we follow," he said of Tapsikret. "We're open to adjustments, just in case. We will make a room for that — improvement."
As for the creation of the Sunday Musikomedya, Rem had this to say: "My understanding is they (GMA management) introduced the musical comedy skit to offer something different or new. It's a different format from what people are used to see. And it is done live. They (actors) don't use a teleprompter. They memorized their lines and all the songs. Everything is very theatrical. We had a lot of rehearsals. The format that they wanted is theater(-oriented). We will rehearse, we will build (create) characters that will grow (in front of or on) the audience."
For the pilot episode of the Tapsikret, Rem shared they had a total of almost seven days of rehearsals.
"Nakakatulong na may experience na yung mga nakakatrabaho ko (It helps that I'm working with experienced people)," he said. "It also helps that GMA is very generous with what I need for us to run our musical skit."
He supervises all the elements of Tapsikret and collaborates with a team of writers and head writer Vince de Jesus. Vince beautifully arranged popular songs Tara Lets, Sugod and Somewhere Down the Road to fit the romance-comedy narrative of Tapsikret. The segment was well-put and divided into portions (with the idea of Ang Nakaraan) for audiences to wrap their heads around it. The actors were in their element.
What has been unfolded so far is the storylines about the characters of Paolo and Glaiza, and Kim and Lexi, who made a mark.
"For the first episode, (we had the two pairs of) lovers," he said. "Then we will move to other characters. The title indicates top secret that characters have their own secrets. Every episode, we will know these, kikilitiin natin yung mga secret, secret na yan. Kapag na-reveal, may bago na naman... We will try as much as possible to keep them (the audiences) hooked using those secrets."
All-Out Sundays airs on GMA Sunday Grande.