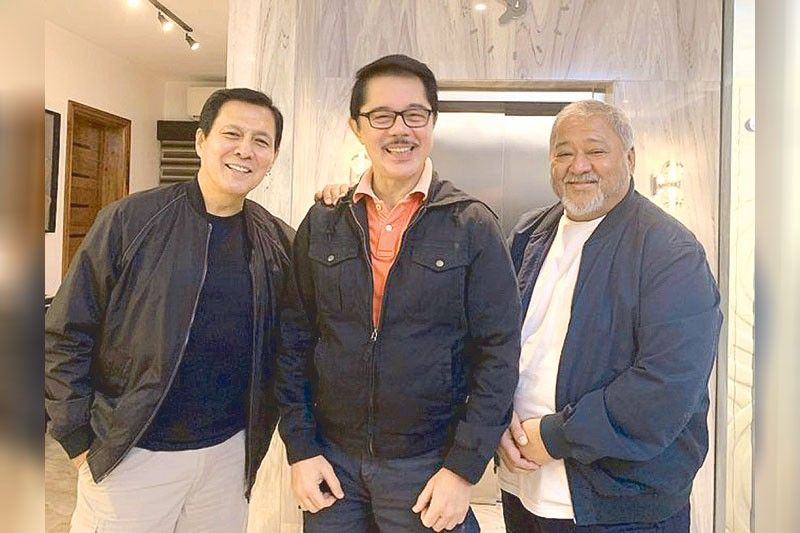 Tirso 'Pip' Cruz III, Christopher 'Boyet' de Leon and Edgar 'Bobot' Mortiz
The heyday of Pip, Boyet & Bobot
There's a massively long list of good-looking actors in Philippine cinema but Baby boomers and Gen X-ers will certainly agree that Tirso "Pip" Cruz III,
Edgar "Bobot" Mortiz and Christopher "Boyet" de Leon are as dashing and famous as their millennial heartthrob counterparts James Reid, Enrique Gil and Daniel Padilla during their showbiz heydays.
Pip, Bobot and Boyet are box-office icons and scene-stealers in their younger years. They were tremendously popular that they would fake their exits in events. There were also instances when they couldn't even go out of the house or attend their own movie premiere nights knowing how adoring fans would turn into hysteria. Their respective fans would clash and often hurt one another physically. It also came to a point when Pip, Bobot and Boyet were caught in a rivalry issue because all of them were partnered with Superstar Nora Aunor.
"You know, it wasn't us; it was the people around us na alam mo 'yung mga sulsol," said Pip. "The word is sulsol and if you are not wary about it, talagang teka nga bakit nga ba ganun? Ginagalit ka. They (fans) basically pitting us against each other without us wanting to."
"Sila lang 'yung nag-aaway, nagpapaluan ng silya," was how Bobot described the intense reaction of their fans.
Fast-forward to the present day, Pip, Bobot and Boyet continue to deliver mesmerizing acting performances. Most recently, it was portraying antagonist
Santiago Guerrero in The General's Daughter that earned him positive comments from viewers and netizens for his truly affecting character representation. Boyet, on the other hand, never ceases to give riveting onscreen performances regardless of film genre while Bobot focuses on TV directing but he still agrees to do acting once in a while.
All three are singers, too. Did you know that Bobot was a champion in Tawag ng Tanghalan back in the day? "Yan ang hari ng Tawag ng Tanghalan (that first became popular in the '50s)," declared Boyet.
"Pero hindi kagaya ngayon ha," said Bobot, referring to the singing-talent search revived by ABS-CBN noontime show It's Showtime. "Alam mo naman ang Tawag ng Tanghalan ngayon palakasan ng tonsil (laughs)."
Pip, Bobot and Boyet will be having a concert tour in the US titled Timeless Through The Years beginning Dec. 15 in Long Beach; Dec. 16, Union City; and Dec. 17, San Diego. There will be a four-day break before they head to New York for the last leg of the concert on Dec. 22.
Boyet said he admired Pip and Bobot who started out in showbiz a couple of years ahead of him. Pip and Bobot, on the other hand, described Boyet as their generation's chick magnet. Pip described Boyet's charm to women with the term "Flavor of the Week" while Bobot said, "Kung may Gerald ngayon, may Boyet noon (laughs)."
Meanwhile, Boyet and Pip clarified the rumor about them turning down the offer to star in Isa Pang Bahaghari which would have reunited them with Nora
Aunor. The two seasoned actors said it was impossible for them to accept the project due to tight schedule.
"Like for me, I'm doing Kid Alpha One and OTJ Season 2," shared Boyet. "And I'm taping for Love Thy Woman plus we'll be doing the tour and we've been rehearsing like crazy."
Pip was equally busy when the offer came. He was then doing The General's Daughter and he was beginning to work for Starla.
"Sabi namin trabaho 'yan, hindi kami tatanggi but we also do not want to be the cause of delay or become the problem in work scheduling. We did not refuse. If there is a chance at alam namin na kaya, why not?" explained Pip.