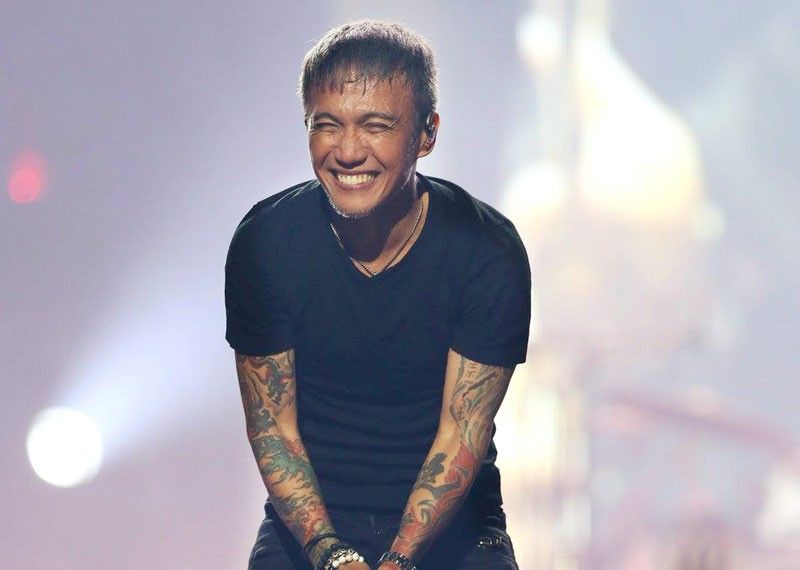 Now on a break from a Vegas residency with Journey at the Colosseum at Caesars Palace, Arnel will perform back-to-back with the Black Eyed Peas at the SEA Games 2019's closing ceremony tomorrow, Dec. 11, in New Clark City.
Arnel Pineda's official Facebook page
Arnel Pineda continues own journey
MANILA, Philippines — Last Dec. 6, Arnel Pineda took to his Facebook page to share that it's been 13 years since the legendary US rock band Journey announced him as its new lead singer.
How an "unknown Filipino singer," who used to perform in small-time clubs, was discovered on YouTube by guitarist Neal Schon continues to inspire to this day, that you just don't stop believin'.
The YouTube videos of Arnel's first-ever gig with Journey in Chile back in 2008 never fail to give you the chills.
As for Arnel, it will always be a favorite memory. "With 19,000 people (in attendance) and 30 million on the internet watching it live, it was quite scary, one of the most terrifying feelings that I've had in my life! You're going to represent the band and at the back of my head (was) 'Steve Perry, he is the voice of Journey and here I am the replacement and going to try please 19,000 people,'" he said in a recent interview.
"It didn't help that Neal Schon told me three minutes before we started, 'Do you know that Chile is a solid Steve Perry fan?' That added to the very, very bad feeling I was feeling already. Pero dahil may dugong Pinoy tayo, palaban tayo... bahala na! I believe ito ang trait natin mga Filipino eh, we're so gutsy when it comes to work. That's why we have millions of OFWs. To not see your family, that's guts! So, it was the same for me: it's now or never."
Apart from rocking stadiums and arenas all over the world, another highlight perhaps of singing for Journey, was meeting the original lead singer himself.
"I met Steve Perry at the Rock & Roll Hall of Fame induction for Journey in 2017. It was great, he was very friendly, very open, he was in his best mood, you know. After we met, he did his speech at the stage, he even mentioned me. He thanked me for relentlessly singing. You know, singing my ass off for the past 12 years. He was so happy about it. It's like a notion of passing the torch to me. I think, the fans get it, it's me now that's singing for the band and not him anymore because he doesn't want it," he told The STAR.
Asked how long does he see himself singing for Journey, Arnel who's on a break from a Vegas residency with the band at the Colosseum at Caesars Palace, replied, "It's up to them. As long as they need me, I'm going to be there. If the time comes that they don't need me anymore, they can always tell me. You know, from the very beginning, I told myself, I'm already good with doing one or two concerts with them. But what happened was, we already did almost 700 shows in 12 years and they're still keeping me."
If there's one big lesson to learn from his journey into becoming part of an iconic rock group, it's that the hard work ­— to borrow lyrics from a Journey song — "goes on and on, and on, and on."
"It's serving and representing a legacy like this in America, it's part of American history, so it's just hard, it takes a lot of discipline and self-control and focus, which is one thing I've really learned. Like before Journey, I was just trying to have fun and survive and float, and it was enough for me that I was able to feed my family, that I was able to go through the day kahit mababa lang ang budget. (Now) much as you're blessed with monetary gain, the responsibility is just heavy, you really have to work hard. Yung work ethic mo talaga mag-i-improve. And you really have to improve."
The rocker's life story will get a big-screen retelling as Jon Chu — yes, the director of the blockbuster hit Crazy Rich Asians — has decided to do his biopic in partnership with Warner Bros., to be written by Joker screenwriter Scott Silver.
"This story in particular has been on my mind since I first read about it years ago. A true fairy tale and triumph of the human spirit," the Chinese-American filmmaker was quoted as saying in a report by the US website Deadline in December 2018.
Indeed, Arnel's Cinderella story is worth aspiring for, especially among young artists.
Interestingly, there are bands now that are getting his admiration, such as Ben&Ben and IV of Spades. But no, he has no pointers to give them because "I don't think they need mentoring because ang gagaling na ng mga yan. I'm just so surprised how intelligent these boys are at a young age, because I just started to mature when I turned 40. Then I wrote more music. But for them, at an early age, they've been writing meaningful songs, good for them."
Nevertheless, if given the opportunity to mentor budding singers in some platform, like a singing competition for example, he's open to it. In fact, five years ago, he was offered to be a coach on The Voice of the Philippines.
"I wanted to do it, I wanted to share my experience, I wanted to help and inspire, I believe I could do that. But because of time constraints and schedules, di magtagpo talaga," he said.
"(But I'm) very open to that. If ever, open pa sila sa notion, that they would like to have me and if our schedules meet, of course, why not!"
Arnel said the Philippines is teeming with so much talent and if he had his way, "we should focus more on the talent, not the looks and the height. We have so much here. It's part of our natural resources, the talent of Pinoys especially when it comes to music."
As for those seeking his advice, he just encourages them to always be passionate about their craft and to stay professional. "Dito sa showbiz, maraming nakasunod sayo, sa likod mo. If you quit, madali kang kalimutan, madali kang palitan. Hangga't mainit ka, you just have to do everything you can. You gotta work hard at it."
Arnel will perform back-to-back with the Black Eyed Peas at the closing ceremony of the 30th Southeast Asian (SEA) Games tomorrow at New Clark City in Carpas, Tarlac. He will also have a concert with Yeng Constantino, titled Let It Love, Let It Rock, at the New Frontier Theater (formerly KIA Theater), Quezon City.