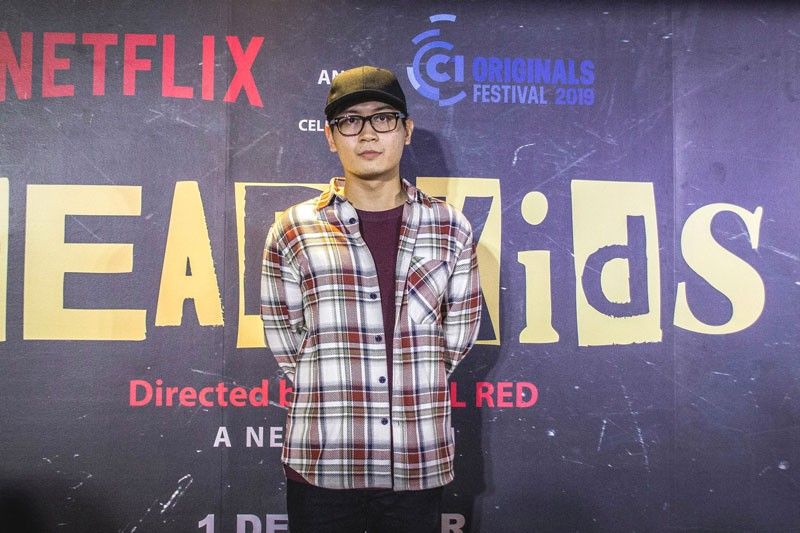 Netflix's Dead Kids is the 27-year-old director's fifth film released to date
Mikhail Red: From 'frustrated audience member' to sought-after filmmaker
Mikhail Red is turning out to be the most sought-after Filipino filmmaker today. His Dead Kids just world-premiered as the first-ever Filipino-made Netflix original film. His previous movies Birdshot and Eerie are also available via the international streaming giant.
Dead Kids is the 27-year-old director's fifth film released since Rekorder in 2013. While finishing Netflix's Dead Kids, he also started work on the zombie film Block Z.
And there's more. Mikhail revealed to The STAR: "I'm working on several (projects) now. I'm working on a sci-fi film in Japan, I'm working on a western, a co-prod movie with Hong Kong, we're also preparing a prequel to Eerie, and we're doing a mini-series, my first mini-series." It was just announced over the weekend that he was helming HBO Asia's Halfworlds Season 3.
It appears though that it's not enough to be so young and prolific already. The filmmaker isn't afraid to say that he wants to do work that's pioneering.
Which is the case for Dead Kids, produced by Globe Studios and "straight-purchased" by Netflix, the first Philippine-made movie to use this distribution model.
"I'm not even nervous of the weekend (screening), you're editing it, and you're already celebrating, panalo na, straight profit na. You have a budget and then they pay more for the budget. So, it's an easy model. They get exclusive rights for their platform," he said of the deal with Netflix. "It's a very good distribution model...good business model."
Dead Kids is loosely based on the shocking Letran kidnap-for-ransom incident in 2018, allegedly involving high school students.
"I was inspired by the premise and I think it's a good device and starting point to kind of explore basically, the moralities, convictions, privileges, insecurities and fears of the youth. Even though very diverse ang cast and characters, I feel that Dead Kids is really a film that deals with a lot of problems the youth face today and in a way, it's a commentary on my generation. It's a coming-of-age film set today," he told The STAR.
"I would have to credit my brother (Nikolas Red) who also wrote the screenplay. We collaborated on this and based a lot of the characters, the nuances, and some of the lines on our high school experiences. Everyone can relate to this. We all went through high school. We all went through that hierarchy that sort of parallels the adult society, may levels, lalo na sa Philippines, grabe yung disparity, from privileged, then yung mga sobrang kawawa, and dito sa movie na 'to, makikita mo yung effect, yung how society treats you differently."
He didn't encounter any challenges, especially artistic-wise, working with Netflix for Dead Kids. "They're very loose with us. As artists, they let us express ourselves naman like everything is our cut. Our script, they didn't change anything. Basically, they gave us a platform with their logo."
He also credited the producer Globe Studios for being progressive. "I was really lucky that Globe Studios is very progressive and modern mag-isip. That's why this barkada movie, even if it's like a Filipino staple genre, mas unfiltered, mas vulgar, may profanity, mas realistic at the same time."
With a platform like Netflix acquiring his films is also realizing his goal ever since to make Filipino stories reach a global market and to show that "we can export Philippine cinema, we can meet the technical standards of international productions. I mean di lang tayo exoticism; we can do the genre game as well. We have the talent to do so."
It's been a "surreal" experience so far, especially for someone who used to be just a movie fan. "That's why I became a filmmaker, I'm a frustrated audience member, I make the films that I want to see done locally but no one's doing it."
Mikhail hopes to work again with the streaming giant, but he also wants to explore different genres and types of jobs, and "pioneer different distribution channels."
"I'm open to working with them more. At the same time, I like challenging myself, I like trying new things. I also want to go international," he said.
"If we tap the global market, and we have that international buffer to sustain yung profit ng isang film, we can do more daring, challenging stories that don't have to cater to just the local taste. It should work with the local audiences but it should have legs internationally, by doing that we can support more ambitious budgets and projects."
Despite the successive big breaks and successes, the director tries to keep himself grounded by working nonstop. "I just keep working. I'm always focusing on the next thing I need to do. Yun. You never know how much time you have eh (laughs). So I make the most out of it."
What does his father Raymond Red, considered as one of the pioneering figures of modern Filipino alternative cinema, think of the trajectory of his career?
Mikhail said, "He never really forced me into this. I'm really happy that he let me discover my identity as filmmaker, on my own, we both do different films, but he's always there to parang support me."
The director also acknowledged that his youth has a role in what he has accomplished so far. "Siguro I have the opportunity to chase dreams and I'm very fortunate and I acknowledge that privilege, and parang, it almost becomes like a duty. If you have the opportunity to chase your dreams, go chase them, because there's a lot of people unable to do it for them.
"I always tell film students because I also do lectures and talks, parang to inspire, if I can do it, you can do it. Just fight for your dreams and your dreams will fight for you. So, aim and know what you want and know how to get there."