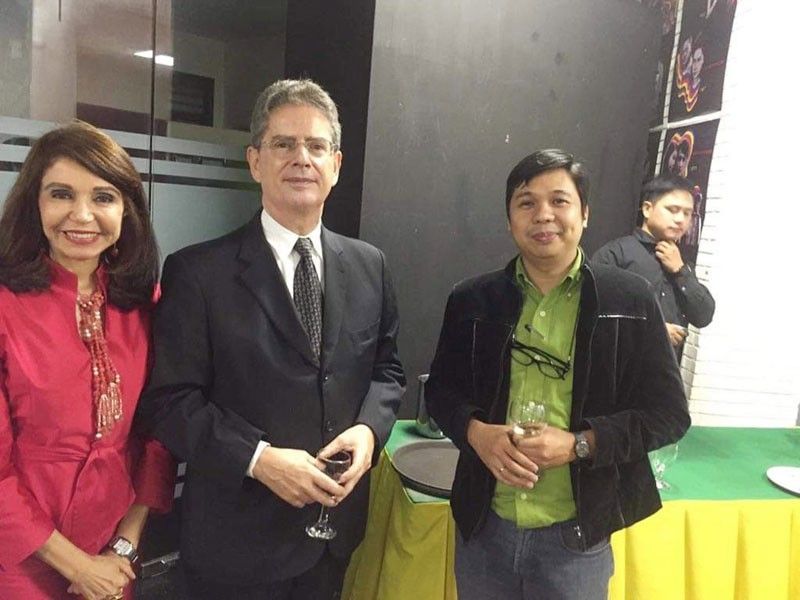 Ambassador of Brazil Rodrigo do Amaral Souza and wife Lais Fatima with UP Film Institute director Patrick Campos
Joey Molina
A peek into the Brazilian life
Jerry Donato
(The Philippine Star) - November 19, 2019 - 12:00am
MANILA,Philippines — Taking off from its theme this year, the eighth Brazilian Film Festival gave cineastes and moviegoers Visions of Life, which were specific to the localities and subjects of featured films. The recently held filmfest was a collaboration between the Embassy of Brazil and the UP Film Institute (UPFI).
"Each edition of the festival is based upon a theme," said Ambassador Rodrigo do Amaral Souza in an interview with The STAR during the filmfest's opening night. "This time, we have brought films from different regions of the country. So we present like a cross-section of one specific part of the country as big and as diversified as Brazil. That's why this current edition of the festival is called Visions of Life."
The drama House of Sand (Casa de Areia), which kicked off the filmfest, had the "setting (of) a national park in Brazil, in the northeast of Brazil... It's a very big stretch of sand, like a dessert," shared Ambassador Souza. "There's another film that has the city of Sao Paulo as the scenery. Another one is the city of Rio de Janeiro. Another one (has the) country side of Brazil (wherein) a troupe of traveling circus artists go from one town to another." The filmfest featured four narratives (House of Sand, Not By Chance [Nao Por Acaso], Romance and The Clown [O Palhaco]) and one documentary (Vinicius).
Although film narratives can't deviate from the political and social contexts that shape them, the collection of films showed human resilience. Example was House of Sand. "I think it makes a point how people can endure life even at its most (difficult), extreme moments," said Ambassador Souza, "how people are able to endure life even if they are lonely and even if they don't have any hope. But in the end, they find a motive, something to hold on to. That's not only social, it is also existential."
The films were pieced together "to show life in all its variety, in all its complexity, in all its radiance," he said. The information furnished to media shares that House of Sand is about a woman who lives in a desolate place and tries to escape it. Not By Chance has two male characters who share a life philosophy based on precision. Romance sees director-actor Peter falls for leading lady Ana. They both star in the Tristan and Isolde play. The Clown revolves around the tale of father-and-son clown duo. The other one, with "no identity, no social security number or proof of residence," embarks on a journey to find his identity. Vinicius is about the sublime poet of daily life Vinicius de Moraes.
Going to film festivals like this one lets audiences experience other cultures through films. This is a function of film programming and it says about the importance of film festivals.
"What is behind the film festival is not just the film, but the programming and the curatorship," said Patrick Campos, director of UPFI. "When you group these films together under programmer's philosophy or curatorial choices, (they) offer a wholistic kind of idea of another culture of another cinema. That's the value of the film festival, na hindi mo makukuha sa paisa-isang pelikula." He added that what perhaps differentiates the filmfest from others (whose films are in competition) is its focus "on creating connections among and between films... the theme is explicit; sometimes, implicit. If the curatorial decision is strong, you will see the connections and what the films are trying to create and picture."
On seeing cultural commonalities and differences in watching foreign movies, Campos shared, "It's really the value for an ordinary moviegoer (or what he gets) is that there's a new culture na nagbubukas ng pinto and perhaps it's typical that (when you watch a film,) you make comparisons and see semblances or differences. Either way is an enrichment, right? Let's say Brazilian cinema, kahawig natin, pero manood ka ng Japanese cinema, ay ang layo sa atin. Either way would be a tremendous enrichment to a viewer."
Asked about the similarities Filipinos and Brazilians share, the ambassador replied, "The character of people, we are very hospitable, friendly. We like to receive foreigners."
As for forms of entertainment and film genres Brazilians enjoy, "All kinds of genre," Ambassador Souza said. "In Brazil, telenovelas like the teleseryes are very important. All the big actors, the most famous ones, most of them come from television, they also go to the big screen. We love music, documentaries, musicals, comedies, horror, drama, action movies."
Mounting festivals and film-related activities, UPFI is the cinema center that advocates Filipino and foreign cinema. Its accomplishments lie on its history and traditions to consistently screen films for audience education.
"We do historical films, we do contemporary, we do modern, we have lectures, we have workshops, we have all kinds," concluded Campos, "it's (also) a gateway to foreign films...Here, (as a) gateway, we get to see the filmmakers, we get to see the actual curators and we get to (see the) stars sometimes."