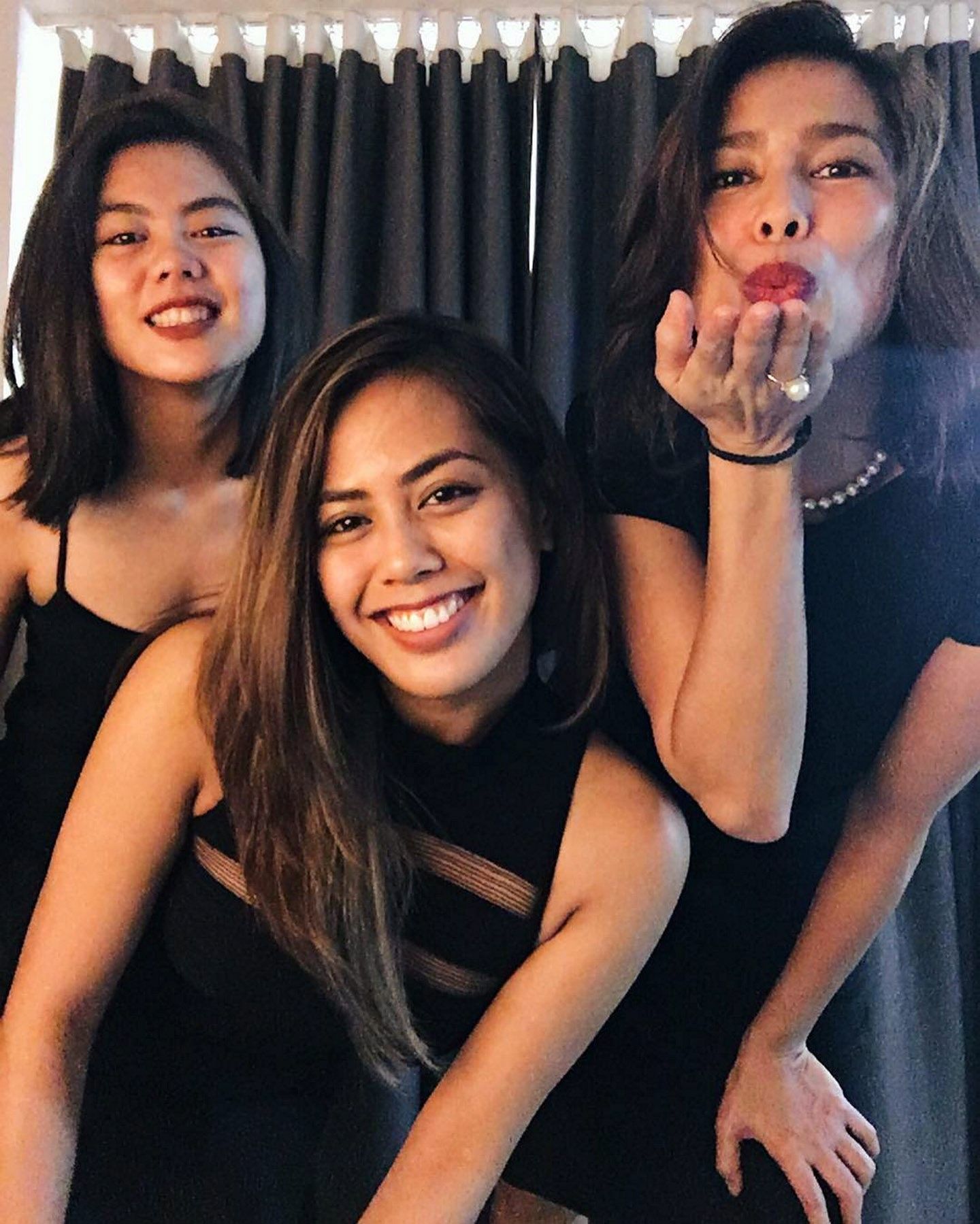 Iana (center) with mom Angel Aquino (right) and sister Thea
What Iana learned about acting from mom Angel
This acting newbie may have every reason to do so. But Iana Bernardez has opted not to use a screen name that takes after her mom Angel Aquino to get ahead in showbiz.
"If you notice po, yung gamit ko Bernardez (my father's surname). In fairness, nung napanood nila ako sa first film ko sa Gusto Kita With All My Hypothalamus, they came to the cinema not having any idea who they were watching. They didn't have an idea that she's a daughter of Angel Aquino," the eldest daughter of the multi-awarded actress told The STAR.
"After na lang, after they saw it, that they started asking, who's this girl? That's when they started connecting na kaya kamukha or kahulma kasi anak ni Angel. Because I've been using my father's surname, I don't get tagged right away as the daughter of Angel Aquino, which I think is helping me create my own independent person as an actor also," she added.
While exposed to her mom's work early on, Iana said that she didn't plan out to become an actress after college. A psychology graduate from Ateneo de Manila University, she was a talent coordinator for the 2018 film Gusto Kita With All My Hypothalamus, facilitating callbacks and looking for the perfect lady to cast.
However, when Iana read the script, she knew she wanted the role of the female character whom four boys of different personalities will fight for. "I was a non-actor but when I saw it, I said sh*t, ang swerte ng makakuha nito. I had a natural affinity with the material."
She has since appeared in 2019 films Past, Present, Perfect and Babae at Baril. She's appearing next in the Cinema One Originals 2019 film entry Metamorphosis, a coming-of-age drama that tackles intersexuality. It premieres Nov. 10, 5 p.m. at Trinoma.
"Metamorphosis follows the story of Adam, played by Gold Aceron. He's an intersex and the story follows his sexual awakening and discovery of his sexual preference, and my character will play a key role in how
he will identify himself to be, whether as a man or a woman, girl or boy," she said, also thanking the director J.E. Tiglao for giving her the chance to play a role "so different from myself."
Iana shared how her mom Angel has been helping her in terms of acting.
"In terms of acting, for example, iiyak. Ang hirap po pala talaga umiyak, so tatawagan ko siya, sabi ko, 'Mommy, ano pong gagawin?' Tapos mapapaiyak niya (ako). Lagi niya akong tinutulungan. In every audition or every role I play, lagi niya akong binibigyan ng tips, uupuan niya ako. Like, eto yung mga linya ko, Mommy, paano natin to aatakihin?"
Iana started in the indie film production side, so her mom has also given her guidance in that area. "Since I do producing work, para makatipid, ako na mismo umaarte, if you notice in my films, para tipid sa talents. Sasabihin niya, stop na daw, ayaw niyang gagawin ko yun, na sayang! Yun lang po yung bantay niya siya sa akin, na piliin ko yung roles. Kung kayang gawin ng talent na extra, ipagawa mo na sa kanya, 'wag na ikaw, P800 lang yun, ganyan. Sorry, P1,000 na po pala. Pag feeling niya kaya ng actor, sige go lang," she candidly said.
From the looks of it, Iana enjoys being part of the world her mom has long been in. For the longest time, she was in denial that a part of her wants to work in the acting field and be like Angel.
"Even now I can't consider myself as an actor yet, extra ako, talent ako, because mas producing naman din yung gusto ko. But ever since, when my mom and I would watch films, how the actors acted ­— that we would (discuss). Nakakatawa lang din na yung mga pinag-uusapan namin dati ni Mommy, like sana ginanito niya, sana yun… Masaya siya na process for me because nakakasama si Mommy sa process."