Dr. Vicki gets World Influencer Award
November 7, 2019 | 12:00am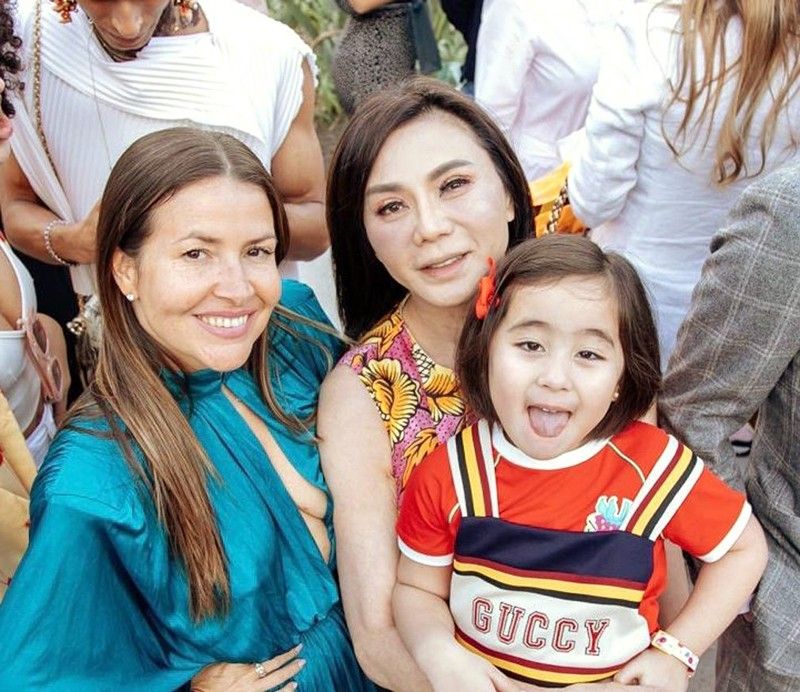 Curtain-raisers:
• Missing Tessie Tomas who has settled in Isle Of Man (IOM) in the UK with her husband Roger Pullin? You can follow Tessie on TessTube, a YouTube channel launched last Oct. 12. "I vlog once a week," Tessie texted Funfare. "I have done a crazy monologue with a cow/house tour of our apartment by the Irish Sea." On her birthday last Oct. 31, Tessie posted, "Hop Tu Naa, a Halloween celebration unique to IOM."
• Most industry people are happy with the reconciliation of Marian Rivera and Popoy Caritativo who parted ways several years ago. The two really care and love each other and friends are wishing that they would get back as manager and talent, after all they were together during their salad days.
• Eeek Bulaga! A Funfare DPA recalled why an actress (A) broke up with her hunk-actor boyfriend. One early morning, she went to the actor's pad unannounced. Guess who opened the door ­— yes, the controversial actress (B) who was wearing the actor's over-sized T-shirt! Right then and there, "A" bade the actor goodbye…and good riddance. When "B" broke up with the actor, she badmouthed him. "A" is happily married to a macho non-showbiz guy. The actor has a new girlfriend, as sexy as "A."
* * *
Did you know that Dr. Vicki Belo has 2.1 million followers on Instagram glued on her thousands of posts about different beauty procedures? (Her daughter Scarlet Snow has her own millions of followers.)
The good news is that Vicki was nominated in the Beauty Category of the World Influencer Awards (WIA) based in Monaco.
The Philippines' beauty pioneer and doctor to the stars is the first and only Filipina to be so honored.
With husband Dr. Hayden Kho and Scarlet, Vicki flew to Monaco to meet the other world influencers.
Recalled Vicki to The STAR, "The event started with a lavish mixer of world influencers on board Yotha Yachts. I was able to bond and have fun with social media superstars such as JustSul (real name: Shantinath Sul, from India) who has close to five million followers because of his funny videos which spread good vibes."
Vicki also met the sexy and sultry Lea Elui who has 10 million followers and is the most followed influencer in Paris, and two princesses from Monaco, Chiara de Bourbon and Caroline.
"I didn't realize Chiara de Bourbon and Caroline were Monaco royalty while I was chatting with them," noted Vicki. "They were so sweet and so down-to-earth."
The gala dinner was described as "Instagrammable" and awardees and guests were reminded to post about it in their accounts.
"Beautiful women on stilts welcomed the guests while a performance much like Cirque De Soleil entertained everyone," added Vicki who received her award that same night. "It has always been my dream to elevate the Philippines in my realm of influence. This, I guess, is one step towards that dream."
* * *
Pip, Boyet and Bobot: Walang iwanan
The term "walang iwanan" coined by the late Master Showman German "Kuya Germs" Moreno best applies to the lasting friendship among Edgar "Bobot" Mortiz, Christopher "Boyet" de Leon and Tirso "Pip" Cruz III.
Since their heyday, the trio has maintained their closeness. Bobot is with ABS-CBN as an actor/director of the sitcom Home Sweetie Home which airs every Saturday, and the comedy show Banana Sundae. He has received awards for Goin' Bulilit which ran for 14 years and launched the careers of today's popular stars (Julia Montes, Kathryn Bernardo, et al).
Pip and Boyet are both also with ABS-CBN, the former is with teleserye The General's Daughter and Starla. He just finished shooting two Metro Manila Film Festival movies. Boyet is also doing a forthcoming teleserye titled Love Thy Woman and has finished shooting On The Job 2 and Kid Alpha.
Through the years, through thick and thin, ups and downs, come hell or high water, they have kept connected together with their wives and children. Pip and Boyet have been neighbors for 30 years and during their free time, they get to bond by playing basketball. They have also produced and topbilled a few shows here and abroad.
The trio continues to make music together. (Trivia: Aside from being good actors, Pip and Boyet are also good singers while Bobot [in case you have forgotten] was a 1967 Tawag ng Tanghalan champion.) They are staging a series of shows in the US, titled Timeless…Through the Years, consisting of retro songs and medleys featuring from way back when they were young, carefree and restless. The first show will be on Nov. 15 at Marriot Long Beach, Airport Plaza Drive in LA (for tickets, call 562-2957048), the second on Nov. 16 at Crowne Plaza, Bay Area, Union City (call 510-3643132 or 916-3352930), the third on Nov. 17 at Jacobs Center, Euclid Avenue, San Diego (call 619-7636960) and the last show on Nov. 22 at Sheraton La Guardia, East Hotel Flushing, New York (call 347-7383025).
(For more updates, photos and videos, visit www.philstar.com/funfare or follow me on Instagram @therealrickylo.)