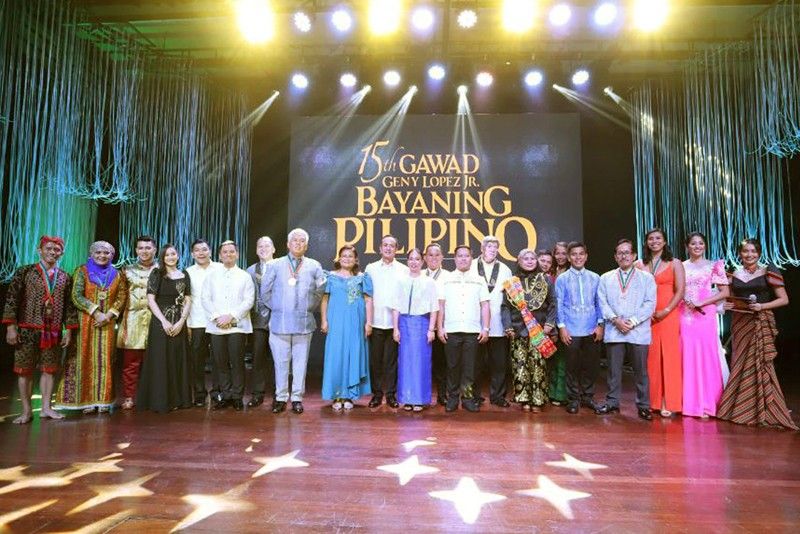 ABS-CBN chairman emeritus Eugenio 'Gabby' Lopez (center) with the awardees and hosts of the 15th Gawad Geny Lopez Jr. Bayaning Pilipino Awards
Bayaning Pilipino winners honored
KAPAMILYA DAY
-
Kane Errol Choa
(The Philippine Star) - September 14, 2019 - 12:00am
Leon Caculitan has a flourishing career as a doctor and an instructor in a medical school, but manages to squeeze time out of his busy schedule to serve the less fortunate in a remote island in northern Philippines.
And it is his endearing heroic qualities that made him deserving of the Natatanging Bayani award at the 15th Gawad Geny Lopez Jr. Bayaning Pilipino Awards held recently, which recognized modern-day Filipino heroes.
Doc Leon devotes his time bringing free health care services to Filipinos living in Palaui Island, which is located in the northeastern part of Cagayan for five years now.
He started carrying out regular free medical missions in 2014 after realizing that residents of the island had limited access to health care and even had to travel by sea to reach the nearest hospital. In collaboration with co-doctors and volunteers, Doc Leon was able to build a hospital in the island.
As a class instructor, Doc Leon also grooms his medical students to be compassionate doctors. That is why he encourages them to join his medical missions whenever they have free time. And because of Doc Leon's efforts, his medical missions have now spread across Cagayan and in select areas in the country.
"Ginawa ko lang kung ano 'yung gusto kong gawin. Kung ano 'yung kakayahan ko at pinakamabuti kong gawin. I'm very, very thankful and I never really expected or desired to be in front of you, guys," an almost speechless Doc Leon said during his acceptance speech.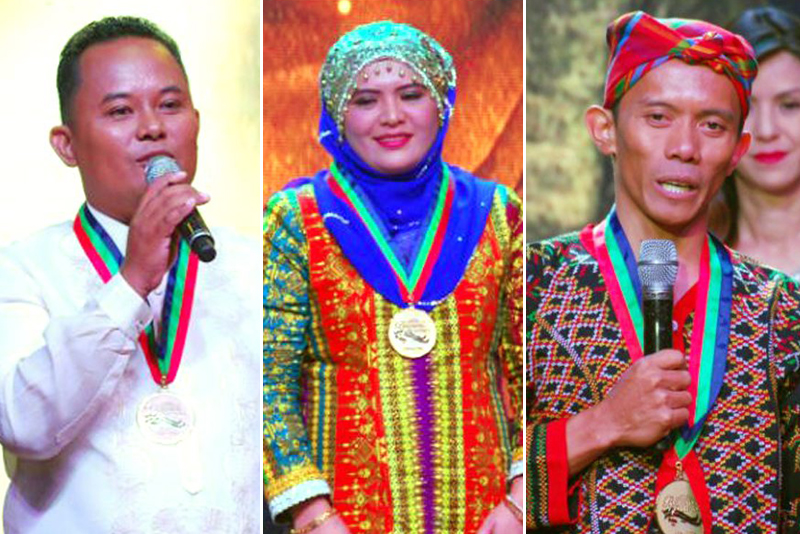 Bayaning Gurong Pilipino Gary Mosquito, Bayaning Kabataan special citation recipient Mayrani Hassan(center), Bayaning Kabataan winner Renny Boy Takyawan
Another modern-day hero who was recognized as the Bayaning Guro winner is Gary Mosquito, a public school teacher in Palo, Leyte who created a gulayan program among students after observing that students performed poorly academically when they are malnourished.
Gary, together with the faculty, then started to offer healthy meals to their students. In 2017, the school reported zero malnutrition, which led to a dramatic improvement in the students' academic performance.
The Bayaning Kabataan award went to Renny Boy Takyawan, who was instrumental in making his fellow tribe members in Saranggani gain access to education by building classrooms in their community.
Meanwhile, youth advocate Mayrani Hassan of Zamboanga Sibugay was given a Bayaning Kabataan special citation for her unparalleled efforts in extending help to fellow Filipinos who were affected by the Marawi siege.
The Bayaning Pilipino Awards also recognized modern-day overseas Filipino heroes who are also making a difference in the lives of their countrymen abroad.
Brando Yonaha was declared the Bayaning Pilipino sa Japan for using his photography skills in doing charity events for Filipinos in need. He built an e-library and bought school supplies for kids in Zamboanga Sibugay. He also led a project called "One Shoot, One Meal" for the victims of Yolanda.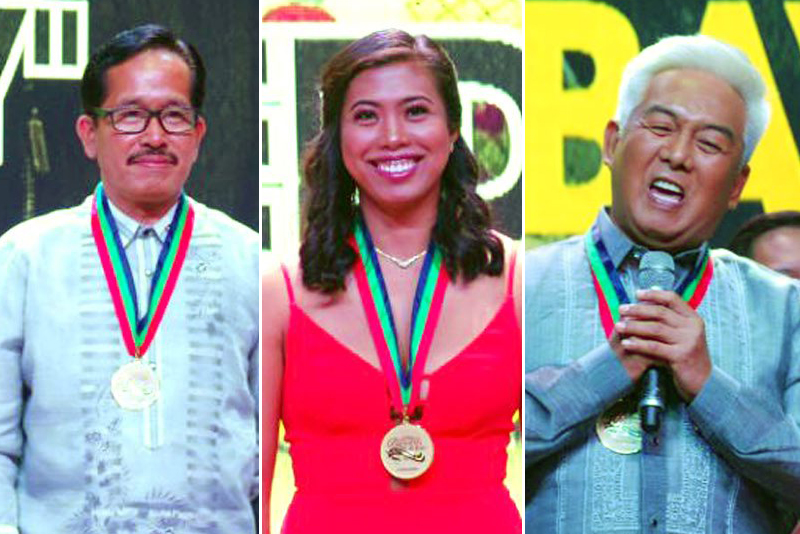 Bayaning Pilipino sa Japan winner Brando Yonaha, Carmina Raquel(center), co-founder of Feed2Succeed that was named Bayaning Pilipino sa North America, Natatanging Bayani winner Leon Caculitan
For the Bayaning Pilipino sa North America, the recipient was a non-profit organization called Feed2Succeed, which was founded by Filipino-American siblings Caroline and Carmina Raquel with their friend, Tiffany Sato.
The organization mainly raises funds to sponsor meal allowances for kids. Now, Feed2Succeed has sponsored 300 students and adopted seven elementary schools.
At the awards ceremony, ABS-CBN chairman emeritus Eugenio "Gabby" Lopez III said, "Our Bayaning Pilipino heroes do not have impressive or captivating names such as Iron Man or Wonder Woman, suggesting the kind of superpowers they possess. Rather, they carry the names they were given, and instead have given meaning to their names through their heroic deeds."
The Gawad Geny Lopez Jr. Bayaning Pilipino Awards is an annual search for ordinary Filipinos who have done extraordinary deeds that was envisioned by the late "Kapitan" Eugenio "Geny" Lopez Jr. to give the Filipino people real-life Filipino superheroes they can look up to and emulate.
Kapamilya stars who graced the awarding ceremony as presenters and performers to celebrate the heroism of the modern-day Pinoy heroes, included Kathryn Bernardo, Kim Atienza, PBB Otso big winner Yamyam Gucong, PBB Otso alumnus Fumiya Sankai, rapper Kritiko, Janine Berdin, Regine Velasquez-Alcasid and Miss Universe Philippines 2019 Gazini Ganados. Gretchen Ho and Ogie Alcasid were the program hosts.