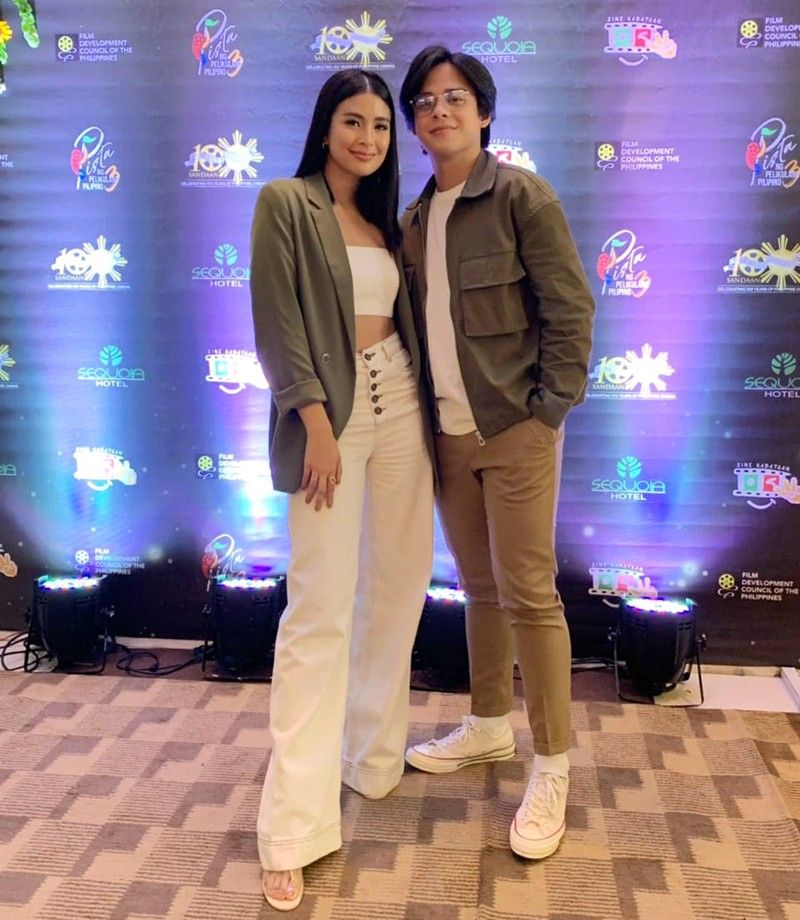 Real-life sweethearts Gabbi Garcia and Khalil Ramos star in LSS, one of the entries to this year's Pista ng Pelikulang Pilipino (PPP), opening on Sept. 13 in cinemas nationwide
Khalil & Gabbi make sweet music together
Bot Glorioso
(The Philippine Star) - September 11, 2019 - 12:00am
MANILA, Philippines — Khalil Ramos and Gabbi Garcia belong to different networks but they don't see it as a cause of conflict or a hindrance in their relationship.
Khalil and Gabbi have been going steady for more than two years now. For those not familiar, Khalil is a Star Magic talent of ABS-CBN while Gabbi is part of the stable of talents of GMA Artist Center.
Gabbi said she does not meddle in his work in the same way her boyfriend gives her space and allows her to make decisions for her career.
"I don't like seeing him in the same building doing the same work as mine and it's good that every time we see each other, we always have stories to tell, new things to talk about," said Gabbi.
"Mas naging blessing pa because we are able to balance things well kaya mas okey na we don't get to see each other every day," added Khalil.
They finally got to work together as lead stars in LSS (Last Song Syndrome) produced by Quark Henares' film outfit Globe Studios under the direction of Jade Castro. The film is one of the entries to this year's Pista ng Pelikulang Pilipino (PPP) that is set to begin on Sept. 13, coinciding with the celebration of the Centennial Year of Philippine Cinema.
"It was hard to begin with," said the 23-year-old actor of working with Gabbi for the first time in a movie, and added, "At the start, we had difficulty in the scene where we were supposed to be strangers. We're not sure if our chemistry is effective on screen so we kept on asking direk Jade if okay ba."
"But along the way," Gabbi added, "we've seen the advantage of working together kasi nagkatulungan kami like we're comfortable. You know, we don't have to break the ice when it comes to doing scenes together."
It can be recalled that the two previously collaborated on Gabbi's music video for her song All I Need which Khalil directed.
Their relationship, both agreed, inspires them to improve as actors and individuals. "Siguro sa akin, the way I think about things, the way my mindset changed is because of Khalil. The way kung paano ko tingnan yung pamilya ko; my work kasi dati I would work because this is my job. Now, I work because this is my passion. He taught me how to see the bigger picture and he taught me how to balance things," maintained Gabbi.
"I think we found each other at a time when we were both ready to jump (into a relationship) kasi ako I was working on myself, my self-identity," Khalil narrated. "I was working on my own mindset so when I met her nag-share kami ng same energy — nag-tulungan kami."
Gabbi continued, "Mostly di ba at our age, some would tell you, it will destroy you, it will make you lose focus. But for us, it has been the other way around because it (relationship) helps us individually."
They do not put restrictions on each other. Khalil believes in Gabbi's artistry and as much as possible, he would like her to grow her passion as an artist "in the same way that I'm growing mine. So, I really wanted to influence her to explore more, widen her scope as an actor and go for versatility. I don't want to be a hindrance to what she wants. If she wants to do a project outside of her comfort zone then, go."
Gabbi, on the other hand, revealed that Khalil often gets the impression of being too serious "because he seldom shows his weird side. (But) he's a funny guy."
Asked if LSS is their love story, Khalil said it shares some similarities to real life. Like their characters, they are both into music. "I guess, it's our love for music. We are big music fans. We love OPM and in the story, music leads us to fall in love with each other."
LSS also features the hits of Ben&Ben, whose band members are the twins Paolo and Miguel Guico, Poch Barretto, Jam Villanueva, Agnes Reoma, Patricia Lasten, Toni Munoz, Andrew de Pano and Keifer Cabugao.