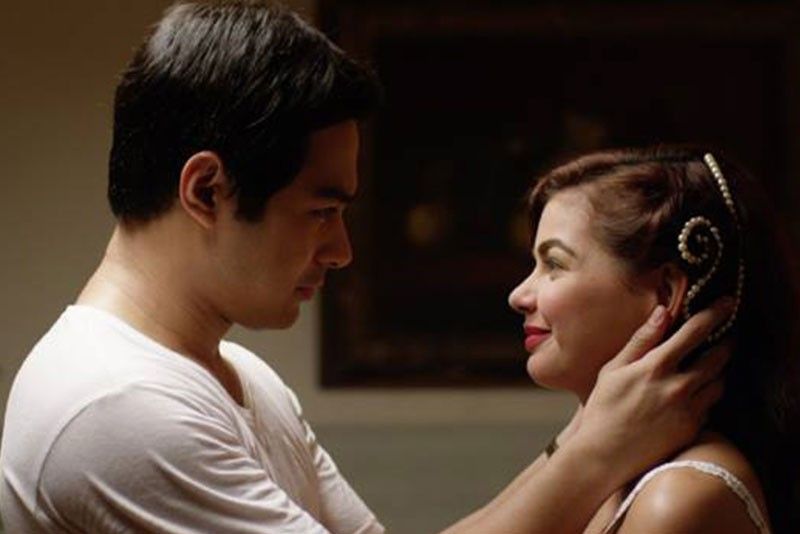 Scene from 2016 independent film 'Dagsin'
Facebook/Dagsin
Filipino film 'Dagsin' makes it to Oscars shortlist
MANILA, Philippines — Filipino film "Dagsin," starring Janine Gutierrez and Benjamin Alves, has been shortlisted as a possible Philippine entry to the International Film Feature Category of the Oscars, Cinemalaya posted on its Facebook page.
"Supar congrats, #Dagsin!" the independent film festival said in the caption of its Facebook post, showing a screenshot of the letter from the Film Academy of the Philippines that announced the good news.
The letter was signed by the organization's director general, veteran actor, comedian and director Leo Martinez.
Alves also shared the screenshot in his Instagram story, saying: "WHT? We made the shortlist for the Oscars!?"
The first film of director Atom Magadia, with screenplay by his wife Anne, "Dagsin" (which means "gravity" in Ilocano) tells the story of Justino (played by Tommy Abuel), World War II hero and Death March survivor who lost his legs, and as such, became an atheist.
When his wife, Corazon (portrayed by Marita Zobel) died, Justino yearned to believe in life after death to be with her. As such, he looked for ways to hold on to the memory of his wife, including reading her diaries, from which he unearths a Pandora's Box of secrets.
"Ok, I know the 'better- mannered and proper' version of myself should be quiet about news like this. But, I am hearts-crossed, not doing this out of hubris. To tell you the truth, I originally thought it was a hoax. Until we received this letter this morning, I didn't believe it to be real," Anne said of their film's Oscars achievement in a Facebook post.
Since the movie debuted in 2016 as a Cinemalaya Film Fest entry, "Dagsin" has won 18 awards, incuding four Best Actor nods for Abuel at the Cinemalaya, Los Angeles Philippine International Film Fest, European International Film Fest in Italy, and FIlm Development Council of the Philippines.
Likewise, the film gave Marita a Best Actress in a Cameo Role award from Urduja Film Fest.
Gutierrez, meanwhile, won as Best Supporting Actress at the 2017 4th Urduja Heritage Awards, and was nominated as Best Supporting Actress at the 40th Gawad Urian Awards.
In general, the film has won as Best Narrative Feature at the World's Independent Film Fest in San Francisco, USA; Best Cinematography at the European Film Fest in Florence, Italy; and Best Costume at the Madrid Film Fest.
If picked as an official entry, "Dagsin" will compete at the 92nd Academy Awards ceremony, presented by the Academy of Motion Picture Arts and Sciences, which will honor the best films of 2019 and will take place at the Dolby Theater in Hollywood, Los Angeles, California on Feb. 9, 2020.