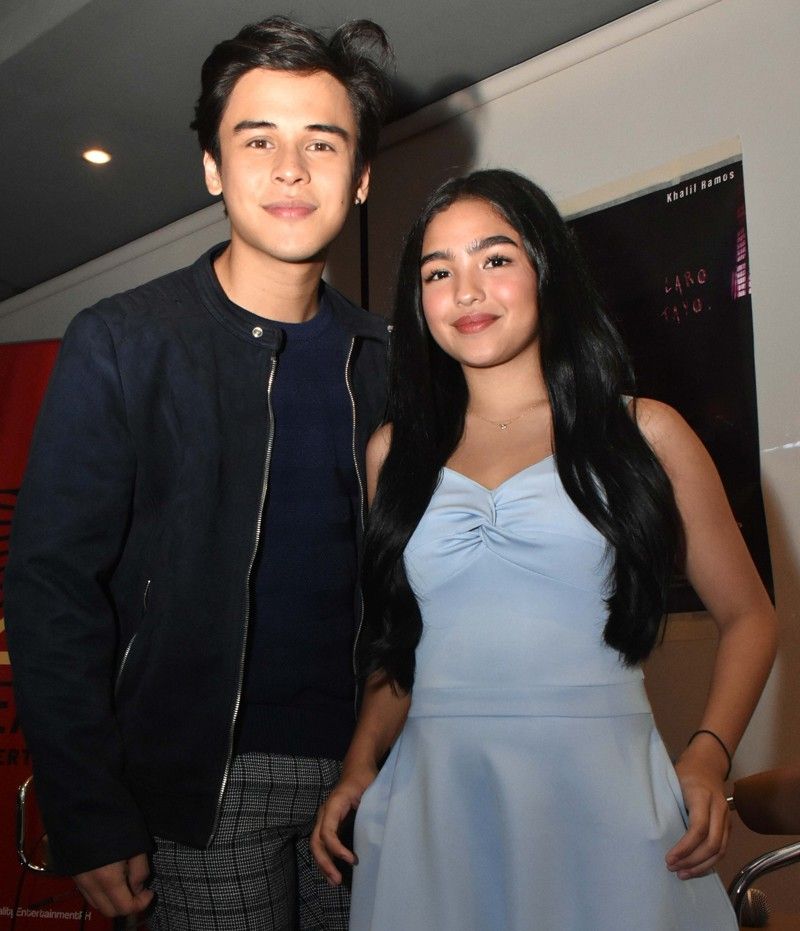 Andrea Brillantes stars in Reality Entertainment's The Ghosting with Khalil Ramos. It is set to open in cinemas on Aug. 28.
Andrea Brillantes reveals greatest fear
Bot Glorioso
(The Philippine Star) - August 25, 2019 - 12:00am
MANILA, Philippines — Andrea Brillantes couldn't think of anything supernatural that will definitely scare her out of her wits. That's why, she sees the challenge of portraying Grace in The Ghosting that she topbills with Khalil Ramos. Produced by Reality Entertainment, the horror movie is set to roll out in cinemas on Aug. 28.
"It's not easy for me because I don't really get scared easily," began the 16-year-old ABS-CBN talent. "Even when I was little and I remember during our tapings in Goin' Bulilit, we would roam in the evening and go to dark hallways trying to find out if there was a ghost (laughs) but no, we didn't experience anything scary."
Even in the old house where they did most of the scenes in The Ghosting, Andrea said she didn't feel anything creepy at all, although there was a comfort room on the second floor of the house with so many cubicles without any lightings. "'Yung sa mga unang cubicle, nakasara hanggang sa makarating ka na sa dulo. 'Di ba sa dulo 'yung nakakatakot, pero wala."
Directed by Joey de Guzman, the horror flick is about the Solante urban legend of a girl carrying a headless doll on a highway asking passers-by to help her get home to a red house visible only to her and her unassuming victims. Ken (Khalil) investigates the case of persons who mysteriously disappear and the cause is believed to be connected to the legend. He knows Grace (Andrea) has met the little girl but he dismisses it as a coincidence. For him, there is no truth to the tale about the red house and the curse it brings to those who have seen it. Later on, he starts to believe that the girl and the house have something to do with the weird deaths in the community, including the disappearance of Grace, but no one likes to believe him.
Andrea shared that production people reminded them not to entertain scary thoughts or talk strange if ever and when they see or feel strange goings-on inside the old house. Good thing, no such thing occurred.
However, Andrea recalled the only scary experience she had in real life happened years ago in their house in Rizal. "Mabundok po kasi doon and I don't know if someone was pranking on me because I would often hear someone laughing at 4 a.m. at hindi na po ako makatulog. And then when you looked out of the window, you could see an old vacant house."
She, too, heard of stories about a girl dressed in white running inside the studio of the then Kapamilya show Be Careful with My Heart. "Meron nga din daw pero ako wala pa akong nakita (sa ABS)."
It turned out that her greatest fear is losing her job. Acting, she said, is all she wants to do for the rest of her life.
"'Yung mawalan po ng trabaho, 'yun 'yung kinatatakutan ko kasi it's the greatest blessing for me but my work is super fragile. I mean kahit gaanong hirap ang gawin mo pero pag nagkamali ka lang o nadapa ka, mabilis mawawala agad. At natatakot ako mawalan ng work kasi 'yun talaga 'yung ginusto ko buong buhay ko ever since bata ako ito na."
Her family, she added, witnessed all the sacrifices she made and the challenges she hurdled before she succeeded in getting to where she is now. "I had shed so many tears, so many breakdowns inside the comfort rooms of ABS."
She admitted there was a time when she wanted to give up yet that yearning to make it in the acting scene kept her going.
These days, Andrea is reaping the fruits of her hard work. Her acting performance in Kadenang Ginto as the bida-contravida Marga has been earning positive feedback from Kapamilya fans. It also resulted to more projects, including product endorsements.
"To be honest, sinabi ko talaga, 'Lord, thank you pero natatakot ako kasi ang dami mong binigay; parang too good to be true.' But whatever I have now, I really prayed hard for it and I worked truly hard to get where I am now. The challenges I've experienced all the more made me cherish every blessing that the Lord has given me," said Andrea who also expressed gratefulness to all who have been supporting her career until this day.