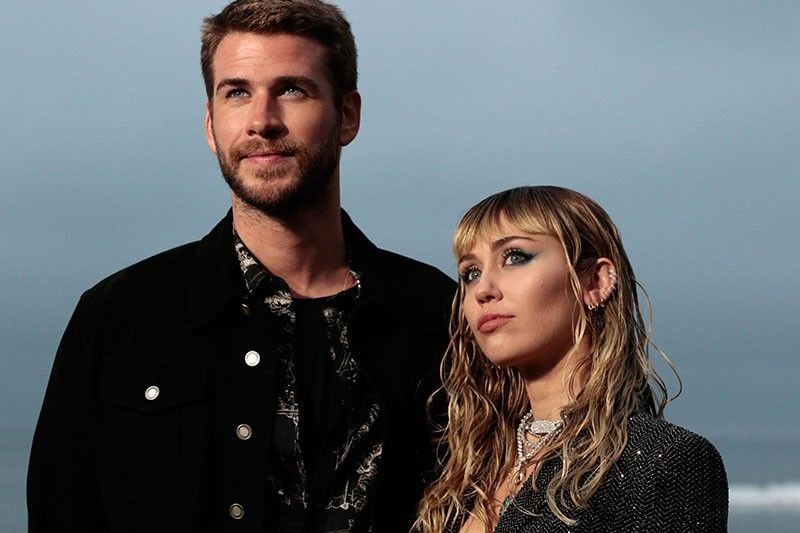 n this file photo taken on June 6, 2019, US singer Miley Cyrus and husband Australian actor Liam Hemsworth arrive for the Saint Laurent Men's Spring-Summer 2020 runway show in Malibu, California. Miley Cyrus and husband Liam Hemsworth have decided to separate, a representative for Cyrus confirmed on August 10, 2019.
AFP/Kyle Grillot
Liam Hemsworth officially announces split with Miley Cyrus
MANILA, Philippines — Hollywood actor Liam Hemsworth has confirmed that he and actress-pop star Miley Cyrus have separated.
In his Instagram account on Tuesday, Liam posted a photo of a calm beach with his message to Miley and the public.
"Hi all. Just a quick note to say that Miley and I have recently separated and I wish her nothing but health and happiness going forward," Liam wrote.
He added that the latest event in his life is a private matter and he will not be talking to media outlets for this.
"This is a private matter and I have not made, nor will I be making, any comments to any journalists or media outlets. Any reported quotes attributed to me are false. Peace and Love," he said.
The couple has agreed to separate after less than a year of marriage.
They met in 2009 while filming the romantic drama "The Last Song." In 2012, they were engaged, but ended the engagement the following year.
In 2016, they were engaged again. In December 2018, they married in a private ceremony at their home in Nashville, Tennessee, only a month after losing their California home to a wildfire.
Reports said, however, that the pair might not be filing for divorce as they allegedly separated to give each other some space. Reports added that the two have already dealt with the same problems in the past and would most likely reconcile in the future, despite recent leaked photos of Miley showing her making out with blogger Kaitlynn Carter.