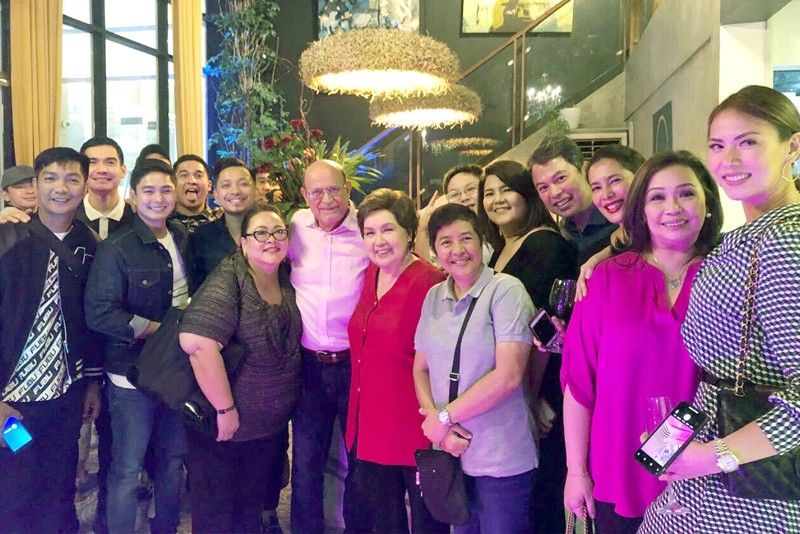 Susan Roces (a.k.a. Lola Flora in the top-rating Kapamilya series, center) with the FPJ's Ang Probinsyano cast led by Coco Martin (third from left) and ABS-CBN executive Cory Vidanes (second from right) posing for a 'family' picture last Saturday night (July 20) at Terrace Manila restaurant where Susan hosted a advance birthday dinner (actual birthday is on Sunday, July 28)
Photos by Ricky Lo
Probinsyano cast all-out for Lola Flora
FUNFARE
-
Ricky Lo
(The Philippine Star) - July 24, 2019 - 12:00am
Two big stars are marking milestones on Sunday, July 28: Susan Roces for her birthday (no need to reveal how old she is since she doesn't look it) and Philippine STAR for its 33rd anniversary. Susan hosted an advance birthday dinner last Saturday night at Terrace Manila restaurant (on Mother Ignacia St., right across from the ABS-CBN Studios) and The STAR on Tuesday, July 30, with a luncheon at the Port Area, Manila, office.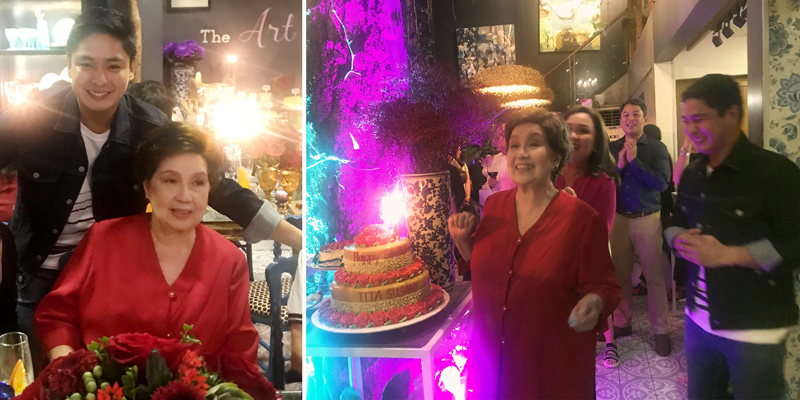 Coco greets Susan before watching her blow a single candle on the birthday cake.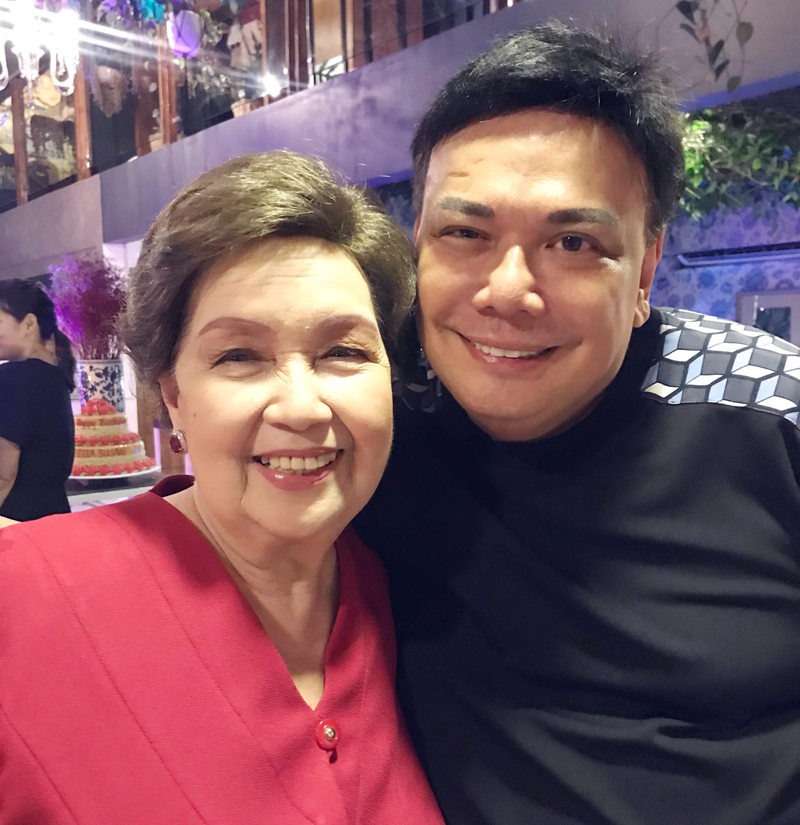 Susan and Terrace Manila owner Deo Endrinal…
Perhaps not many people know that Susan is a "baby" of the STAR's Belmonte Family whose late matriarch, Betty Go-Belmonte (after whom a street in Quezon City was named), published a magazine called Movies World exclusively about Susan, and another one called Movieland about Amalia Fuentes. That was in the 1960s at the Susan-Amalia "rivalry."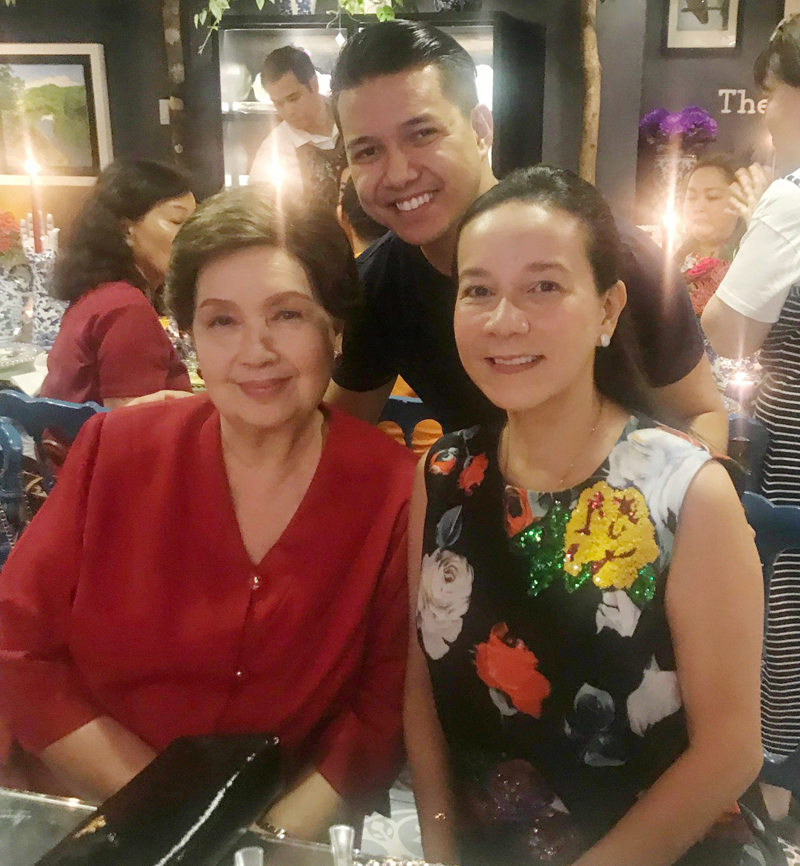 …with daughter Sen. Grace Poe-Lamanzares and son Brian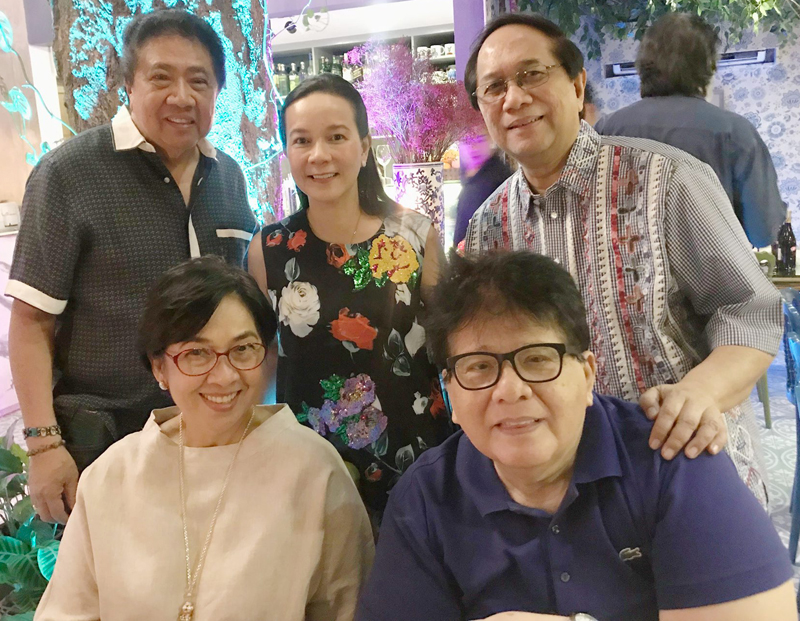 Grace with (clockwise, from top left) Tony Tuviera, Danny Dolor, Ronald Constantino and Tony's wife Madz
Still remembered as "The Face That Refreshes," the description coined by Sampaguita Pictures Starmaker Dr. Jose "Doc" Perez, Susan is still active both in commercials (Rite Med, etc.) and television where she's well-loved for her role as Lola Flora in the Coco Martin starrer FPJ's Ang Probinsyano which is marking its fourth anniversary in September…and going strong, undefeated by more than half a dozen series pitted against it by the rival network.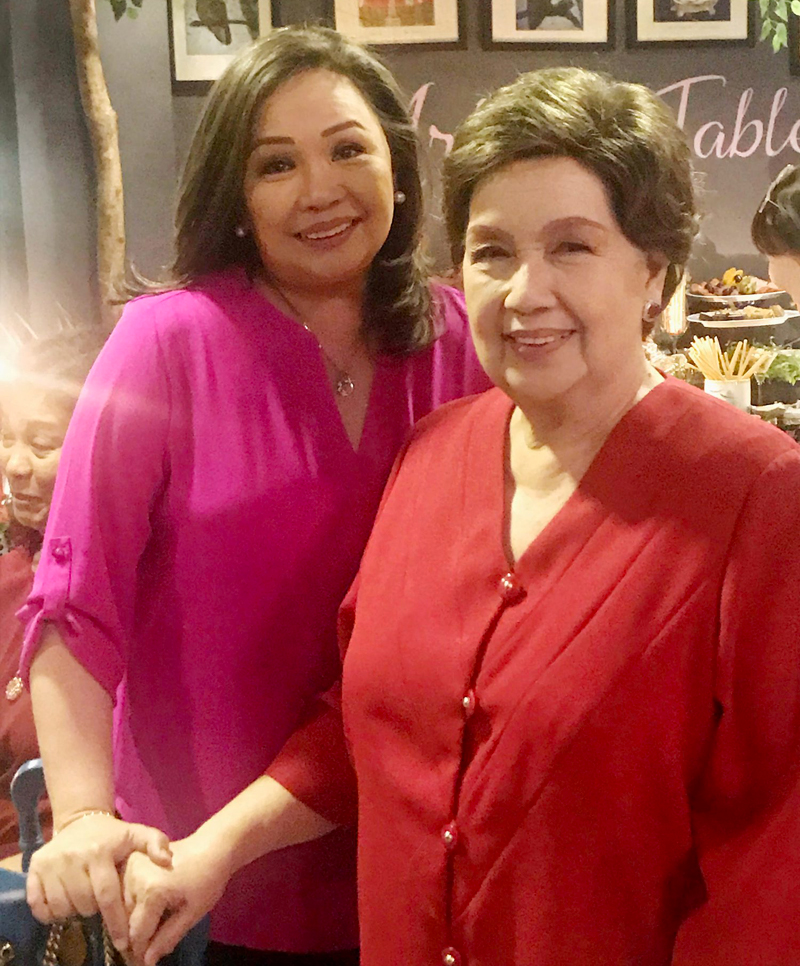 Susan and Cory
Led by Coco, the huge Probinsyano cast showed up in full force at Terrace Manila to celebrate their beloved Lola Flora's big day. As soon as he arrived, Coco planted a kiss on the birthday celebrator and went around giving everybody a hug. Then he proceeded to the mezzanine area reserved for the Probinsyano stars who later trooped downstairs (reserved for Susan's other friends including her barkada) for the de rigueur "family" photo.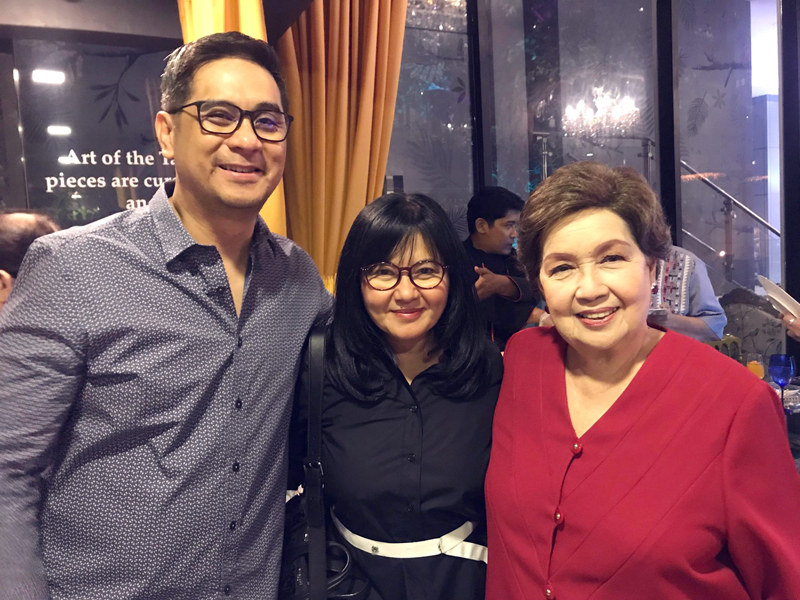 Susan with Lauren Dyogi and Lorna Tolentino
Heard that Carlitos Siguion Reyna (with wife Bibeth Orteza who brought a huge cake for Susan) was invited by Coco to appear in Probinsyano. "Ewan ko," Carlitos said when asked about it. We told him, "Why not?" With his unshaven look, he could pass for a perfect replacement for Eddie Garcia.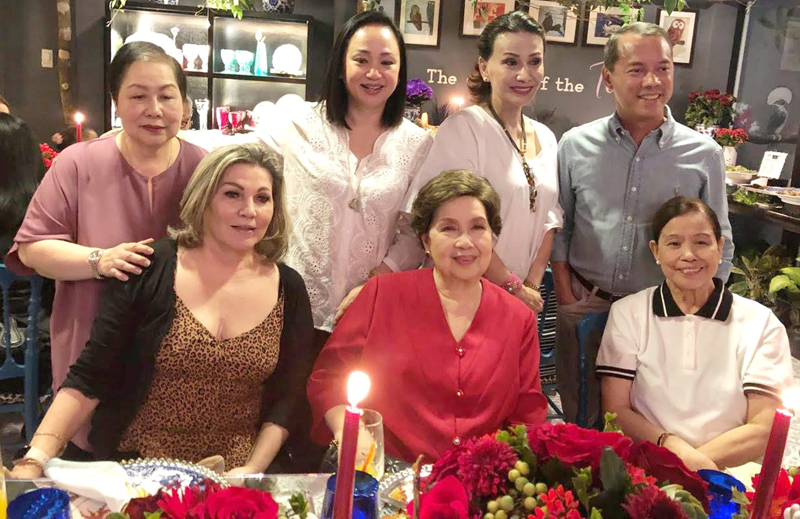 Back row, from left: Susan's manager Dolor Guevarra, Pat-P Daza, Lilibeth Romero and Mark Lopez; and front row, also from left, Jaime Fabregas' wife Nena, Susan and Mother Lily Monteverde
Among the well-wishers was Lilibeth Romero, widow of Eddie Garcia, who politely refrained from making any comment about GMA's post-investigation "official statement" (not yet published) on the June 8 accident that caused Eddie's death, saying she would wait until after the commemoration of the 40th day after her 33-year partner's death on July 30 (with a Mass and dinner for family and friends).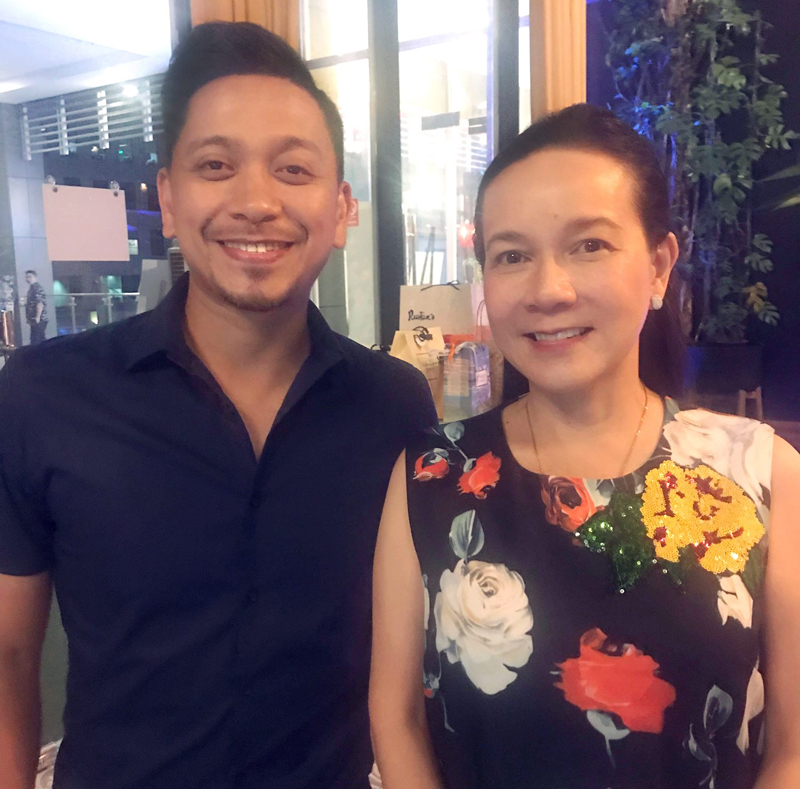 Second-termer Makati Councilor Jhong Hilario and Grace
Terrace Manila owner Deo Endrenal was kept busy entertaining Susan's guests, making sure that food was replenished on the buffet table, and checking the Probinsyano guys upstairs. The waiters were very polite, asking the guests, always with a smile, if they needed more drinks or whatever.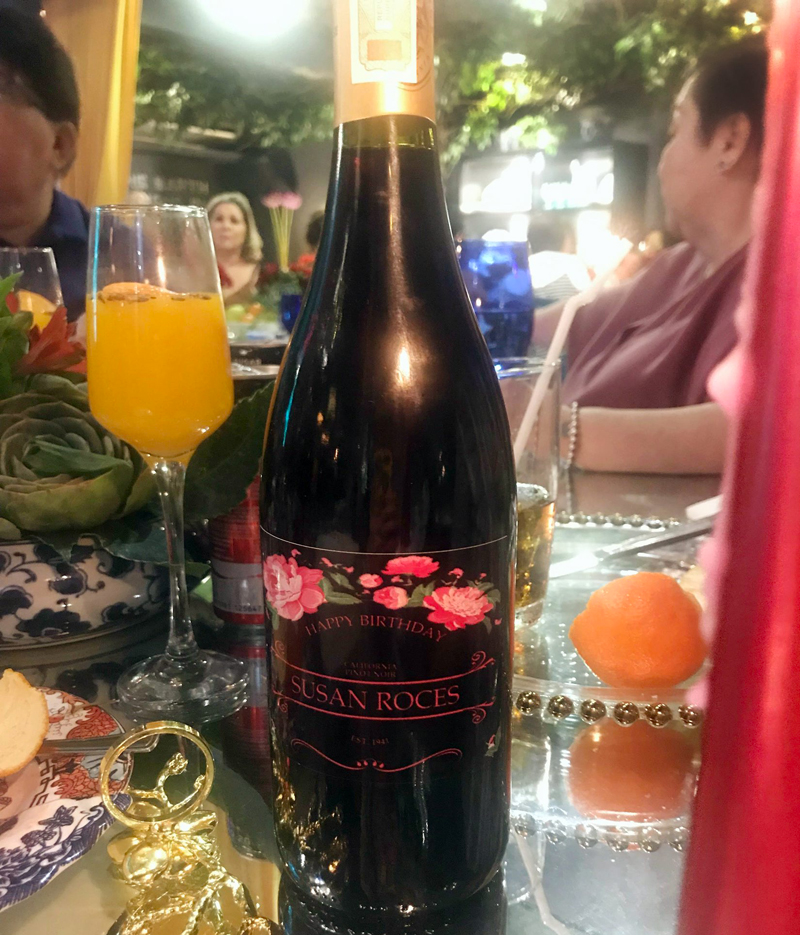 A special bottle of wine (all of three boxes) marked 'Susan Roces' from Gretchen Barretto, given away as souvenirs
The long buffet table was loaded with food, with fresh fruits from Gretchen Barretto (who wasn't around) among the desserts. She also sent three boxes of special bottles of wine marked by the name "Susan Roces" as giveaway souvenirs.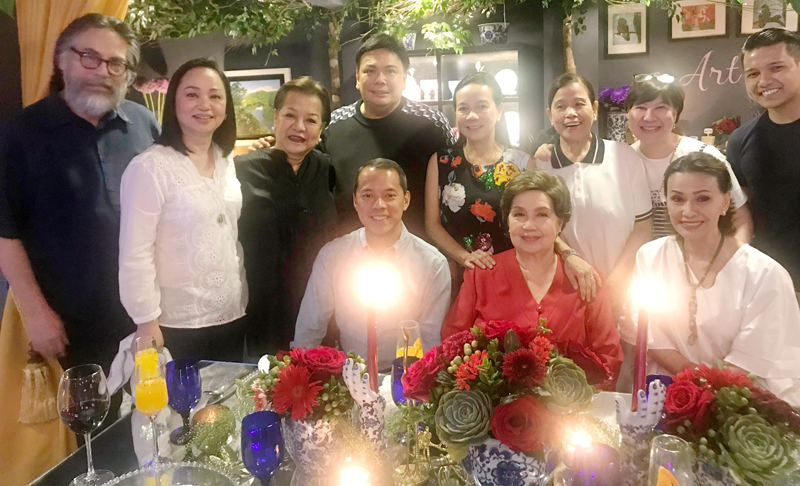 Seated, from left: Mark, Susan and Lilibeth; and back row, also from left, Carlitos Siguion Reyna, Pat-P, Carlitos' wife Bibeth Orteza, Deo, Grace, Mother Lily, Shirley Kuan and Brian
(E-mail reactions at rickylophilstar@gmail.com. For more updates, photos and videos, visit www.philstar.com/funfare or follow me on Instagram @therealrickylo.)