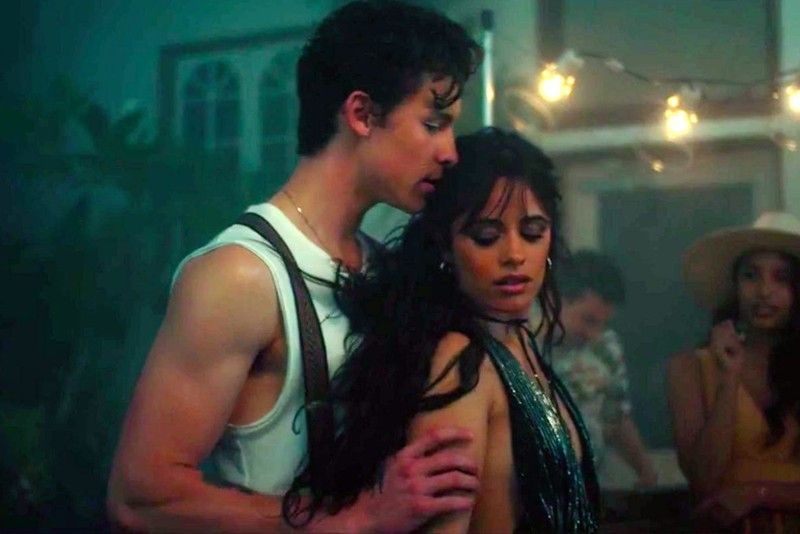 Shawn Mendes and Camilla Cabello in Señorita
As per the weekly hit list Philippine Music Charts, the Top 3 best-selling songs today are the following: Señorita by Shawn Mendes and Camila Cabello; I Don't Care by Ed Sheeran; and Justin Bieber and A Whole New World from the soundtrack of the movie Aladdin by ZAYN and Zhavia Ward.
I was saddened when I saw the list. There is no Pinoy artist in the Top 3! I recall only a few weeks ago when we had almost the entire Top 10. The highest that we made this week was No. 6 with Hindi Na Nga, the new release by This Band whose Kung Ayaw Mo Na is still selling big. And there are only two other local songs in the Top 10, Sana by I Belong To The Zoo, and Bagay Tayo, the latest by ALLMO$T.
Why did this happen? I do say that the Pinoys have been doing very well lately as far as creating hits is concerned. Filipino music nowadays has a sound that is new. It is pop of assorted types, as in pop-rap, pop-rock, etc. but it is also very Pilipino. However, they were not able to stand up against the massive star power in the collabs from the foreigners this week.
Collabs are the in-thing as far as pop music goes in the charts. Why, Ed Sheeran's new album is made up entirely of collabs and it is gunning for No. 1. The word comes from collaboration, which means to work together to finish a job or to join hands to reach a common goal or to simply cooperate. Technically, collabs are what we used to call duets. That was when two talents join together to sing or play a song. Simple like a piano with a violin or like Diana Ross and Lionel Richie singing Endless Love.

ZAYN and Zhavia Ward (right) sing A Whole New World
I do not know when duets became collaborations or in its shorter term collabs. I guess this happened when somebody wanted a word that would describe a collaboration that means it goes beyond duets. That is when the partner contributes more than his performance by also helping out in the production.
This is the case of Old Town Road by Lil Nas X. When country music star Billy Ray Cyrus came in to do a collab, he perfected that infectious refrain and did his own remix. It was not only a duet. It is now one of the year's big success stories with the single hogging No. 1 in the Hot 100 for a long 16 weeks and the upstart Lil Nas X from TikTok acknowledged as a big star.
The star power in the collabs is staggering and Pinoys have to catch up if we are going to maintain a strong chart presence. The most successful move in this direction by local artists was when December Avenue got together with Moira dela Torre for Kung Di Rin Lang Ikaw. Followed by Moira again with I Belong To The Zoo for Patawad, Paalam. But we need more.
And now the Top 40 of the week:
Señorita by Shawn Mendes and Camila Cabello; I Don't Care by Ed Sheeran and Justin Bieber; A Whole New World by ZAYN and Zhavi Ward; Kill This Love by BLACKPINK; Old Town Road by Lil Nas X ft. Billy Ray Cyrus; Hindi Na Nga by This Band; Talk by Khalid; Sana by I Belong To The Zoo; come thru by Jeremy Zucker; Bagay Tayo by ALLMO$T.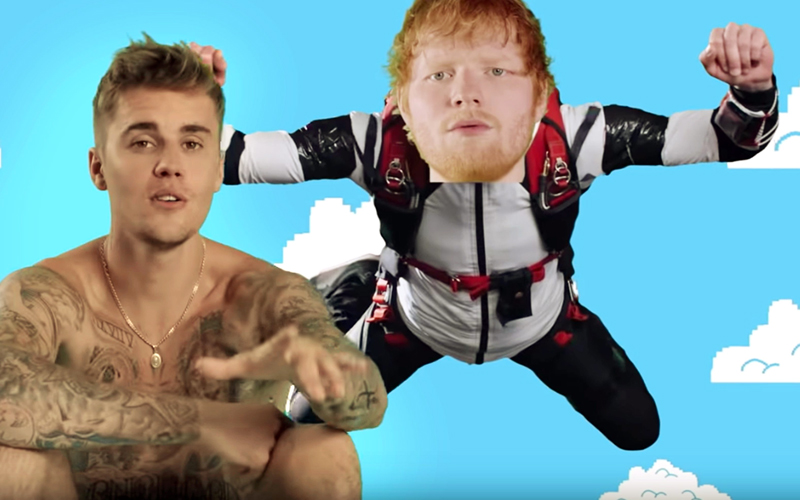 Justin Bieber (left) and Ed Sheeran collaborate in I Don't Care
Beautiful People by Sheeran ft. Khalid; Kahit Ayaw Mo Na by This Band; Sunflower (The Spider-Man Universe) by Post Malone & Swae Lee; Kung Di Rin Lang Ikaw by December Avenue ft. Moira; You Need To Calm Down by Taylor Swift; Never Really Over by Katy Perry; Wrong by Luh Kei; Boy With Luv by BTS ft. Halsey; bad guy by Billie Eilish; Pauwi Na Ko by PDL, Skusta Clee, Jnske, Bullet D, Yuri Dope & Flow G.
Huling Sandali by December Avenue; 'Di Na Babalik by This Band; If I Can't Have You by Shawn Mendes; Sa Susunod Na Lang by PDL; Buwan by Juan Karlos; Dalaga by ALLMO$T; Bulong by December Avenue; Goodbyes by Post Malone ft. Young Thug; ME! by Taylor Swift ft. Brendon Urie; Without Me by Halsey.
Love Someone by Lukas Graham; Kathang Isip by Ben & Ben; Maybe The Night by Ben & Ben; Patawad, Paalam by Moira and I Belong To The Zoo; Missin' You Crazy by Russ; Dalaga by Arvey; Call You Mine by The Chainsmokers & Bebe Rexha; You Are The Reason by Calum Scott; Dahan by December Avenue; and Sayang Na Sayang by Aegis.