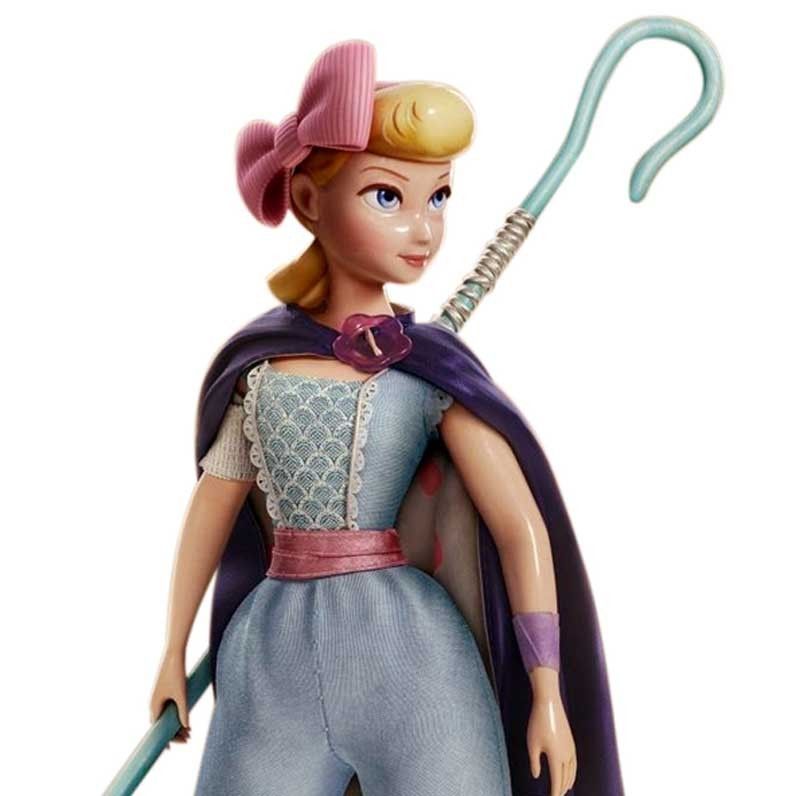 Bo Peep, one of the original characters from the Toy Story series, is making a grand return and gets the spotlight to herself in Toy Story 4.
But before anyone adds color to Bo Peep's emergence in Toy Story 4, it should be noted that Pixar had the draft of the screenplay as early as five years ago, before the current industry initiatives seeking more female representation in films gained traction.
MANILA, Philippines — Fans of the beloved Toy Story series, the Pixar classic that catapulted animation to the digital age, won a generation of loyal fans (the first Toy Story movie was released in 1995) and hauled countless awards along the way, are in for a delightful experience when they troop to the cinemas beginning today, because one of the original characters from the series is making a grand return and finally gets the spotlight to herself.
But before anyone adds color to Bo Peep's emergence in Toy Story 4, it should be noted that Pixar had the draft of the screenplay as early as five years ago, before the current industry initiatives seeking more female representation in films gained traction.
"We are trying to always have great female representation in our films," producer Mark Nielsen indicated during our interview. "We've had Helen (Elastigirl) in Incredibles 2. We've had Joy (Inside Out) and we've had Merida (Brave). We've always made efforts to try to have strong female characters. Our focus is on that, just making really interesting, dimensional, powerful characters and the effort in developing Bo Peep was really about making Bo Peep the greatest Bo Peep we could."
"Even though she has only about seven minutes in other movies, you look at those moments and they are key moments in those other films," director Josh Cooley added. "She's always been a really strong character and all we did was lift her to the surface."
This writer joined a group of select journalists invited to the Pixar headquarters in San Francisco, California earlier this year to meet with Mark, Josh and with the writers, designers, animators and editors that worked on the movie for more than five years.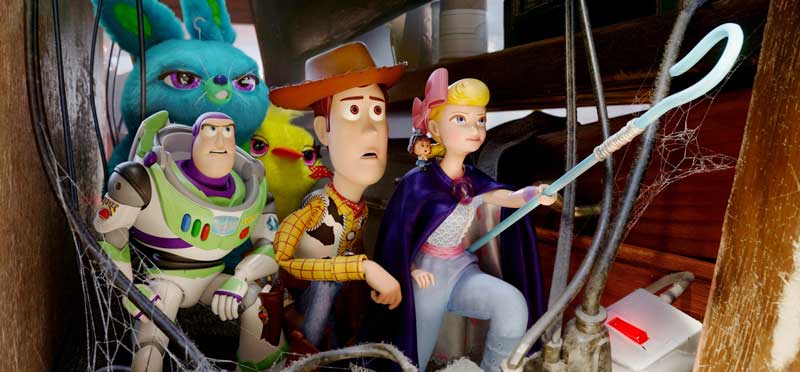 Buzz, Woody and Bo Peep with their new friends.
The last time audiences saw Bo Peep was in Toy Story 2 when she was donated and got separated from the gang led by Woody and Buzz. In the two movies she was in, Bo Peep resided with her sheep on a lamp base at Andy's room and she shared a special connection with Woody.
In the new movie, we discover Bo Peep, after being away for many years, all chipped and nearly discarded but her spirit is far from broken. She has grown into an adventure-seeking free spirit whose strength and sarcasm belie her delicate porcelain exterior. When she and Woody are reunited, Bo Peep realizes just how much she's missed him, and couldn't wait to show him what she's been up to.
"Toy Story 4 is the next chapter in their life," Josh said. "Bo's taken control of her own destiny. While Woody was watching Andy grow up, Bo gathered dust until she took it upon herself to head out into the world. And when Woody shows up, they can't believe that they've found each other again."
During the visit, we were shown the first 20 minutes of the film, and, just between us, our screening room was filled with laughter and tears from the emotional rollercoaster wrapped in that glorious first act. If you liked the opening montage in Up, you are in for a wonderful time. Bring tissues.
"We love the opening and we're getting great responses anytime we show it," Mark said in response to this writer's raving. "We knew going in to this, we needed to set up Bo Peep and remind the world who she was, what she meant to Woody, how she left and where did she go. We had to set that up."
When Toy Story 3 came out in 2010, many fans thought it would be the end of the series, especially after Andy left for college and the toys were donated to a day-care center. It didn't take long before Pixar announced that the toys are not leaving us for good. "These characters mean so much to us at the studio. It's like the crown jewels to us. Woody and Buzz are in the fabric of this place and I think the spirit of those characters is infused in all of the characters that we've put in all of our films."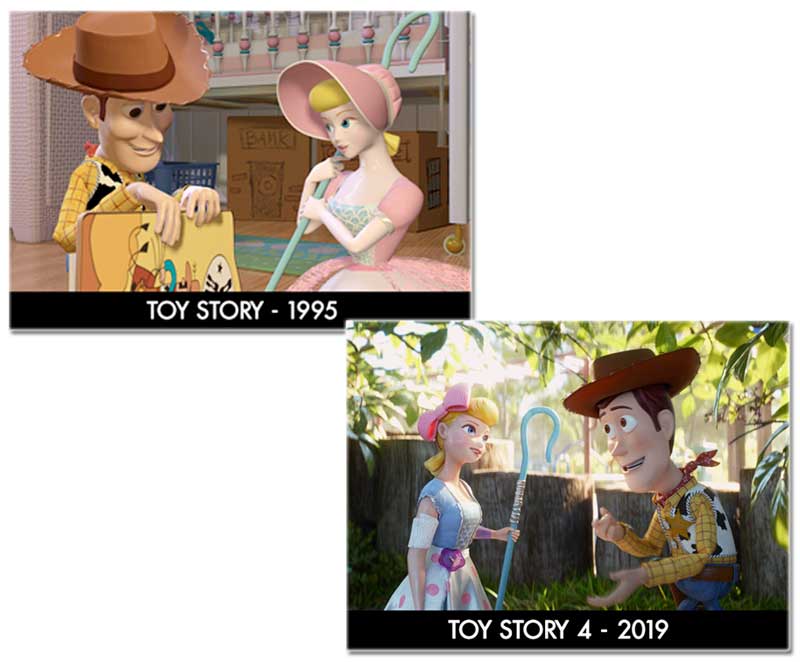 Animation comparison between Toy Story 1 and Toy Story 4.
In Toy Story 4, Bo Peep gets a special transformation worthy of her 24-year legacy. The talented animators, working on a new design because the original model used in 1995 was not ideal anymore, decided to remodel her staff as it now becomes an extension of her body. Her movements were modeled from Olympic gymnasts and her personality influenced by the strong female characters from Kill Bill, A League of Their Own and the Star Wars movies.
"It was always a curiosity to see who Bo Peep is and what happened to her," directing animator Becki Tower, who was part of the team that worked on Bo Peep, remarked. "We don't see her a ton in the first two movies and I think people seem to gravitate towards her."
Audiences never got to see the moment when Bo Peep left Andy's room. In the new movie, fans will get to see that heart-tugging sequence finally. The task in bridging Bo Peep's sub-story to the larger narrative fell on the group led by story supervisor Valerie La Pointe.
"You see the moment she left, which is the moment everyone didn't get to see," Valerie revealed. "She was essentially, for me, at least, the reason to make another movie. She was the most interesting part. She was the biggest, most interesting element left in that world to explore and find out what happened to."
This writer would have wanted to share with the readers what happened to Bo Peep but I would have to wait along with everyone to watch the movie when it opens this Friday to find out.
Tom Hanks and Tim Allen are back as the voices of Woody and Buzz. Acclaimed actress Annie Potts provides the voice of Bo Peep.