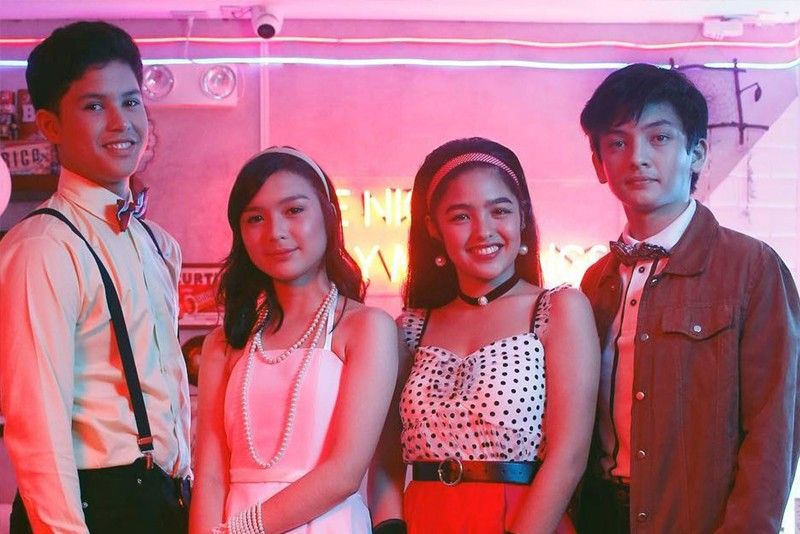 From left: Kyle Echarri, Francine Diaz, Andrea Brillantes and Seth Fedalin go retro. The four of them have been dubbed by fans as 'The Gold Squad.'
KAPAMILYA DAY
-
Kane Errol Choa
(The Philippine Star) - May 28, 2019 - 12:00am
The success of Kadenang Ginto has thrust its young lead stars to a level of stardom that puts them under intense scrutiny, but despite their fame, Francine Diaz, Kyle Echarri, Seth Fedalin and Andrea Brillantes have embraced their new status as role models.
Now called the "The Gold Squad," the four fun, responsible, driven and family-oriented teens are taking everything in stride when it comes to their careers and schooling. Luckily, their off-screen friendship helps them cope with the pressure that comes with the job.
"We're still young and very exposed, and not everyone understands what we are going through. We deal with anxiety — is everything that we're doing all right, what if we don't give our best to this scene, what if direk doesn't like it?" shared Andrea.
The show's popularity among young viewers, however, is undeniable. "They identify with our characters because it's what teenagers go through," said Francine, who plays the role of Cassie.
Kadenang Ginto touches on teenage struggles, including falling in love and being heartbroken for the first time, seeking approval from your parents, the stress caused by academic pressure, and the overwhelming need to be seen and understood.
"I think many people find it entertaining and relatable. All of us have experienced liking a person who doesn't like us back," said Andrea about her character Marga, whose feelings for Kristoff (Kyle) had been unreciprocated.
Andrea is currently being paired with Seth, a former Pinoy Big Brother (PBB) Otso housemate — their tandem known as SethDrea. Francine has had sparks flying on-screen with Kyle — also known as KyCine.
Showbiz newcomer Seth is the first PBB Otso housemate to have headlined a TV project. "Before I entered PBB, I had no acting background. My life was just home and school. When I joined Kadenang Ginto, I was so nervous and afraid that I would have to shoot many takes — that would be embarrassing to my colleagues. I'm thankful that I was given the opportunity to be partnered with Andrea. The management knows what's best for all of us," he shared.
Kyle, who burst into the entertainment scene after his stint in The Voice Kids, said, "I'm so happy because I didn't expect that Kadenang Ginto would be this big, that the four of us would become 'The Gold Squad.' When I'm outside and people see me, I'm either called Tupe or Kristoff. People don't call us Andrea or Francine, but the names of our characters."
The onscreen romance of the four stars adds a layer of kilig to the show, which was made popular by its catfights and snappy clapbacks.
However, Andrea added that there is indeed pressure for their Kadenang Ginto love teams to become "real," especially because there seems to be an ongoing trend of showbiz team-ups developing into real-life couples.
"Right now, we'd like to go with the flow. Of course, we're still very young, we are all friends and we are just enjoying it. What happens will happen," said Andrea with a laugh.
Being part of a hit show, however, only pushes the foursome to do better in their studies. Most of them are also home-schooled. Seth, Kyle and Andrea are already in Grade 11, while Francine is finishing Grade 8.
While on and off the set, Francine, Kyle, Seth and Andrea are also able to have fun. They revealed that in their group chat with the cast members, they share the latest Kadenang Ginto memes they find on social media and have a good laugh about them.
Francine added, "We don't treat each other like stars, but like family. We always help each other out, especially Ate Dimples (Romana) and Ate Beauty (Gonzales), in the drama-heavy scenes."
The good-girl-versus-bad-girl narrative of Kadenang Ginto often draws comparisons to Mara Clara, whose 2010 remake spawned the careers of Kathryn Bernardo and Julia Montes. Kathryn has enjoyed the "queen status" both in film and on TV with Daniel Padilla, while Julia has made a name for herself as a versatile actress.
And whether Andrea and Francine would want to build up their careers with or without a love team partner, the decision is still up to their management, they said.
Expectations are definitely high for them and their leading men, as fans and entertainment media have labeled them very promising and expect their future careers to be just as successful. As "The Gold Squad," the quartet will bring surprises that their young fans will be able to relate to, including their own album that will be released by Star Music. Just last May 19, they performed their Halo-Halo Dance Craze in ASAP Natin 'To.
However, there's some good news for their fans who can't get enough of their kilig scenes on TV: Kadenang Ginto will air for the rest of the year and will cross over to 2020, as said by Dreamscape Entertainment head Deo Endrinal.
Kadenang Ginto airs weekday afternoons on ABS-CBN and ABS-CBN HD (SkyCable Channel 167). You can also catch up on its past episodes on the iWant app on iOS or Android or on iwant.ph.