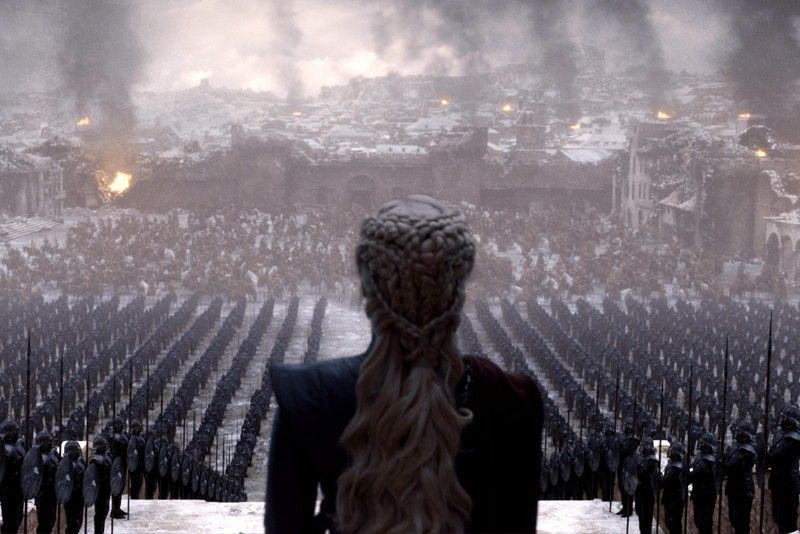 Daenerys Targaryen (Emilia Clarke) and her army in the Westeros capital of King's Landing in a scene from HBO's Game of Thrones series finale airing today
Photos courtesy of Helen Sloan/HBO
Game of Thrones endgame: 'Everything can happen'
MANILA, Philippines — After an almost decade-long journey, the eighth and final season of HBO's Game of Thrones comes to a close today. The question on who will ultimately sit (or not) on the much-contested Iron Throne will finally be answered.
Will the wildly successful show's fandom find satisfaction in showrunners David Benioff and D.B. Weiss' endgame for the TV adaptation of George R.R. Martin's A Song of Ice and Fear books? No spoilers in this corner, but it's hard not to notice how social media has been lit with the thoughts and feelings of fans about how their most adored and abhorred characters have developed in this six-episode farewell season, and seemingly even more so after the "controversial" penultimate episode. There's even a superfan-led campaign on Change.org, asking HBO to remake the entire Season 8, and as of this writing, it generated support of nearly a million signatures.
Still and all, whether one likes it or not, the unpredictable nature of the show and storylines of the characters can be and have been credited for making Game of Thrones one of the most popular TV series ever. To be sure, it's the most licensed program in HBO history, broadcasting in 207 countries and territories.
During an international press junket last February in London, The STAR got to meet some of the main cast members for a series of roundtable interviews. The stars hinted as much that the series will be unpredictable to the very end.
"It breaks the rules of storytelling," Norwegian actor Kristofer Hivju, the fierce but fun warrior Tormund Giantsbane in the series, told reporters. "Throughout the last 50 years of films and shows, where you somehow know, 'It's a thriller, so they're gonna solve the case'… There are many dramaturgical things that you understand just by seeing the first act."
He continued, "In this show, you don't know. It has the element of sports, it can change," snapping his finger to stress his point, "whenever and that makes it unpredictable, you can't stay ahead."
That also explains, he said, the deluge of fan theories. He cited the example of a well-loved character, the noble and honorable Ned Stark (played by Sean Bean), being killed off already in Season 1, saying that the pivotal scene set the premise that everything can happen in the show.
Kristofer further said, "Nobody knows what's gonna happen. That's something you can say about the end as well. It's not gonna happen as you think."
According to Irish actor Richard Dormer (the multi-resurrected warrior Beric Dondarrion in the series), Game of Thrones will come to a "brilliant" end. "I think it comes to a brilliant end. I can't tell how it comes to an end (laughs). I think it had its life. But the only difference in this show is, people will still be able to enjoy it. There's loads of people who haven't seen it."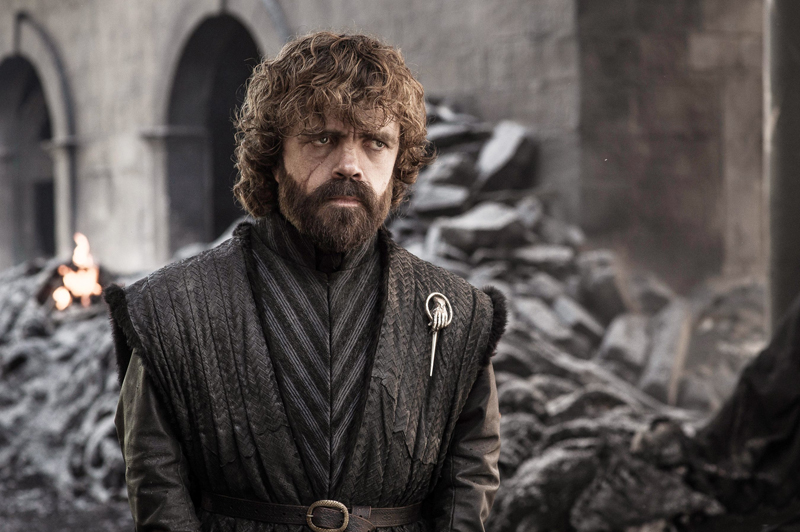 Tyrion Lannister (Peter Dinklage) amidst the ruins of King's Landing in a scene from the last episode of the HBO series
The only sad part, Richard added, "is we're not going to be doing this again, you know, all the action and getting together again, getting caught up in the hotel and having laughs. (It's) back to obscurity, back to the door again, signing off, but it's been a brilliant journey. And like all journeys, it has to come to an end."
"It's been many years of intense, hard and enjoyable work. And when you've given everything, it's a nice way to go out," Kristofer also said.
Unsurprisingly, the last filming days were charged with emotion. Dutch actress Carice Van Houten (Melisandre of Asshai) recalled: "I'm not a big crier normally… It was a bit worrying that I was sort of emotional. I hate saying goodbye any ways, (and) you're going to say goodbye to the crew and people you're not going to see for a long time. Apart from stopping a certain character, it's also the end of a seven-year period of my life and that was a very intense period."
Irish actor Conleth Hill (the advisor Varys) was, on the other hand, already less emotional during the last shooting day. "Mine was pickups," he said, referring to minor scenes filmed to augment footage already recorded. "The scene I had already done two or three times, oh for God's sake, c'mon (laughs) so I wasn't as emotional. I was also trying to be brave for everyone else. I kept going to David, that's okay."
There were funny moments, too. Scottish actor Rory McCann (a.k.a. Sandor "The Hound" Clegane) shared that just when he thought his scenes were already done, he got a call to report for work while on a boat in the middle of an ocean. "I thought I had done my last day, thanks very much, I had a few drinks. Next day, I went to the barber, I had everything (taken) off, hair, beard, eyebrows, thank God! Two weeks later, I was a hundred miles off the coast of North Scotland, and the coast guard got in touch with me, saying 'Can I speak to the captain?' 'Yes.' 'It's your agent, he is telling you not to shave off your beard.'"
There's no doubt though how much the show has affected their lives as actors. Carice said, "Someone asked before, what did it give us to be a part of the show, if it actually opened doors, had people talking to us? I followed the makers and writers of (US animated sitcom) The Simpsons because I'm a big Simpsons fan, and I saw that they were following me back, and they wanted me to come to a reading, and then I had a voice and did a voice on it as well, it was like, yeah! When I came to L.A. the first time to do the rounds and go through the cast and directors and do all that stuff, and they asked you, where do you want to be five years from now, (I said) I just want to be a voice on Simpsons. (Because of the show) I actually got my dream come true."
Dreams fulfilled, doors opened, what's next after the end of this chapter of their careers? Rory said that after all the action and encounters with dragons and wights or undead, "I'm looking for peace now (laughs)," although he gamely said he's available for the rumored Game of Thrones prequel. Conleth might do something opposite because he missed doing smaller productions. Or they could just go ahead and rock the world — literally.
During the filming of Season 7, a behind-the-scenes video of Kristofer, Rory, Richard plus Scottish actor Iain Glen (Ser Jorah Mormont), having a great jam in between takes, went viral. Rory said they called their band Brotherhood Without Banjos, a pun on their guerilla group of warriors in Game of Thrones, Brotherhood Without Banners. "In Season 7, we were a gang of guys who all played guitars," said Kristofer.
Another band member is British actor Kit Harrington, who plays Jon Snow, the "righful" heir to the Iron Throne, "on the maracas," Rory mused. Kit even got them drums.
"We'll do something, I don't know," Rory said of their "musical" plans. Kristofer added, with a hint of a laugh and a cheeky smile, "We'll have a world tour."
(The Emmy-winning HBO Original series Game of Thrones will culminate with its last episode of the final season same time as the US today at 9 a.m., exclusively on HBO Go and HBO. The episode will repeat on the same day on HBO at 10 p.m.)