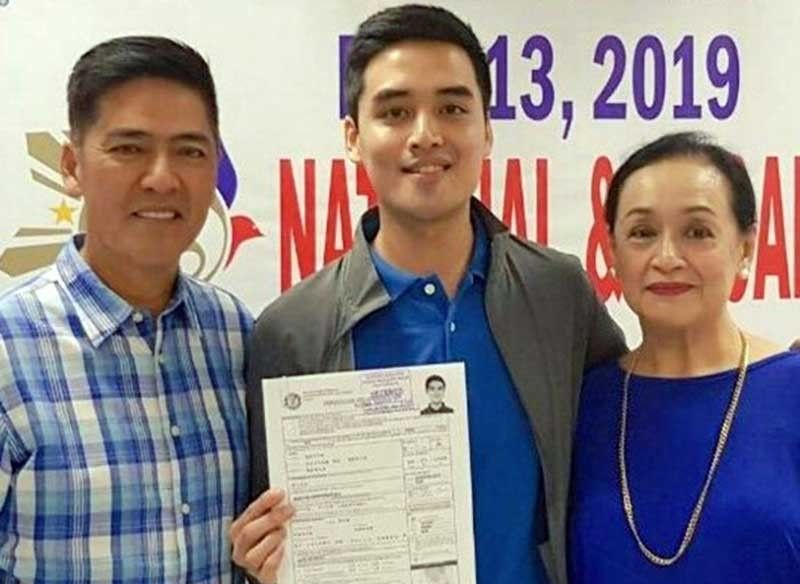 Vico with his parents Vic Sotto and Coney Reyes when he filed his COC (Certificate Of Candidacy) for the mayoralty race in Pasig City. 'I am a good mix of both my parents,' he says, 'although a lot of my personality comes from my dad. I grew up with my mom and she made sure to teach me how to love and fear God.'
Vico veers away from his parents' footsteps
(The Philippine Star) - May 10, 2019 - 12:00am
They say that acting is in the blood but not in the case of Pasig City Councilor Vico Sotto, the son of Vic Sotto and Coney Reyes, who is running for mayor in a race described as "David vs Goliath."
"I was never interested in showbiz," admitted Vico in an exclusive STAR interview. "Mama would always ask me but I would always say no. I was painfully shy as a kid."
Recalled mom Coney, "Vico was an active, smart young boy. I don't remember him taking naps growing up. If he would, that meant he wasn't feeling well. He was always doing something — reading, writing, biking, playing with his legos and board games, doing jigsaw puzzles. We would have our dates at the mall and people would come up to me for pictures and Vico would quietly go to the side and wait for me to finish. Oh yes, he was painfully shy; he never called attention to himself.
"I would read to him every night before he went to sleep, mostly classics and Bible stories like David and Goliath, Moses, Samuel Joseph and stories about Jesus. I had to buy some small books when I traveled because he would ask me to read as many as five books or six books, or three small ones when I was really tired or sleepy. Considered one book 'yung maliit. Wise Mama, 'no? Hehehe!!! Then he would promise to go to sleep. He also wrote a family newsletter as a young boy in long hand."
Like his siblings (Oyo Boy and Danica, Vic's children with his ex-wife Dina Bonnevie; and Paulina, with Angela Luz), Vico grew up grounded.
"Vico was and remains simple and kind-hearted," continued Coney. "He is even more passionate now about his desire to effect change in our city. His heart is really to be of service to the people. He understands the true meaning of servant leadership."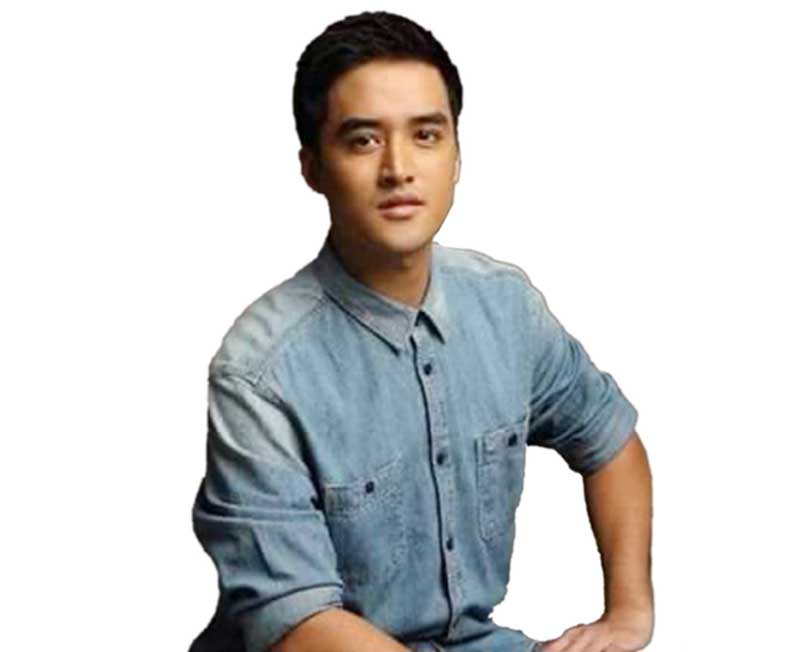 Since he was a kid, Pasig City Councilor Vico Sotto has never been attracted by the showbiz klieg lights, he being painfully shy. 'Mama would always ask me but I would always say no. What I really want is to work in government, not necessarily to run but government work in general.'
Turning 30 on June 17, Victor Ma. Regis Nubla Sotto took up not any course in performing arts but B.S. Political Science from Ateneo de Manila with a master's degree in Public Management. After graduation, Vico worked at the Sangguniang Panglungsod of Quezon City as a legislative staff officer from 2013 to 2015 and then as a project associate of the Ateneo School of Government, focused on two projects, the Government Watch (G-Watch) and Political Democracy & Reforms (PODER). In 2016, he got the highest number of votes when he ran for councilor of Pasig City.
"I always wanted to work in government," said Vico, "not necessarily to run but government work in general."
Asked how much of him is Vic Sotto and how much is Coney Reyes, Vico was certain, "I am a good mix of both my parents, although a lot of my personality comes from my dad. I grew up with my mom and she made sure to teach me to love and fear God. Everything else is secondary."
Noted Coney, "I would like to think that Vico is a happy blend of Vic's and my good qualities. He is a better version of Vic and myself. Salamat sa Diyos!" Asked about Vico's love life, Coney replied, "Vico is single. As of now, he is focused on what he wants to accomplish for Pasig City. I pray that Pasigueños give him a chance to be of service to them."
What was his parents' reaction when he told them that he planned to run for mayor?
"They were surprised and a bit worried. But when I explained to them why I wanted to run, the things that needed change in our city and the absence of any other viable candidates, they understood and became very supportive."
On the race being described as "David vs. Goliath": "It's interesting for me to hear people describing this fight as 'David and Goliath.' It may be accurate (as) Goliath had all the equipment, he was huge and no one wanted to fight him. Likewise, my opponent has all the machinery, all the money, and no one wanted to fight them either. David stepped up and fought in a unique way…with a slingshot. Knowing how the Bible story ends, I like my chances."
And what three words best describe Vico Sotto?
"Matalino, matapang, matapat."
Why Romy is the darling of seniors and PWDs

Senatorial candidate Romy Macalintal gets a 'lift' from (left to right) Senate President Tito Sotto, reelectionist Batangas Rep. Vilma Santos and Derek Ramsay.
In his radio program The Law of the Heart is Love (on DWBR 104.3 FM), senatorial candidate Romy Macalintal easily wins the heart of the romantics with readings of love poems (and more). But he got serious on his defunct radio program Hatol Ng Bayan on NBN PTV 4.
On the campaign trail, he regales the crowd with his wit and humor, plus his quotable quotes. When asked, "Why the last vote, why not the first?", Romy of the Otso Diretso team would quip, "Because even the scripture says, the last shall be the first."
"I have been the election lawyer of high-ranking elective officials, like a President, but I never involved myself in any government project where I could benefit in terms of commission and declined several government positions offered to me like being chairman of the Philippine National Oil Commission and of the COMELEC," Romy explained.
For several years now, Romy is known as the fighter and defender of senior citizens (SCs) and PWDs (Persons With Disability) when he filed cases against big establishments that allegedly violated rights of certain SCs and PWDs and he wants to continue this endeavor when elected.
"I will ensure higher discounts for SCs' medicines, hospitalization and other medical services such as 30 percent discount at age 70, 40 percent at age 80 and 50 percent discount for those 90 years old and above."
He said that the P100,000 given to SCs who reach 100 years is not enough.
"I believe that centenarians should receive at least P200,000 annually or at least P20,000 a month so that those taking care of them will have sufficient funds for their medical needs, especially our very poor SCs."
Asked where the budget would come from, Romy answered, "How many 100-year-olds would there be in every municipality, maybe less or a little more than 10 per year? So the total amount would be P2 million at kayang-kaya 'yan ng pamahalaan. It will not even dent the budget of that office."
Unknown to many, Romy started working at the tender age of 12 when he peddled watermelon inside the public market of Lipa City. Upon high school graduation, he started working as a mail sorter at the Manila Post Office, until he worked at the United States Veterans Administration (USVA) where he started as messenger and retired as a Veterans Counselor which was one of the highest positions in that US government agency.
He earned his B.S. Commerce degree (with Advertising as his major course) at the Philippine College of Commerce (now Polytechnic University of the Philippines) and finished his law degree at the University of the East while a working student. He passed the 1978 bar exams with a rating of 83.1 percent.
While Romy looks at his campaign as a very rewarding experience for an election lawyer, he admitted, "I missed my family so much every time I am on a campaign trail, especially my five grandchildren who, by the way, are singing and dancing my campaign jingle."
A devout Catholic, Romy said that he also misses the daily Masses which he and his wife Mila usually attend after taking their daily walk exercise in their village in Las Piñas City.
Romy and Mila have been lectors and commentators at the Last Supper of Our Lord Parish in Las Piñas for the past 34 years now. He is also a member of the Adoracion Nocturna Filipina, a graduate of the Parish Renewal Experience (PREX) and a coordinator of the Catholic Bishops Conference of the Philippines (CBCP) during the 2004 Year of the Laity celebration.
In his campaign speeches, Romy's penchant for all-time hit songs is obviously shown when he tells his audience to "Save your last vote for me, for honesty and integrity" which came from the Drifter's Save Your Last Dance for Me and his parting words "Tatanda at lilipas din ako ngunit may mga batas na gagawin para sa inyo..…doon sa Senado" which he said is inspired by Florante's song Handog.
Several celebrities had already endorsed Romy's Senate bid, including Senate Pres. Tito Sotto and his son Gian (who is Joy Belmonte's running mate in the Quezon City mayoralty race) and nephew (Pasig City Councilor Vico Sotto who is running for mayor), reelectionist Batangas Rep. Vilma Santos, Sen. Chiz Escudero (who is running for governor in Sorsogon), Manila Rep. Yul Servo, Caloocan City ex-Mayor Rey Malonzo, Derek Ramsay, Tirso Cruz III and Christopher de Leon.
Double A for Juan Movement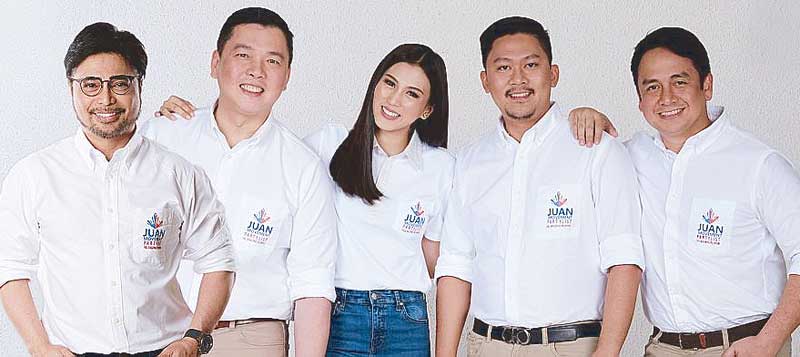 Arnell Ignacio (leftmost) and Alex Gonzaga for Juan Movement Party-list with (from left) Jhun Llave, Mark Boado and Nico Valencia.
Aside from Alex Gonzaga, another showbiz star rooting for the Juan Movement party-list is Arnell Ignacio. The party-list's nominees are Jhun Llave and Nico Valencia (both featured in this corner) and Mark Boado who are focused on promoting nationalism, patriotism and family values.
Arnell may have returned to his civilian/celebrity/entrepreneur lifestyle after his stint as the AVP for Community Relations and Services Department at the Philippine Amusement and Gaming Corporation (PAGCOR) and then as the Deputy Administrator of the Overseas Workers Welfare Administration (OWWA) but his heart remains in the service of the Filipino people as he has untiringly and unfailingly promoted the party-list: going with them to Hong Kong and other cities around the country.
"I wouldn't support anyone or any organization whose values do not coincide with mine. The Filipinos deserve leaders who would put them first, and when I was a public servant, it was what I strove to do and I found the same values with Juan Movement that's why I decided to endorse them," Arnell shared. "I love my country, I've always loved my country that's why I'm with Juan Movement, their advocacy is my advocacy. We've forgotten about a lot of things that make us Filipinos, we had good values, our culture and our heritage but we forgot all about it and we want to change it back."
Among the priority bills Juan Movement aims to pass if they get enough votes during the May 13 elections are lowering cinema admission fees for Filipino films to help revive the dying Philippine film industry and bills protecting Philippine history markers like the Bataan Death March markers and other heritage sites all over the country.
Hero back on track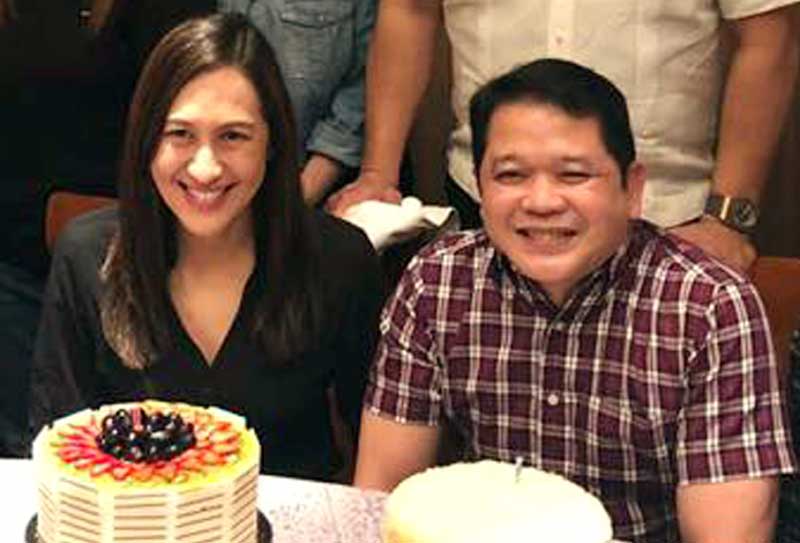 Quezon City Councilor Hero Bautista is running for reelection with the team of Vice Mayor Joy Belmonte (who is running for mayor with Councilor Gian Sotto as running mate).
Quezon City Councilor (fourth district) Hero Bautista was visibly sunburned when he met the movie writers born between January and June over lunch at Annabel's the other day.
"I've been campaigning with the team of Vice Mayor Joy Belmonte," said Hero. Joy is running for mayor with Councilor Gian Sotto as running mate.
Hero was with sister Harlene who helped entertain the movie press corps. Acknowledging the birthday celebrators (second group consists of those born from July to December) has been a long tradition initiated by the siblings' brother, Q.C. Mayor Herbert Bautista.
Hero said that he hoped to continue the projects and programs that he has started, including scholarships and those for senior citizens and PWDs (People With Disability).
"I will also continue the medical-dental missions," added Hero.
While Harlene is concentrating on producing award-winning movies (Rainbow's Sunset, etc., and Mother intended for the Pista ng Pelikulang Pilipino in September, directed by Joel Lamangan and starring Snooky Serna in the titular role), Hero has put his showbiz career on hold. Among his starrers were Roberta (1979), Burgos (2013) and Umaaraw, Umuulan (2006).
Briefly noted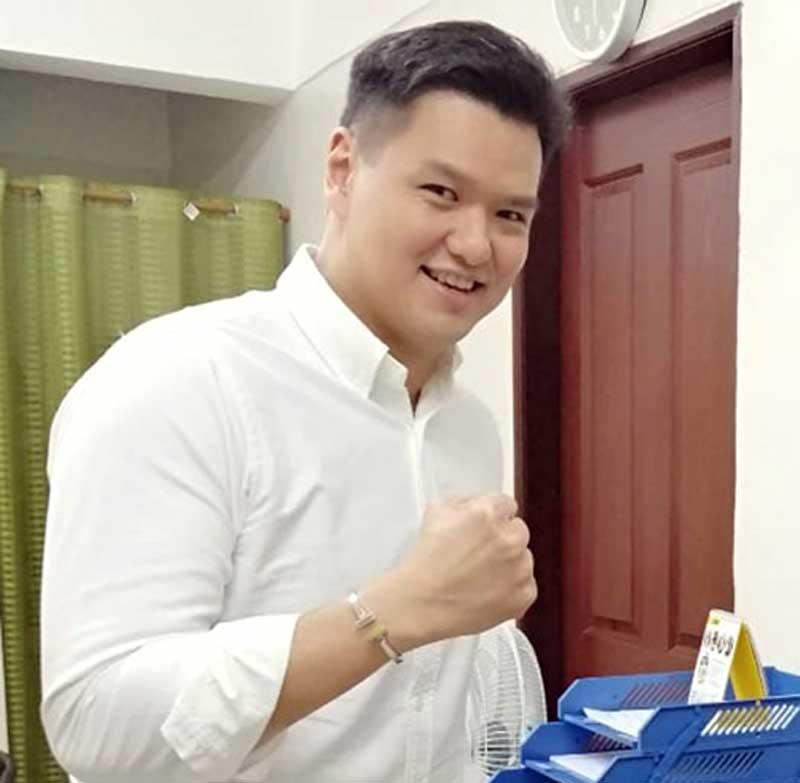 Businessman Ronnie Ong for Ang Probinsyano Party-list (No. 54).
• Asked why he has decided to join politics, businessman Ronnie Ong said that he sincerely wants to help those living in the provinces, that's why he is campaigning for the Ang Probinsyano Party-list (No. 54). Ronnie owns and manages a music bar and he counts several showbiz guys as friends (Brian Poe Llamanzares among them).
"Please bear in mind that we are No. 54 on the list of the party-lists running in the elections," repeated Ronnie.
(For more updates, photos and videos, visit www.philstar.com/funfare or follow me on Instagram @therealrickylo.)